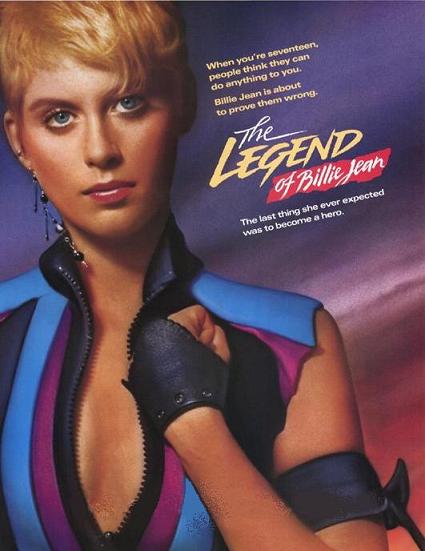 "Fair is fair!" I don't think that's the official tagline of The Legend of Billie Jean (1985), but it's certainly the favorite quote of anyone I know who loves the movie as much as I do. My brother and I often said it to our parents when we were getting in trouble as children, to which one of them would usually reply, "Do you want your $608?" I've been known to randomly text the phrase to friends on late drunken nights, though it's much more effective when said in person, complete with double fist pump. And it's through this quote that I bonded with a now very good friend as we reminisced about our favorite '80s movies.
I wasn't lucky enough to see The Legend of Billie Jean when it was in theaters, but it was a staple in my household via many, many airings on cable. I even still have the original videocassette we used to tape the movie off of HBO back in the day (believe it or not, the next movie on the tape is Supergirl). It's a movie I never get sick of watching, and it's a travesty that it still hasn't been released on DVD.
For those of you who've never seen it, let me give you a brief synopsis. Corpus Christi teen Billie Jean Davy (Helen Slater), her brother, Binx (Christian Slater), and two of their friends (Martha Gehman and Yeardley Smith) become vigilantes after Binx accidentally shoots Mr. Pyatt (Richard Bradford), the father of local bully Hubie (Barry Tubb), during a failed attempt to get the $608 that Billie Jean and Binx say the Pyatts owe them to fix Binx's beloved Honda Elite scooter, which Hubie trashed. Along the way they hook up with bored rich kid Lloyd (Keith Gordon). Inspired by a viewing of Saint Joan at Lloyd's house, Billie Jean cuts her hair and decides to make a videotape to send to the police and local media outlets, drawing attention to their side of the story and claiming that "fair is fair." Lloyd convinces her to take him hostage to have even more to bargain with and they hit the road again, becoming vigilante heroes to the local teen crowd. After a plan to get Binx's scooter fixed without getting caught fails, Billie Jean finally confronts Mr. Pyatt, who's been making loads of money selling merchandise with her image, and settles things once and for all.
Every good movie about teen rebellion has to have a feisty soundtrack, and this one's no exception. Though it's relatively short and never had an official release, it's full of great '80s tracks, including the film's theme, Pat Benatar's "Invincible," and a song by Johnny Depp's old band, the Kids (credited in the film as Bruce Witkin & the Kids). The score, composed by Craig Safan, isn't half bad either. I managed to find all but two of the tracks — "Closing In" by Mark Safan and "Self-Defense" by Chas Sanford. Some sources claim that a second Bruce Witkin & the Kids track was included, but the credits of the film only list "Time to Explain."
Make this the soundtrack to your next teen rebellion. "Fair is fair" indeed.
Divinyls – Boys in Town
Wendy O. Williams – It's My Life
Bruce Witkin & the Kids – Time to Explain
Billy Idol – Rebel Yell
Pat Benatar – Invincible
Divinyls – Heart Telegraph