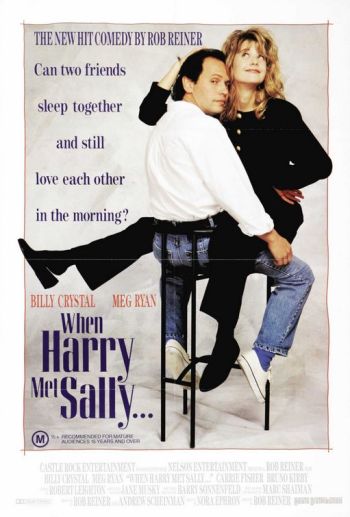 Well, here we are: the final Soundtrack Saturday of 2010. To close out the year, I thought it would be appropriate to discuss a film whose story not only spans many years in its characters lives, but also sees them through many seasons and holidays — including Christmas and New Year's Eve.
I'm not at all ashamed to say that When Harry Met Sally… (1989) is one of my favorite movies of all time. And the older I get, the more I love it. And since I'm the same age now as "present-day" Sally, I have an entirely different perspective on the film than I ever had before.
Now, I'm sure enough of you have seen When Harry Met Sally… that I don't need to give you a plot synopsis, right? Just in case, here's the quick and dirty. Sally (Meg Ryan) and her friend's boyfriend, Harry (Billy Crystal), drive from Chicago to New York City together after college graduation and they don't get along terribly well. They run into each other again five years later and still don't get along. Then, eleven years after they first met, they become friends. Then, more than friends.
[kml_flashembed movie="http://www.youtube.com/v/u44zHRpUiKs" width="600" height="344" allowfullscreen="true" fvars="fs=1" /]
I first saw this movie when I was eleven and I have to admit that it really shaped the way I thought about adult relationships, particularly romantic relationships. I actually thought I would some day find a Harry (though, not one who looked like Billy Crystal) — a man I would not get along with, then become friends with and then eventually fall in love with. And I guess to some extent, I still hold on to that as an ideal. This is probably why my love life is such a travesty.
When Harry Met Sally… was also the first film I remember watching that made me want to go to New York City. I'd seen other movies that were set in that great city, but there was just something about the way New York was presented here that made me want to not only visit, but live there. I eventually did visit — I've now been twice — and I loved it just as much as I thought I would. Though, I didn't visit Katz's deli nor did I walk through Central Park with a male friend, discussing the sex dream I've had since I was twelve.
I suppose I should be embarrassed — possibly even concerned — about the fact that a romantic comedy shaped what I thought my life was going to be like when I grew up, especially since the last thing my life is right now is a romantic comedy. But, you really can't help the things that you think when you're a child. All you can do is remember them fondly and laugh — or, in some cases, cry.
As much as this movie made an impression on me, so it did on popular culture. Besides the iconic fake orgasm scene, there's the exploration of the idea of men and women being "just friends;" the concept of dating someone who is "high maintenance (to this day, I refer to anything that is high maintenance as a "Sally."); and the discussion of the "transitional" relationship. None of these were new concepts, but I think it was the first time they were addressed in a film in this manner.
A few fun facts about When Harry Met Sally…:
The basis of the movie was director Rob Reiner's return to single life after his divorce from Penny Marshall.
Interviews screenwriter Nora Ephron did with Reiner became the basis for Harry and Sally was based on the writer herself, as well as a few of her friends.
Though Ephron wrote the structure of the movie, a great deal of the dialogue was based on the friendship between Reiner and Crystal. For example, Harry and Sally talking on the phone before bed while watching television is something Reiner and Crystal did quite often.
While writing the film's screenplay, if Ephron didn't feel like working, she would interveiw various people who worked for the film's production company. Those interviews became the basis for several of the interstitial scenes which featured couples talking about how they met and fell in love.
The original title of the movie was Boy Meets Girl, then went through several different titles. There were so many title changes that Reiner eventually started a contest with the film's crew that the person who came up with the best title would win a case of champagne. Allegedly, Ephron has never been satisfied with the film's title and would change it if she could.
The infamous fake orgasm scene was shaped largely by the film's stars: Ryan suggested that, rather than just discussing faking an orgasm with Harry at the deli, she actually fake one in the middle of the meal and the "I'll have what she's having" line, which was delivered by Reiner's mother, was suggested by Crystal.
In the original script, Harry and Sally remained friends, but did not pursue a romantic relationship.
Actresses originally considered for the role of Sally included Susan Dey, Elizabeth Perkins, Elizabeth McGovern and, believe it or not, Molly Ringwald.
Fifteen years after its release, When Harry Met Sally… was adapted into a stage play that initially starred Luke Perry and Alyson Hannigan in the Harry and Sally roles. Eventually, Molly Ringwald did get to play Sally as she and Michael Landes took over the starring roles in the play's second cast.
When Harry Met Sally… did fairly well at the box office, grossing a total of US $92.8 million domestically on a $16 million budget. It also received some recognition during awards season: Reiner's directing was nominated for a Golden Globe, Directors Guild of America Award, and a BAFTA; Ephron's script won a BAFTA and was nominated for a Writers Guild of America Award, Golden Globe and Academy Award; Ryan and Crystal were both nominated for Golden Globes and both won an American Comedy Award.
As well-known as the film is for basically putting Meg Ryan on the map, it's also known for launching the career of one Harry Connick, Jr., who is featured heavily on the film's soundtrack, though not exclusively. While the official soundtrack album is comprised only of Connick, Jr.'s performances of standards, backed by a big band and orchestra arranged by Marc Shaiman, most of the songs featured in the film are performed by the likes of Frank Sinatra, Ella Fitzgerald, Louis Armstrong, Ray Charles and Bing Crosby.
The soundtrack album was a pretty big hit and shot to #1 on the Billboard Traditional Jazz Chart and even made it to the top 50 on the Billboard 200. For his work on the soundtrack, Connick, Jr. won his first Grammy for Best Jazz Male Vocal Performance.
The soundtrack I've compiled below is NOT the official soundtrack album
, but consists of the non-Connick, Jr. performances that appear in the film. As much as I like Connick, Jr.'s soundtrack, I think that your When Harry Met Sally… soundtrack experience is incomplete without these songs. Listen during your next cross-country road trip with that guy or gal you're "just friends" with.
I hope you've enjoyed 2010 in Soundtrack Saturday. Let's see how long I can keep this up in 2011.
Louis Armstrong and Ella Fitzgerald – Love Is Here to Stay
Hamilton, Joe Frank And Reynolds – Don't Pull Your Love (Out)
The Allman Brothers Band – Ramblin' Man
Jennifer Warnes – Right Time of the Night
Louis Armstrong and Ella Fitzgerald – Let's Call the Whole Thing Off
Ella Fitzgerald – Where or When
Ray Charles – Winter Wonderland
Bing Crosby – Have Yourself a Merry Little Christmas
Frank Sinatra – It Had to Be You
And just because…
[kml_flashembed movie="http://www.youtube.com/v/xfuR2G6Xat4" width="600" height="344" allowfullscreen="true" fvars="fs=1" /]