It's funny, isn't it? I had so much free time when I was acting mayor of Bootleg City, but now that I'm in prison and working on my master's degree — not to mention my work as a GED tutor for my "master," who also happens to be my cellmate — there really hasn't been much time to update you on my new life in prison.
Then again, I don't remember receiving any cards or letters from you guys. What's your excuse? Walgreens doesn't have a special section in its greeting-card aisle marked "Thinking of You, Especially Whether or Not You're Somebody's 'Bitch' by Now"? (For the record, Big Ricky is my "master," but I'm not his "bitch." I can teach you about the intricacies of our prison's hierarchy if you ask politely, but otherwise let's not waste each other's time.)
No wonder there's such a high recidivism rate in this country — convicts can't wait to return to a place where they actually feel wanted.
For those of you who haven't already skipped down to this week's bootleg, you might be interested to know that I'm getting good grades in my library science classes so far, and my internship at the prison library is going well. I think I impressed my supervisor, Mad Dog, when I suggested that the library rethink its policy on late fees. With most libraries in the outside world you're charged a quarter or less for every day past the due date that you fail to return a book. Not a harsh fine, but you'd never know it from the way those Gestapo agents at the circulation desk stare you down.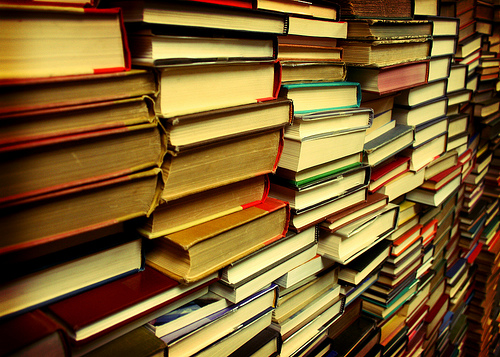 At this prison your punishment is tied to whatever book you've checked out. For instance, if you return Stieg Larsson's The Girl With the Dragon Tattoo past its due date, you'll be given a tattoo by Dragon, our resident Japanese yakuza, and it'll be applied to a certain area of your body that some would say resembles a dragon cave. Think "where the sun don't shine," but above all else think good thoughts while Dragon's pressing that needle into your flesh.
Similarly, if you're late in returning Larsson's sequels, The Girl Who Played With Fire and The Girl Who Kicked the Hornet's Nest, you'll be handed over to the prison's resident arsonist and psychopathic beekeeper. Patrons are advised not to test the logic of the system: one movie fan returned the library's DVD of the late Blake Edwards's The Days of Wine and Roses one day late, thinking he'd receive a bottle of wine in return. He did receive a bottle, but presumably not in the manner he had hoped for.
This week's featured concert, from Todd Rundgren's Utopia, was recorded on October 16, 1974, at the Cleveland Music Hall. Have you ever been to Cleveland, Ohio? I haven't, but mayoral bridesmaid Matt Wardlaw is from there, and that says it all, doesn't it? (He did, however, generously provide us with the Utopia bootleg. I hate when he does nice things like that.)
This summer Popdose.com, my online home for these municipal updates since October of '08, will host its first annual employee convention in "the rock 'n' roll capital of the world." Take a look at some of the fun presentations they have lined up for their writers and editors:
"¢ "Bruce Springsteen: Is This Guy Underrated or What?"
"¢ "The '80s: The Decade That Never Ended, So Stop Saying It Did"
"¢ "The '90s: The Decade That Never Happened Because the '80s Never Ended — Haven't You Been Listening?"
"¢ "Memphis Soul: The Greatest Music Ever Created by Black People, According to White People"
Mr. Wardlaw's significant other, Annie Zaleski, informed me that she'll be conducting the following seminars:
"¢ "Hall or Oates: Whose Side Are You On?"
"¢ "Too Much Time on My Hands: An Exhaustive Critical Reappraisal of Styx"
"¢ "25 or 6 to 4, or: How Many People Have Been in the Band Chicago Since 1967?"
And, somehow, Matt himself was given the go-ahead to lead this one:
"¢ "Punctuation; A Really Important Big Word (That Semicolon Should've Been a Colon, But You'd Know That Already If You'd Read the First 15 Volumes of the Style Guide)"
I hope I'll be out on parole in time to lend my services at the convention, but if not, I'll continue to do what I can from here.
Say, is that a segue I see approaching? Why, yes, it is …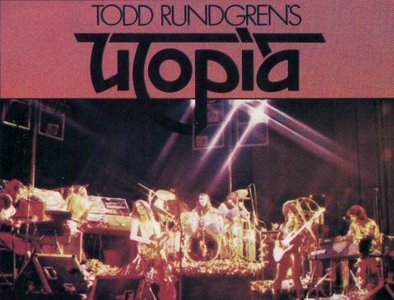 In 1971 Todd Rundgren recorded a song called "Parole" for his second album, Runt. The Ballad of Todd Rundgren. Three years later his new prog-rock band, Utopia, released their first album, Todd Rundgren's Utopia, which they were promoting when they made a tour stop in Cleveland in October of '74. In addition to Rundgren on guitar and lead vocals — he performs several cuts from his solo albums, including "Couldn't I Just Tell You" and "A Dream Goes On Forever" — this lineup of Utopia featured Mark "Moogy" Klingman and Roger Powell on keyboards, John Siegler on bass, and John "Willie" Wilcox on drums.
If you'd like to learn more about Rundgren and Utopia, visit your local library and look for a copy of Paul Myers's new book, A Wizard, a True Star: Todd Rundgren in the Studio. Just be mindful of that due date, you hear? (For what it's worth, if you lose the prison library's copy of John Milton's Paradise Lost, you'll become lost yourself — and stay lost — with a little help from the establishment's Mafia contingent. So check yo' self — and the things you check out from the library — before you wreck yo' self.)
Utopia Theme
Don't You Ever Learn?
Another Life
A Dream Goes On Forever
Real Man
Freedom Fighters
The Wheel
Good Times Were Better
Sunset Blvd./Le Feel Internacionale
The Last Ride
Bass Ball
Number 1 Lowest Common Denominator
A Night in New Orleans
Do Ya
Freak Parade
Born to Synthesize/The Spark of Life/The Goon
Slut
Couldn't I Just Tell You
Black Maria