Icehouse
"Icehouse" 1981, #28 (download)
"Hey Little Girl" 1982, #31 (download)
"Cross the Border" 1986, #19 (download)
Most people remember Icehouse for the great "Electric Blue" but a lot of those people don't know that Icehouse had been releasing albums for seven years before their big breakthrough. And they also don't know that the group was pretty damn awesome.
"Icehouse" by Icehouse from the album Icehouse (triple play!) has to be one of their best tunes. Totally ahead of its time, a little quirky and remarkably addicting off one of their only album that could really be considered post-punk.
"Hey Little Girl" comes from Primitive Man which saw them move in a synthpop direction. The album wasn't quite as solid as the debut but included like "Great Southern Land" and "Street CafÁ©."
"Cross the Border" was from Measure for Measure which was only an average record but marked a direct change to more commercial sounding music. The track is okay, but reminds me way too much of Tears for Fears in many parts.
Icicle Works
"High Time" 1988, Modern Rock #13 (download)
You know when I heard this track for the first time? Last night.  That's right, October 26, 2010 marks the very first time I heard "High Time" in this form. I had an .mp3 of it but it turns out that was an acoustic version off a greatest hits compilation.  Longtime reader King of Grief was awesome enough to provide me with the song and I'm mighty impressed too. Shame I haven't been grooving to this one for years.  And it's so much better than the acoustic version too.
Indio
"Hard Sun" 1989, #34 Modern Rock #10 (download)
Gordon Peterson's 15 minutes of fame came in 1989 when "Hard Sun" became the only song that would chart for him under the name of Indio. He released one album called Big Harvest and then kind of disappeared until he filed a lawsuit against Eddie Vedder for covering the track for the movie Into the Wild without his permission. Of course his former record label did give that permission so it sounds like someone needs some quick cash!
The Innocence Mission
"Black Sheep Wall" 1989, Modern Rock #22 (download)
The Innocence Mission is a Christian alt-rock band that formed in the late 80s and still release music today. The group's focus is around the husband and wife duo of Don and Karen Peris who are the main songwriters for the band. "Black Sheep Wall" is one of the best tracks off their eponymous debut which was a hit-or-miss affair. I haven't listened to all their releases but they have quite a few critically acclaimed recordings. For my money I'd rather go to 1995's Glow or 2007's We Walked In Song before hitting the debut.
Insiders
"Ghost on the Beach" 1987, #8 (download)
Here's another group that got 15 minutes of fame in the 80s with one hit being catchy enough to stick on rock radio for a little bit. The Insiders were five dudes from Chicago and released their album Ghost on the Beach on Epic records back in 1987. The record was pretty decent power pop but I heard they really opened up a bit more when they played live. The follow up record was never released as the staff at Epic went through a shake up around this time and I'm not sure if they've ever put out another album.
[kml_flashembed movie="http://www.youtube.com/v/2g58YfBjSvQ&ob" width="600" height="350" wmode="transparent" /]
In Tua Nua
"All I Wanted" 1988, Modern Rock #17 (download)
Irish for "A New Tribe," In Tua Nua started releasing music around 1984, soon after signing with Island records. The recorded two albums, only the first got released and they took a short break. Then they got some new players on board and signed with Virgin in 1986. Two albums got released on Virgin including The Long Acre, from which the amazing "All I Wanted" comes from before the band split up. They recorded a third album for the label right before they broke up and it finally saw the light of day in 2007.
INXS
"Kiss the Dirt (Falling Down the Mountain)" 1986, #24 (download)
"Kick" 1988, #33 (download)
"Mystify" 1988, #17 (download)
"Kiss the Dirt" was the fourth of five singles from 1985's Listen Like Thieves and the most boring of the group ("This Time," "What You Need," "Listen Like Thieves" and "Shine Like It Does" were the others). It's one of the few tracks on the album that doesn't do a whole lot for me.
On the other hand, I can probably sing the Kick album from start to finish and think it's one of the best albums of the decade. However, I had no idea that both "Kick" and "Mystify" got any airplay at all. Both hit rock radio way before "Mystify" was released as the 5th single to Top 40 radio with "Kick" as the b-side to it. Strangely enough though I think the title track is the weakest song on the disc.
Hey, have you heard about their new album coming out in 2011? They are rerecording their hits with various singers. Yep, Rob Thomas is on it. Fuck.
Donnie Iris
"I Can't Hear You" 1981, #47 (download)
"The High and the Mighty" 1982, #39 (download)
"King Cool" was the founder of the Jaggerz and worked with Wild Cherry as they closed their career before going solo in the 80s and he was totally the man in the decade. "Ah! Leah!," "Love is Like a Rock" and "The High and the Mighty" are some of my favorite songs of the decade. I'm a little shocked "The High and the Mighty" didn't cross over to the pop charts, though it did have a bit more edge than the poppier follow up, "Tough World." I dig "I Can't Hear You" as well which was the follow up to "Ah! Leah!" from his first solo album Back on the Streets.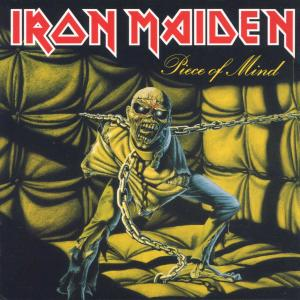 Iron Maiden
"Wrathchild" 1981, #31 (download)
"Hallowed Be Thy Name" 1982, #50 (download)
"Flight of Icarus" 1983, #8 (download)
"The Trooper" 1983, #28 (download)
"2 Minutes To Midnight" 1984, #25 (download)
"Can I Play With Madness" 1988, #47 (download)
I talk about Maiden in my False Metal, Dead! series where I've mentioned that I didn't really get them at all until a few years ago. Amazingly I could never stand the theatrical vocals of Bruce Dickinson but after I saw them in concert my mind changed completely. I've since went back and listened to every album in the catalog and have grown to realize how great they are.
"Wrathchild" is the only song here featuring Paul Di'Anno on vocals. Dickinson replaced him in '82 and the band released a mess of killer albums in a row, like The Number of the Beast, Peace of Mind, Powerslave and Seventh Son of a Seventh Son.
I would assume any metal fan knows all of these tracks already but even if you aren't you should recognize "Can I Play with Madness" and "2 Minutes To Midnight" at the least. But all these tracks are headbangers and it's really worth getting all the album mentioned above.
Chris Isaak
"Don't Make Me Dream About You" 1989, Modern Rock #18 (download)
"Don't Make Me Dream About You" has an interesting chart history. Isaak released the amazing Heart Shaped World in '89 and this track was released as a single and hit the modern rock chart. "Wicked Game" also came from this album but didn't hit until two years later at which point this was released again and hit #39 on the Mainstream Rock chart, still not crossing over into the Hot 100. Even stranger was that Reprise put out an album called Wicked Game to capitalize on the success of the single which was a compilation of tracks from his first three records. "Don't Make Me Dream About You" wasn't on it. Go figure.
Quick Hits
Best Song: Iron Maiden, "Flight of Icarus"
Worst Song: Icehouse, "Cross the Border"
Also appeared in the Hot 100
Icehouse (4): "We Can Get Together", "No Promises", "Crazy", "Electric Blue"
Icicle Works (1): "Whisper To A Scream"
Billy Idol (10): "Hot in the City", "White Wedding", "Rebel Yell", "Eyes Without A Face", "Flesh For Fantasy", "Catch My Fall", "To Be A Lover", "Don't Need A Gun", "Sweet Sixteen", "Mony Mony (Live)"
Indigo Girls (1): "Closer To Fine"
INXS (12)" "The One Thing". "Don't Change", "Original Sin", "I Send a Message", "This Time", "What You Need". "Listen Like Theives". "Good Times", "Need You Tonight", "Devil Inside", "New Sensation", "Never Tear Us Apart"
Donnie Iris (6): "Ah! Leah!", "Sweet Merilee", "Love Is Like A Rock", "Tough World". "Do You Compute?", Injured in the Game of Love"