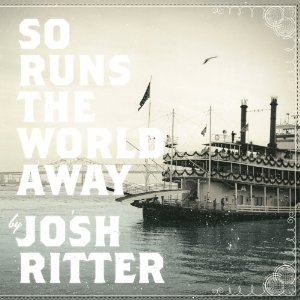 Every once in awhile I have the opportunity to report on an artist who continues to grow and evolve with each new release. It's one of the most gratifying things about what I do. Josh Ritter is such an artist. On his new album, So Runs the World Away (Pytheas Recordings), Ritter has found new worlds to explore, and in the process elevated his art to an even higher level. Not since Paul Simon, with whom Ritter shares a certain literary bent, has a songwriter proven more adept at further refining his craft with the release of each new album.
According to Ritter, following the release of his expansive 2007 chronical, The Historical Conquests of Josh Ritter, he entered into what he calls a "shadow" period in which he lost confidence in his work. His muse finally returned in the form of a story about the relationship between a mummy and an archaeologist that just occurred to him fully formed one night, as these things often do. The song that resulted from this revelation is itself a revelation called "The Curse."
Signs of the darkness that troubled Ritter before his breakthrough are evident throughout the album. You can hear them in the despairing dream letter "Change of Time," the wistful train song, "Southern Pacifica", the dark blues of "Rattling Locks," and most notably in the album's centerpiece, "Another New World," in which Ritter recounts the doomed romance of an Arctic explorer and his lost ship. I certainly don't mean to suggest that this album is mired in despair, only that this is a set of songs crafted with the serious intent of reflecting Ritter's world at a specific place in time.
For So Runs the World Away, Ritter once again collaborated with keyboard player Sam Kassirer, and much of the album was recorded at Kassirer's Great North Sound Society studio in Maine, with additional recording at Saltlands Studio in Brooklyn. Ritter's touring bandmates, guitarist Austin Nevins, bass player Zack Hickman, and drummer Liam Hurley are also featured players on the album. The album they created is one of the finest song cycles you're likely to encounter this year.
[kml_flashembed movie="http://www.youtube.com/v/NMTDPFh-DL8" width="600" height="344" allowfullscreen="true" fvars="fs=1" /]
[kml_flashembed movie="http://www.youtube.com/v/3UqR8GCmI58" width="600" height="344" allowfullscreen="true" fvars="fs=1" /]