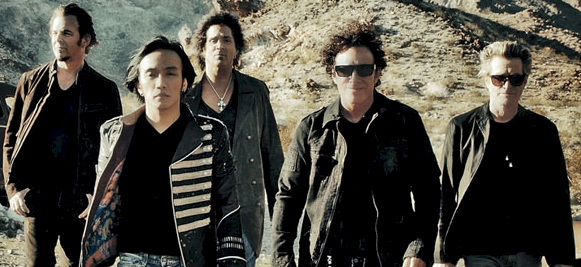 This is not Escape. This is not Frontiers. This is certainly not Raised on Radio, nor is it the new material in the Revelation package. If you're looking for carbon copies of those prior touchstones and do not wish to open your ears, head, and heart to something new, you'll be disappointed in the new Journey record. Just move on. Go see them live this summer—you'll get "Separate Ways" and "Don't Stop Believin'" and "Open Arms," no problem.
Eclipse, for better or worse, is none of those things. Yes, it is a denser, fuller, busier record. Most of the songs clock in at over six minutes. That's a good thing. Yes, Neal Schon and his guitar armada have a more pronounced presence on the album, and Jon Cain has stepped back to assume a secondary instrumental role, yet one that is so important—the keyboard flourishes and piano arpeggios join the layered guitars to form a full-on attack that is miles removed from the accepted pop moves of the late Perry period. Eclipse is a perfect storm of ambition and commercial concerns, an album of dreaming and drive, and it stands as some of the finest work anyone involved with it has produced.
If you're expecting 1981, 1983, or even 2008, you'll likely be disappointed. This is a whole different animal; this animal sounds similar to the one you remember, but it's bigger, broader, and has a really bad attitude. The album kicks off with "City of Hope," an anthem that ranks among their best in the last 25 years. The first words uttered on the record are a nearly perfect abstract of our life and times:
People waiting from some kind of sign from above
Lost in the shadows of doubt, need a message of love
Nothing is certain in uncertain times
Hard to see beyond the greed and the crime
Where the faithful refuse to give up
Hopeless and hungry survive just enough
They'll just smile through it all
They're all blessed from above
Arnel Pineda's voice soars—and I mean soars—with strength and range and power; call me a melodic rock heretic, but in 2011, I'll take him over Perry any day of the week and three times on Tuesday. His awesome voice would be naked to the world, though, without Neal Schon's perfect web of guitars; indeed, Schon's status as riffmaster is absolutely unchallenged. You just have to sit back and let this one wash over you.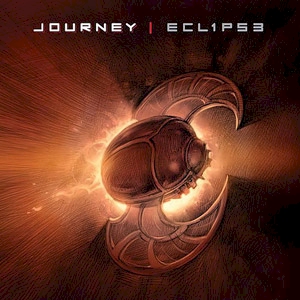 One thing you notice the first trip or two through Eclipse is the fact that there aren't as many hooks as you'd expect from a Journey record, but the melodies are unmistakable. Take "Chain of Love," with its ethereal beginning—all dancing keyboard figure and atmospheric guitar effects. A thick wall of guitars suddenly imposes itself, and the song opens up wide (love that "Chain chain chain chain of love chorus—very Atlantic Aretha of the Journey boys). By the second chorus, you realize you might be hearing a new classic, if there were radio outlets available to play this stuff.
Schon's aggressive streak marks the record. A song like "Edge of the Moment" is assertive, forceful, and uncompromising in its heavy riffage and driving pulse, yet its lyrical center—that of a relationship at a critical moment—focuses the song, the theme offering a welcome contrast to the sonic attack. Likewise, "She's a Mystery" contains multiple sections and melodies, forming a multi-part suite that makes best use of both Pineda's vocal range and the ridiculously cool onslaught of Neal Schons that contribute guitar to the track.
Precedents also abound. "Ritual" is, lyrically, closely hewn to the "Be Good to Yourself" cloth, with a chorus reminiscent of Revelation's "Never Walk Away." "Someone" is the most obvious pop move on the record, with music that mirrors many other Journey mid-tempo explorations, and lyrics that display vulnerability in its most tragic guises. The hope of redemption blasts through in the chorus:
Once you let someone love you
You find an open door
A place in your heart you've never been before
Believe it's never too late
Someone to set you free
Once you let someone love you
Yes, there is fear of commitment, fear of wasting time, fear of taking the leap of faith required to fall truly in love—we've all felt it. Only by fighting through those issues can we find love, love that both has that initial impact and the long-term effect that makes us whole.
The spiritual concerns that flow through the record come through cleanly in "Tantra." Simply stated, "Tantra" is a motherfucker—six and a half minutes of multi-layered melodic rock goodness. A track of epic proportions, you can grasp its scope in the long first verse:
One light shining bright
It's made from many colors
Just like every ocean's made
From many drops of rain
One soul takes many shapes
To make of the human race
One fire
Many lives share the same sun everyday
Old beliefs let us down
Many roads lead to heaven
One love, many faiths all share a world in search of grace
Across the universe
The same force that moves the earth's in my heart
Makes me whole
Wash my doubt and fear away
The track is thick with guitars, and Schon's solo toward the end is so melodic, so in tune with the epic nature of the song—as a work for guitar, the song is as breathtaking as anything he's done in the last thirty years.
Yes, there are low points ("Venus," for one, is completely unnecessary)—anything this purposeful is bound to fall short in spots. Over the breadth of the album, though, Eclipse is a remarkable achievement for a band as long in the tooth as Journey. What it does, though, is provide a window of insight as to where they proceed from here, and that path is one of ambition and brilliance. Arnel Pineda has unquestionably breathed new life into this classic rock warhorse, and inspired the older gentlemen around him to greater heights of eloquence and virtuosity.
Long may they reign.