Back in February, I mentioned driving past Crazy Buffet, a new restaurant in Sunnyvale. I didn't have any intention of eating there, really; I just thought it was a funny name for a restaurant. But people have been coming to the blog on a weekly basis since then through searches for "crazy buffet" or "crazy buffet sunnyvale," so I decided I needed to pay the place a visit.1
Ordinarily, I have no use for restaurants with "Crazy" anywhere in their name, so I was a little leery, and I made my brothers go with me. Also, I hate the buffet. Here's how I feel the transaction should progress whenever I'm dining out:
1. I give you my money.
2. You bring me my food.
The buffet is all wrong. I hand over my money and then I have to go get my own food? It's insanely popular in America, and I think this is mainly because the buffet tends to be an all-you-can-eat proposition, but when what you're eating has been sitting out underneath a sneeze guard for an indeterminate length of time, I tend to believe that the less you eat, the better.
Anyway.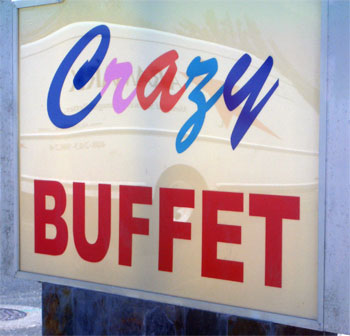 This particular buffet has a sort of weird pan-Asian menu, with middle America's most popular desserts thrown in for good measure; I suppose this is where the "crazy" comes in, but in the Bay Area, it really isn't all that out of the ordinary to see sushi and Jell-O sharing space. I will admit that we did share a long laugh when we saw apple pie next to the steamed mussels, but that was about as wild and wacky as it got. The place was crazy packed full of people, even at two o'clock on a Thursday afternoon — we were lucky to find a parking spot.
So what did we eat?

Crazy General Tso's Chicken!

Crazy Mystery Fish and Bacon!

Crazy Seafood Soup!

Crazy Sushi Rolls!
It all tasted disappointingly sane, I have to say. I mean, it isn't crazy good, certainly, but I think that's to be expected with the sitting out and the sneeze guard and all. But it isn't that bad, either, especially considering it only costs $8 a plate for the lunch menu. I think we were all happiest with the rubbery steamed appleish rolls. In retrospect, we could have gone there for dessert, loaded up on those, and gotten our money's worth. All in all, it'll do in a pinch if you're absolutely starving for spicy tuna rolls and soft-serve ice cream. I guess.
In celebration of my lunch at Crazy Buffet, here's a handful of Crazy MP3s! Have a great Friday afternoon and a helluva weekend, everybody!
Bill Frisell – Crazy (live)
Georgia Satellites – Crazy
Dwight Yoakam – Crazy Little Thing Called Love
Bruce Willis – Crazy Mixed-Up World
---
1And now that I've included both of those phrases in this post, in quotes, even more of 'em will come! Web magic go!