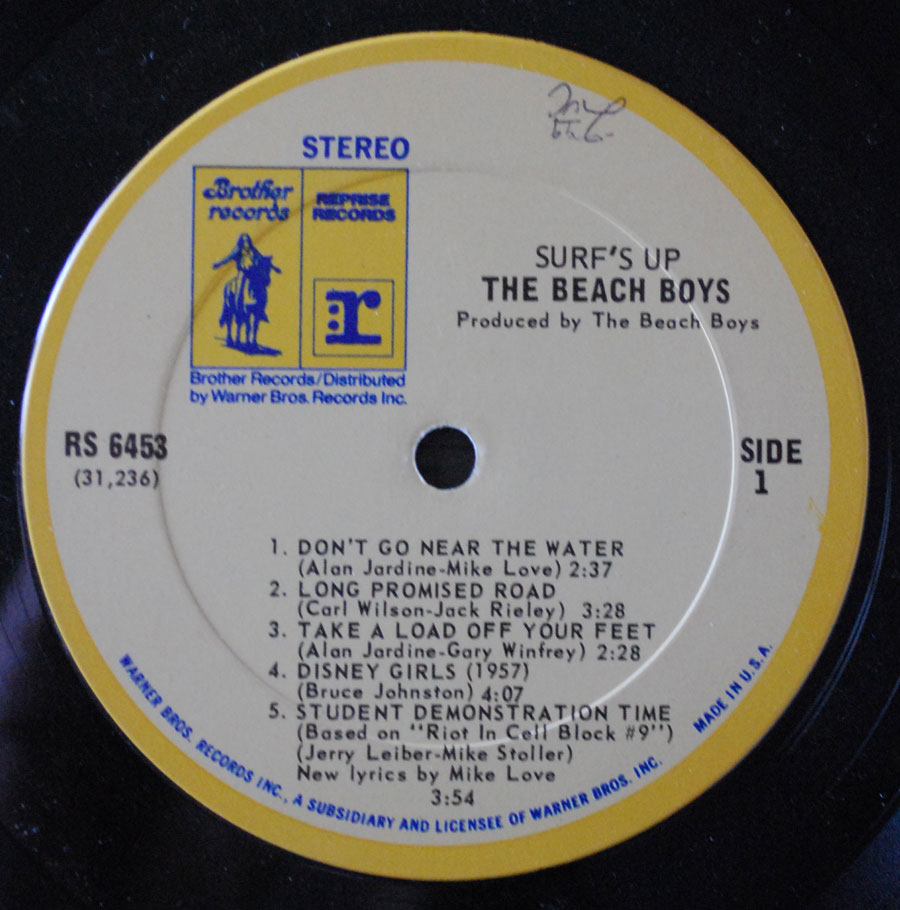 Considering my favorite Beach Boys album is a daunting task. Of course there's the monolithic Pet Sounds, standing out there in the field, towering above everything else. So let's just put that aside for awhile. What inevitably happens is that my choice changes from time to time. The Beach Boys Today, Sunflower, and Holland have all been favorites at one time or another. Lately I've started to reconsider the virtues of Surf's Up, which was released by Reprise on the Beach Boys' Brother Records imprint in 1971.
The title track, with Van Dyke Parks' "muted trumpeter swans," and "columnated ruins domino," is perhaps Brian Wilson's most brilliant work. The towering composition was originally intended for the ill-fated SMiLE album, the costs of which we still see Brian paying to this day. The impetus for the completion of the song came from the Beach Boys new manager Jack Rieley, who was determined to make the band relevant again. Brian, understandably, was not interesting in revisiting his personal hell, so it was left to Carl Wilson, the band's newly appointed (by Rieley) Musical Director to move forward. Brian did finally emerge to help out with the song's third movement. The finished song is one of the great achievements in popular music.
"Surf's Up" was hardly the end of the story though. The powerful and somewhat ominous "Until I Die," a song that Brian had been working on for quite awhile, emerged. The only completely new Brian Wilson song on the album is the probably best forgotten "A Day In the Life of a Tree." But Carl Wilson picked up the slack with two of his greatest songs, "Long Promised Road," and "Feel Flows." Rieley demanded that the band embrace more topical material, and the result was the Mike Love/Al Jardine songs "Student Demonstration Time," and "Don't Go Near the Water." The capper for me is one of my guiltiest musical pleasures. Bruce Johnston's sticky sweet "Disney Girls" is every bit as saccharine as you might imagine, and yet it has a beautiful melody and lyrics that transport you (well they transport me anyway) back to a more innocent time. Given the state of things within the Beach Boys organization at the time, that's not such a bad thing.
Just like Pet Sounds towers over the field of Beach Boys albums, the title track towers over this album. There are, however, several other treasures to be found on Surf's Up, and until the winds shift again it will be my favorite Beach Boys album.
Below you will find Brian's original demo for "Surf's Up," followed by the Beach Boys' finished recording of the song.
[kml_flashembed movie="http://www.youtube.com/v/3xrZPBdYGVE" width="600" height="344" allowfullscreen="true" fvars="fs=1" /]
[kml_flashembed movie="http://www.youtube.com/v/1hYIlH4nOEo" width="600" height="344" allowfullscreen="true" fvars="fs=1" /]