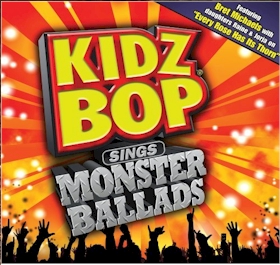 Five or six years ago, I dropped off my son at a birthday party and was struck by the sound of a familiar melody being performed in a wholly unfamiliar manner. The song was "Float On," a quasi-hit for indie stalwarts Modest Mouse, and it was being sung by some dude who was definitely not MM front man Isaac Brock, backed by what sounded like Mrs. Curry's second grade chorus, in which I performed back in '77 (before I was kicked out for my meth problem).
There was definitely no shortage of incongruity present in the record, which I was informed was part of a Kidz Bop compilation, a name with which I was familiar from television commercials my boy routinely used as fodder for begging. These records, released at a rate of two per year, feature the hits of the day, sung largely by an anonymous group of children—sort of like NOW collections, only for kindergartners. They are quite popular; since 2005, all but one of the 13 consecutively numbered hits records released under the Kidz Bop moniker have debuted in the Billboard Top Ten.
Kidz Bop is a property of Razor & Tie, which makes total sense. R&T's founders Cliff Chenfeld and Craig Balsam started the company in the 1990s as a way of marketing their '70s Preservation Society compilations on TV, and they eventually became significant players not only in the mail-order compilation biz, but also in the small but relatively lucrative genre of niche reissues. And they were totally into their products. I interviewed Chenfeld in 1999 for another publication, and, while closing out our chat, thanked him for reissuing two Gary U.S. Bonds records (Dedication and On the Line) that had meant a great deal to me growing up. Chenfeld responded by singing the first few bars the chorus of Bonds' "Love's on the Line." I was impressed; the man had, through is actions and voice, immediately amassed a great deal of goodwill in my book.
Twelve years on, we may very well be back to zero. See, someone in the R&T family decided to marry the Kidz Bop franchise to one of the company's other big hits—the hair metal power ballad collections released under the title Monster Ballads, otherwise known as The Greatest Albums Ever Released by Humans, for they scale the great Olympus of rock and bring forth from the hand of Zeus himself enough thunder and lightning and Aqua Net (little-known fact: Zeus loved the hair lacquer) to keep a billion Bics aloft and lit for all eternity. Kidz Bop Sings Monster Ballads takes 15 of the greatest expressions of love, lust, and world-weary confusion ever performed by skinny long-haired men in tight leather pants and reduces them to little more than kiddie karaoke.
Such an appalling display of disrespect for an already largely disrespected subgenre should make all those responsible ashamed. They should be lured from their offices by the smell of freshly minted $100 bills, thrown into a gypsy cab and taken to Times Square, where they should then be compelled to strip to their undies and perform "Every Rose Has Its Thorn" with the Naked Cowboy until they repent and vow to pull this sodden excuse for entertainment from store shelves and never, ever, ever do anything like this again.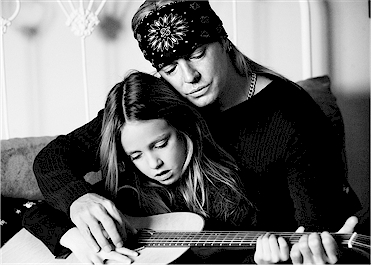 They might even be joined by media whore/Poison front man Bret Michaels, if he catches wind of it in advance. Michaels might even be the Naked Cowboy by now; if there's a crowd to suck up to and/or a camera within 50 yards of any given spot, he and his bandana and six-pack abs are probably nearby. He has a nominal role in this Kidz/Monster comp, playing acoustic guitar on a run through "Every Rose," while his two daughters join the kiddie choir on the choruses. All of which makes me ask, "Is it possible that Rikki Rockett has been the coolest member of Poison all along?"
The setup for each of the tracks on the album is pretty much consistent: two shaky solo voices (a boy and a girl) trade lines on the verses, then come together with a small battalion of other kids on the choruses. There's little attempt made at harmony. The instrumentation is pure karaoke-level keyboard, guitar, and synth drum. Solos are truncated, and lyrics are scrubbed for any references to drugs, violence, bestiality, cunnilingus, heavy petting, nipple licking, fingerbanging, passion propellers, or milk-and-water embraces. There are also no references to the Dirty Sanchez or the Three-Eyed Turtle, but then again, there never were to begin with.
I suppose the argument could be made, however briefly and none too convincingly, that if you like power ballads and want your kids to like power ballads, Kidz Bop Sings Monster Ballads might prove to be a useful gateway to entice your spawn into a greater appreciation of your favorite songs. Hogwash. If I want to indoctrinate my boy into the pleasures of "Home Sweet Home," I already have Theatre of Pain. If I want him to dig "The Flame," I want him to hear Robin Zander sing to the heavens, not some prepubescent Glee reject. Razor & Tie can keep "Wind of Change," "Don't Know What You Got (Til It's Gone)," and "Wait"—I never liked them much anyway. But hands off "Is This Love," pal—do you know what we used to do when that song came on?
I'm sure Kidz Bop Sings Monster Ballads will recoup whatever modest investment R&T put into the thing, and they might even make another piece of product just like it. But to those of us who actually care about this music—and make no mistake: we're out there—this compilation is an abomination at best, and an insult at worst. I'd love to just ignore it, but it bothers me so.
Now if you'll excuse me, the wife and I are filling up our side-by-side bathtubs—the ones that overlook a rich countryside and sunset, 24 hours a day. I gotta find my copy of "Is This Love" before the water gets cold.