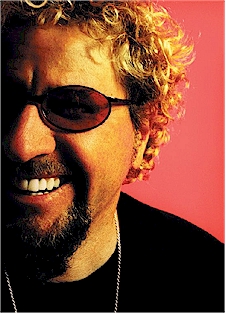 I was disappointed with Sammy Hagar's memoir Red: My Uncensored Life in Rock for two related reasons. Number one—it's too damned short. The man is 102 years old (he only looks 63—tequila is a wonderful preserving agent) and the book is only 240 pages long. Granted, I'm not all that interested in how little Sam Roy Hagar came out of the womb screaming, "Hello, bayyyyyybaaaay"; or how he clawed his way up from a hardscrabble childhood as a sharecropper's son in Tuskegee; or how he traded licks with Robert Johnson and Satan as a teen; or even how he uploaded dirty jokes from his brain to the computer aboard a passing UFO. But 240 is too damn short—hell, David Lee Roth's book weighed in at 360 pages, was infinitely more entertaining, and was published when Roth was a sprightly 44.
Red's brevity is largely responsible for my biggest beef about the book—the dearth of information on the creation of key Hagar records. I'm a total geek for stories of studio sessions, of who played on what, who jammed with whom, how this or that song was conceived, etc. There's a wee bit of that in Red, but for the most part, Hagar spends more time discussing his business affairs, anonymous trysts, and grudges with Eddie Van Halen than he does going into the process of creating music. Hagar is an engaging guy (it'd break my heart if I ever found out he's an asshole), but the book is an exercise in surface-skimming, and a disappointment to longtime fans like me who expected a deeper dive into his life and work.
Of late, the quality of Hagar's recordings has waxed (Chickenfoot's debut, for example) and waned (2008's Cosmic Universal Fashion). Not surprisingly, there's no mention in Red about the 2002 record Not 4 Sale, and that's a shame, cuz it's a solid, no-bullshit rock and roll record. With one exception (the strange mashup "Whole Lotta Zep"), the album is a concise, high-quality mix of anthems and good-timey, rough-and-tumble hard rock, and it is, at least to these ears, one of Hagar's better solo records.
It contains a standout addition to the power ballad canon in "Halfway to Memphis," a road song in which Hagar preaches a powerful gospel of self-determination and confidence. Hagar has long juxtaposed songs with serious, even spiritual themes, with party anthems or songs about kinky sex—remember, Van Halen's "Right Now" (the grandest of Hagar's grand gestures) was on an album whose title was a play on the word fuck, a few clicks of the forward button removed from tracks that praised phone sex services and described a lover's sexual prowess as a sweet baked good. The man can adapt.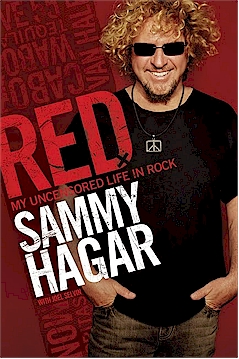 "Halfway to Memphis" starts with the setting of a poignant scene: the kind of long drive you take when you need to clear your head, sort things out, leave a problem in your rearview mirror. This drive appears to be longer than most:
Halfway to Memphis, drivin' in the rain
Self confidence slippin', still runnin' away
From the face in the mirror, the lines on the face
From New York City to the San Francisco Bay
From the ghost in the closet, the monkey on your back
From the one that really knows you, been there watchin' your back
But the fire in your belly still burns
The lyrics are just vague enough to fit many different scenarios—the protagonist could be running from the memory or a trauma, a lost love, or a lost loved one. He could be facing some sort of existential crisis—"the face in the mirror" that isn't all that recognizable anymore—or running from the scene of a screw-up or personal failing (that "ghost in the closet, the monkey on your back"). His self-confidence is shot; an unpleasant self-loathing is beginning to set in.
Not to fear—Sammy brings his inner Oprah to the fore, just in time for a chorus of empowerment:
Just be yourself
You're like no one else
There's nobody like you
You can't find it on the shelf
Just let the world know
That you're ready for show
Count three and let go
Before you turn around and go home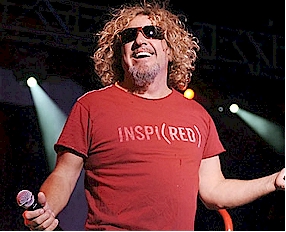 In many cases, being yourself is probably what got you into trouble in the first place, but no matter. I love those last two lines: "Count three and let go / Before you turn around and go home." Regardless of how bad things are or seem, you have to turn back around and face them, and letting go of that which weakens you is the only way to make that move.
Hagar's protagonist ventures further, "Down by the lilikoi, near the old stone wall" where "nothing much changes, but the seasons still change," still looking for peace, still hoping that to simply believe in himself will cure what ails him. In the middle eight, Hagar even invokes that most angel-voiced of seekers, Jeff Buckley, to illustrate how alone his voice is, how that alone-ness is necessary to finding himself.
Hagar liked "Halfway to Memphis" so much, he re-recorded it for his 2006 record Livin' It Up! (a.k.a., the "I'll Have What Jimmy Buffet and Kenny Chesney Are Having" album), moving the levels up on the acoustic guitar tracks and adding a pedal steel line to tie it in with the album's laid-back, countryish ambience. It still worked. My guess is, "Halfway to Memphis" will see daylight again when Hagar makes his Afrobeat, New Orleans jazz, and Tuvan throat singing albums. And it will still work. Road songs about unfettered longing and self-determination work in damn near any setting.
I just wish Sammy Hagar had thought enough of the song to mention it in his book.