My brief tenure as a resident of Philadelphia, from 1990 to '92, coincided with a period of remarkable growth for the Hard Rock Cafe chain of restaurants. The chainÁ¢€â"¢s cofounders, Isaac Tigrett and Peter Morton, had chosen a divide-and-conquer strategy for expanding their domain beyond the rock capitals of London, NYC and L.A., and during the late Á¢€Ëœ80s and early '90s HRCs popped up in Chicago, Houston, Orlando, Washington, D.C., and elsewhere.
But not in Philadelphia, where local boosters predictably commenced a round of wailing and gnashing of teeth upon the opening of the DC restaurant in 1990. Soon enough there appeared, in a nondescript shopping strip near the Delaware River waterfront, the Philly Rock Bar & Grill, a short-order joint that dedicated itself to the cityÁ¢€â"¢s own rock Á¢€â"¢nÁ¢€â"¢ roll heritage. The place sported memorabilia related to Philly greats including Dick Clark (donÁ¢€â"¢t forget, American Bandstand started there), Bobby Rydell, Kenny Gamble & Leon Huff and their stable of Philly-soul artists, Hall & Oates, the Hooters, and more.
It wasnÁ¢€â"¢t a bad place, exactly, but it certainly seemed second-rate compared to your basic Hard Rock Cafe. Here, of course, is the point where I deploy this morsel of pop-culture minutiae as a metaphor for Philadelphia in general Á¢€" and where I piss off untold numbers of friends and readers (not to mention Popdose colleagues) who have called Philly home. If Phillies fans can boo their MVP mercilessly and Eagles fans can pelt Santa with snowballs, I can only imagine what IÁ¢€â"¢m in for. Bring it on!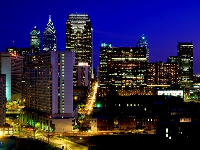 When Gwen and I were choosing among graduate-school options during the spring of 1990, we fretted about the impending student-loan debt only slightly more than we worried about losing the cosmopolitan life we imagined we were living in DC at the time. So it was with a mixture of bemusement and horror that we viewed the University of PennsylvaniaÁ¢€â"¢s admissions brochures, which couldnÁ¢€â"¢t get more than a sentence or two into their sales pitch for Philadelphia before noting that the city is Á¢€Å"midway between the financial and political capitals of New York and Washington, DC.Á¢€ Really? Your best selling point is that I can hop on a train and get somewhere else in a hurry? Really?
Now, donÁ¢€â"¢t get me wrong Á¢€" I came to like Philadelphia quite a lot (if not the neighborhood west of the Schuylkill River where Penn and Drexel, and our old apartment building, are situated). And itÁ¢€â"¢s not as though Philadelphia is the only city with an inferiority complex; BostonÁ¢€â"¢s combination of NYC envy, intellectualism and provincialism can be downright toxic. (On the whole, IÁ¢€â"¢d rather be in Philadelphia than Boston.) But the Philly Rock Bar & GrillÁ¢€â"¢s emergence as a sloppy-seconds substitute for the Hard Rock is just too perfect a signifier of the cityÁ¢€â"¢s stature among its Eastern Seaboard peers.
If youÁ¢€â"¢re still with me, youÁ¢€â"¢re probably thinking, Á¢€Å"Jon, whatÁ¢€â"¢s with the 500-word digression about Philadelphia?Á¢€ Well, hereÁ¢€â"¢s the thing: My favorite little mini-shrine at the Philly Rock was the one devoted to Robert Hazard, the author of the little slice of heaven that surfaced this week as I scraped the barnacles of my MP3 library. You may consider this the first installment of a miniature Hazard-fest here on Popdose this month; next Wednesday, my colleague Dave Steed will feature the Philly rockerÁ¢€â"¢s lone charting pop single, Á¢€Å"Escalator of Life,Á¢€ in his always-unmissable Á¢€Å"Bottom FeedersÁ¢€ column.
As for me, while I first encountered Hazard and his band, the Heroes, on the Á¢€Å"Escalator,Á¢€ I always found that song too mechanized, too Philip-Oakey-sings-Gary-Numan, too hipster-doofus for my taste. (I mean, seriously: Á¢€Å"They got my Mazda at the E-Z Park It/At the rock Á¢€â"¢nÁ¢€â"¢ roll supermarket Á¢€¦ WeÁ¢€â"¢re riding on the escalator of life/WeÁ¢€â"¢re shopping in the human mall…Á¢€)
Despite that songÁ¢€â"¢s limitations Á¢€" and its subsequent descent into near-novelty status Á¢€" Hazard undeniably had one of those perfect voices for synth-pop, a slightly robotic baritone that blended well with keyboard sounds not found in nature. Fortunately, his self-titled 1983 EP also included a song that remains one of my favorite Á¢€Ëœ80s tracks, Á¢€Å"Change ReactionÁ¢€ (download). Its lyric is quintessential generation-gap, feel-good nonsense, perfect for the Reagan-era dance floor (Á¢€Å"They tried to cross the stars above/They tried to crucify your love/But youÁ¢€â"¢re hip, youÁ¢€â"¢re young and freeÁ¢€¦Á¢€). And its straightforward dance-pop melody enables Hazard to sound almost Á¢€¦ well, human, rather than Human League. Check out his awkward rock-star poses, not to mention the vintage Philadelphians in the crowd, during this low-budget clip:
[kml_flashembed movie="http://www.youtube.com/v/fEc8Oz4Cl_s" width="425" height="350" wmode="transparent" /]
For those who managed to hear it, Á¢€Å"Change ReactionÁ¢€ served as a terrific bookend to David BowieÁ¢€â"¢s Á¢€Å"Modern Love,Á¢€ which charted during the fall of Á¢€â"¢83 just as HazardÁ¢€â"¢s track received its modicum of MTV and Top 40 airplay. Unfortunately, while Hazard's EP climbed halfway up the album charts, peaking at Number 102, Á¢€Å"Change ReactionÁ¢€ never broke onto the Hot 100 Á¢€" a harbinger of his future career disappointments, which included a pair of slow-selling albums in the '80s followed by nearly two decades in the club-circuit wilderness.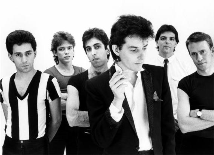 Still, one imagines that Hazard got by financially during those years of obscurity. After all, a couple years before his brief turn in the limelight, he had laid down a little self-penned ditty during a demo recording session Á¢€" a ditty called Á¢€Å"Girls Just Want To Have Fun.Á¢€ You may have heard it once or twice. Anyway, Hazard re-emerged as a recording artist in 2004, having returned to the country music with which he had first tried to make his name during the '70s. Then last year he developed pancreatic cancer, and died during a surgical procedure in August at age 59.
Simply because it keeps HazardÁ¢€â"¢s legacy alive for his hometown fans, I find it comforting that the Philly Rock Bar & Grill is still around. (I believe its reach has even expanded to a second location, on Locust Street in Center City.) PhillyÁ¢€â"¢s other favorite mid-'80s sons, the Hooters, paid tribute to him shortly after his death by performing Á¢€Å"Escalator of LifeÁ¢€ during a casino gig in Atlantic City.
[kml_flashembed movie="http://www.youtube.com/v/XyqjZucmHkA" width="425" height="350" wmode="transparent" /]
As for Philly, I havenÁ¢€â"¢t returned since 2000, when I visited right around the time of the Republican National Convention. The city looked great that summer, and I was heartened to see that there was a gleaming new Hard Rock Cafe near the historic Reading Terminal Market. The restaurant had opened in January 1998 Á¢€" just a few months after the debut of the HRC in Sacramento. Sacramento!