For more than 75 years, Kirkus Reviews has served as the industry bible for bookstore buyers, librarians, and ordinary readers alike. Now Popdose has joined the Kirkus Book Bloggers Network. Every week, a rotating crew of your favorite Popdose writers will grace the virtual pages of Kirkus Reviews Online, taking on the best — and sometimes the worst — in pop-culture and celebrity books. From coffee-table studies to quickie unauthorized bios, if it's about show biz, it's fair game.
With a certain summer tentpole movie about a certain Star-Spangled Avenger opening later this week, we're looking at the long and varied career of the man who co-created him — a comics innovator whose career, though often overshadowed by that of his frequent collaborator Jack Kirby, is astonishing in its breadth and longevity …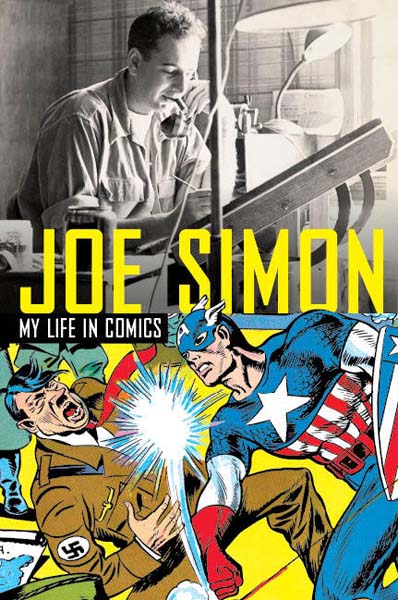 If conflict is the engine that drives a great story, then the life of a successful creative artist is a dicey subject for a memoir. A career spent in doing what one loves, and doing it well, will tend to lack a certain dramatic turmoil. That's especially true in collaborative fields like film, which is why so many showbiz bios are full of passages that read like remarks at a testimonial dinner.
Joe Simon has spent his career in the highly cooperative medium of comic books, and seems to have managed to make the rounds of all the major publishers without making any enemies. (Or perhaps, at a hale 97 years old, he's simply outlived them all, which is nearly the same thing.) And his new memoir My Life In Comics is packed with affectionate portraits of the artists, editors, and executives he's worked with in his eighty years in the business.
But My Life In Comics cannot be said to lack conflict. Because in 1941, Joe Simon — with Jack Kirby — co-created Captain America. And that, in a very real way, put him at the forefront of battle to save civilization.
Read the rest of this article at KirkusReviews.com!