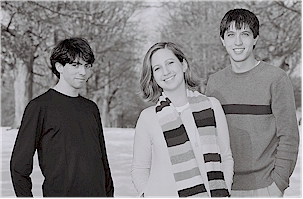 There's a coffeehouse attached to a single-screen movie theater about four miles from where I live. Both are owned by a man I've known for 20 years, and managed by him and his wife, both retired teachers. Our friendship is founded on a shared sense of humor (strange though it is) and what appears to be a mutual admiration. I admire him for fulfilling his lifelong dream to own and operate a theater; for revitalizing a small college town with his dedication to the arts and local organizations; for providing good films and great coffee and food for a reasonable price; and for being a smart, funny, fun guy to hang out with between writing sessions at my "office" (first table on the left, on the raised floor). What he sees in me, I have no idea.
My friend hosts music at the coffeehouse, bringing local folk and jazz artists out of the woodwork and into a little corner down by the front window. Certain acts pack the place—there's a running monthly jazz series curated by a fine local pianist, a goofy but solid bluegrass band that insists on (and receives) audience participation, a guitarist who actually got a Grammy nomination once, and a combo of middle-aged men who look like the coolest hippie dentists you've ever encountered; they play classic rock songs and leave everyone humming "Proud Mary" for the rest of the night.
There's also ellipsis (yes, with a small E), an acoustic trio out of Philadelphia that made the two-hour drive west many times over the years to play to rapt audiences at my friend's place. Formed in 1998 by three Swarthmore College students, ellipsis features the honeyed voice of one Vale Jokisch and the fine harmonies and sympathetic accompaniment of guitarist Matt Murphy and multi-instrumentalist Joel Price. Though chiefly a live act, ellipsis released three full-length albums and one EP in 13 years, records that show the evolution of the band from your basic coffeehouse troupe to mature writers and performers.
The music ellipsis plays is chiefly contemporary folk in style, with bits of bluegrass pickin' and Latin lilt mixed in for good measure. All are evident in their 2000 debut And So On …, on which the young band attempts to find its feet in the studio after two years of gigging. The results are mixed—you hear in songs like "One Night Fall" and "Move On" a germ of what the trio would become, but they weren't quite there yet.
Murphy emerges as the chief songwriter in the group, and shows an imaginative streak on "Withering Leaves (Juliet)," which tells the Shakespeare tale from Romeo's perspective, if Romeo were playing Gerdes in '73. He also sings lead on the song, and his voice quivers under the responsibility, except when Jokisch joins him in harmony. Not to be left out, Price harmonizes behind Jokisch on the fine "Stowaway Ophelia," arguably the album's best song, but also an example of its greatest weakness, namely the strummy nature of most of the songs. The approach works nicely on Murphy's "Thinner," but sounds overwhelming on "Stowaway Ophelia" and Price's "Long Summer Gone," where Murphy's guitar and Price's vocals seem rushed and slightly out of sync. Better is the gorgeous 12-string arpeggiatin' on "Tale of a Daughter," a standard "Mom-you-just-don't-understand" song made special by tandem guitar and mandolin picking and strumming and Jokisch's smooth delivery.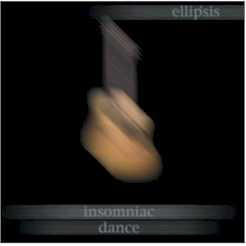 On 2001's Insomniac Dance, ellipsis expands its instrumental palate, working bass and piano into the mix, and the fuller sound adds another dimension to their songs. Jokisch adds piano to the melancholic "Fallen," a tale of domestic ills that opens up on the harmony-laden chorus. The voices are unadorned by any kind of studio effect, and the sweet sound they make together is better for the lack of echo-y "magic."
Elsewhere, Price's violin plays several roles on a number of songs. It shines as a dramatic component on the leadoff track "Unspotted." "Erlkonig" finds Price playing tag with Murphy's voice, providing an interesting counterpoint to the song's melody and chord structure. "Somewhere Between" is practically a duet between Jokisch's voice and Price's fiddle, until the introduction of three-part harmony that closes the song.
My favorite track on the record, though, is "Mina Mina." Jokisch sings entirely in Spanish, and even though I have no idea what she's saying, I find myself aurally aroused by the boss nova lilt and by her sensual delivery. I swear one of the lines must mean, "Yo, check out this fine muhfukkin' mandolin solo," cuz halfway through the tune, Price goes off on a lengthy pickin' excursion worthy of one of Jerry Garcia's spidery solos. Although at nearly seven minutes, the song is too long probably by half, I listen to it over and over again without complaint. It's a definite highlight.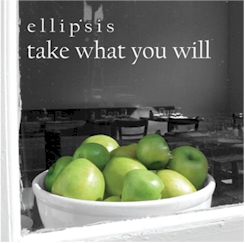 Through the first two albums, one fact emerged quite clearly—whose voice among the ellipsis three should be featured. Although Murphy and Price are equal to the task of singing their songs, the band is at its best when Jokisch takes the lead (and sounds particularly special when all three harmonize). To sideline that voice for half an album is wasteful, a fact that must've dawned on the band eventually, since with 2004's Take What You Will, ellipsis finally found its voice, and that voice belonged to Vale Jokisch, who sings lead on all eleven tracks on the record.
A fine collection of quiet, contemplative songs, Take What You Will finds ellipsis emerging as a mature, fully-formed singer/songwriter collective. It opens with "Episode One"—an evocative rumination on the simple act of watching television. "I live through other's eyes," Jokisch sings, "and pretend that they're my own." Her voice, warm and graceful, pulls the listener in, just as the dramas unfolding on a TV screen can softly steal a viewer from reality with little effort.
"Still Running" follows it—heartbreaking story of a woman who's fleeing something unnamed, and is so distraught, she can't remember what that thing is. Murphy's "Coming Home" paints a wistful scene in which nostalgia and present-day concerns meld when one returns to his/her beginnings. "What's the use of crying," Murphy asks (through Jokisch's voice), "when you can't retrace the tears?" The chorus shows both defiance and the need for the familiar:
I came to find my calling
And I made it on my own
So clear some space at the table, Mamma,
Mamma, I'm coming home
The chorus is also the strength of "Alright." Jokisch practically whispers a desperate plea for a lover's presence:
Green water still
Pull me down
Close to you
Let me drown
Let me breathe
Be my air
The melody is so beautiful, the violin accompaniment so perfectly placed, it's a wonder a plastic disc can hold it all.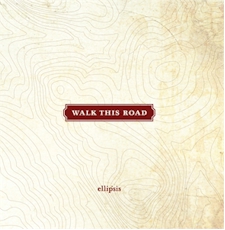 Take What You Will got ellipsis some attention, but one cannot make a living on attention alone. Since the record's release, the band has foraged out in multiple directions, away from their Philly base. Murphy calls the quasi-split an "away" message—he currently serves as the technical lead for a startup out in San Francisco; Price is the webmaster and social media specialist at an independent school in a Philadelphia suburb; Jokisch is finishing up her MBA at Duke University's Fuqua School of Business. All continue to play music in various incarnations. Both Murphy and Jokisch maintain their close ties to Philadelphia, and last year, ellipsis reconvened for several concert dates in and around their former home base.
They also entered the studio to record Walk This Road, a six-song EP that extends the maturity and multi-dimensional essence of Take What You Will. That maturity can be heard on the band's re-recording of "Stowaway Ophelia," from their first album. The arrangement is certainly improved—the hard, coffeehouse-standard strumming is replaced by guitar picking and bass, providing a lighter touch that brings out the nuances in the lyrics, and in Jokisch's voice. And what a voice—instead of merely singing the song, she fills it. It's almost difficult to believe it's the same band who had recorded it a decade earlier.
Walk This Road also features a cover of Leonard Cohen's "Hallelujah" that gives me chills. Now, if there's one song that should be the target of a moratorium, it's "Hallelujah." It's been done to death; if I'd never heard another artist sing "I heard there was a secret chord," I'da been fine. But Jokisch's vocal stops you in your tracks—so vulnerable, yet so perfect for the song. The harmonies after the third verse are chillingly good. The arrangement builds gradually, with violin, bass, and other voices chiming in until all instruments back away and the voices carry the song to its finale.
It's quite a finish, quite a wonderful listen, and if it winds up being the final recorded statement from ellipsis, the harmonied "Hallelujah" is a fitting end. I hope that's not the case, though. I hope there's still more music in them, and I hope they find a way to share it with us all.