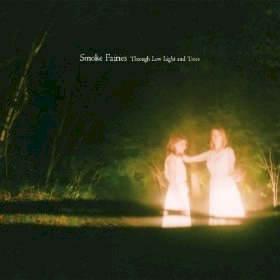 The original "smoke fairies" were silent film actress Gladys Hulette and another, unidentified pixie, who tormented smoker Paul Panzer in the 1909 silent short Princess Nicotine. The film's action is typical of the era, full of slapstick comedy and winsome charm, but its use of primitive "special effects"—the smoke fairies frolic and play their pranks around a giant pipe and cigar box, and there's an impressive stop-time animation segment—enabled it to achieve its status as an early film classic. Princess Nicotine also featured the first instance of tobacco product placement in cinema, as Panzer lights up a Sweet Caporal cigar, shortly before spraying himself with seltzer water.
Today's Smoke Fairies bear little resemblance to their 1909 counterparts. The British duo, comprised of singers Katherine Blamire and Jessica Davies, cook up a potent brew of spooky folk and ambient blues, highlighted by the pair's close harmony singing. Their debut full-length, Through Low Light and Trees, was suggested to me by a pal in publicity who was working the record, and I have to remember to thank her. The record reminds me of Cowboy Junkies' The Trinity Session, in that it gave me chills the first time I listened to it with the lights out.
Credit for the haunting, echo-drenched production goes to a man called Head (who either engineered or co-produced fine records by PJ Harvey, Massive Attack, Marianne Faithfull). I'm awed by those who can adjust levels and twiddle knobs and come up with something as evocative as this—his touch adds an otherworldly character to the project.
Of course, without the right songs, it's all just effects and affectation, but Smoke Fairies have the goods in that regard. "Summer Fades" leads off with an eerie guitar and a pleading lyric, sung in that wonderful two-part harmony:
Can you hold me like someone
You shouldn't have let go?
Can you keep me deep inside
Like the regrets that burnt a hole?
Can you love me like you loved someone
You loved so long ago?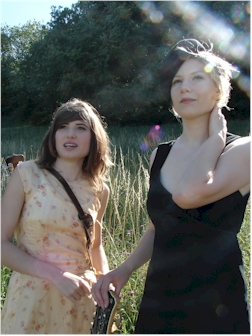 "Devil in My Mind" is cut from a similar cloth, with multiple repetitive guitar riffs tangling loosely, and a haunting violin that enters and recedes (it also has probably my favorite line on the album: "London churns like it wants me for dead." My town does that to me, too). "Feeling is Turning Blue" likewise traffics in echo-drenched elegance, with a distorted electric guitar forming the song's foundation. "Feeling" reminds me a lot of the sadly overlooked Nineties alt-country band Tarnation, whose work haunted me then as Smoke Fairies' music does now.
I also dug "Dragon," the shortest song on the record, whose instrumentation is built in layers: a plaintive piano sets the tone; strings gradually slide in behind it, and a wordless vocal moves in beneath that. The song's power gently, gradually develops, but never peaks. Likewise, "Morning Blues" begins with straightforward acoustic picking and progressively develops its tale of longing "When the morning comes, I'll be missing your touch," Blamire and Davies sing. "The rising sun is no friend of mine."
Perhaps my favorite among the album's eleven fine tracks is "Strange Moon Rising," a slow-burner with an evil-sounding slide guitar riff undercutting two sets of harmonies—one a wordless, atmospheric background vocal; the other, a dual reading of the spooky, only partially decipherable lyrics. It's one of those songs you want to play as you drive into the night, just to see if you can take it without freaking yourself out too much.
Smoke Fairies fits neatly into the small but thriving cabal of UK-based folk artists, like Richard Hawley, Laura Marling (both of whom Smoke Fairies have supported on tour), Eliza Carthy, Rachel Unthank, and the much beloved Mumford and Sons. I'm happy to recommend their elegant, enchanting music to the Popdose faithful.
Next time out, I'm going to hip you to three young dudes from Philly whose music is pure singer-songwriter magic. Until then, keep your minds and ears open, and shoot me an email if you hear something cool.