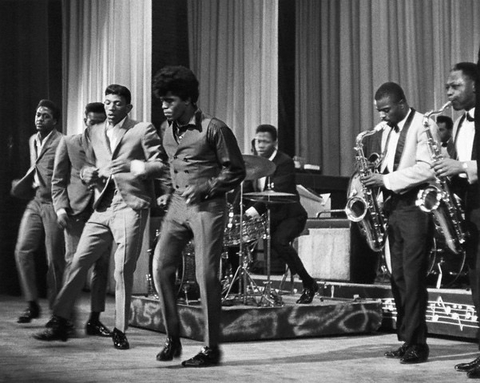 I am embarrassed. It's been more than six months since I started writing the Soul Serenade column, and not once have I featured the music of James Brown. Of course I always intended to include the King of Soul here, right from the beginning. It just seemed like something would always happen to bump him. It might have been a magical song that I heard on the radio. Perhaps a great soul artist had passed away and filled me with a memory that I wanted to share. Or maybe a record label or publicist proposed a contest with a prize that I wanted to share with you.
Whatever the reason was, Soul Serenade was devoid of the music of James Brown. That ends here, and that ends now. Today I would like to feature the James Brown and the Famous Flames 1960 hit "I'll Go Crazy". And to make up for lost time, I'm going to make it a double play. In addition to the hit single version, here is the stunning version of "I'll Go Crazy" that opens Brown's epochal 1963 album Live at the Apollo. The story goes that Brown's label, King Records, was opposed to releasing a live album, so Brown paid for the October 24, 1962 recording himself.
History records that Live at the Apollo was a massive hit for Brown, and King. The album spent more than 60 weeks on the Billboard Top Pop Albums chart, where it peaked at #2. James Brown was an amazing musician who always knew what his audience wanted. There will never be another like him.
Here's a little something extra from that 1962 Apollo show:
[kml_flashembed movie="http://www.youtube.com/v/rFG4J1wi5fY" width="600" height="344" allowfullscreen="true" fvars="fs=1" /]