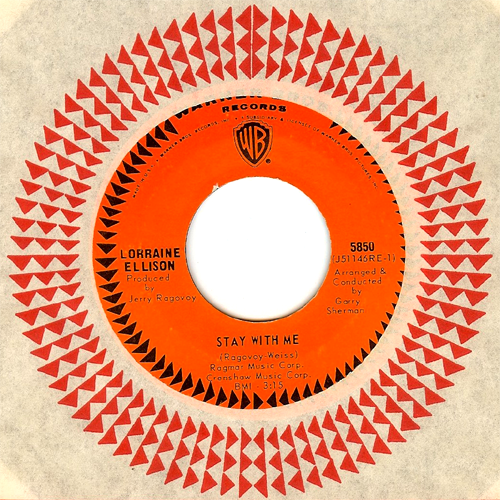 This is the way it happens sometimes. The other night I was watching the film Pirate Radio (aka The Boat That Rocked). I had seen the film before, but I hadn't stayed around for the end credits. I usually don't at home. Do you? On the other hand, I tend to sit there through the bitter end when I'm in a theater, endlessly watching names that I don't recognize crawl by. I do this because I'm waiting for the music credits, which invariably come last.
Not having watched the credits before, I was surprised to hear a cover (by Duffy) of the great Lorraine Ellison single "Stay With Me" playing over them. I immediately sought out the original version and I was reminded again of how many great songs there are out there that I have simply forgotten about over the years. I don't mind though, because hearing them again always brings me great joy, and a gratifying sense of (re)discovery.
"Stay With Me" was released by Warner Brothers in 1966. The single reached #11 on the Billboard R&B chart, and #64 on the Billboard Hot 100 chart. It was co-written and produced by the Jerry Ragovoy, who had many hits in the '60s, a number of which he wrote with Bert Berns. His work loomed large in Janis Joplin's career. Joplin recorded several of Ragovoy's songs including "Try (Just A Little Bit Harder)," which was originally recorded by Lorraine Ellison, "Cry Baby," originally recorded by Garnet Mimms and the Enchanters, "Get It While You Can," originally recorded by Howard Tate, and of course "Piece of My Heart," originally recorded by Erma Franklin.
"Stay With Me" comes complete with a legend about its recording. Ragovoy was working with Frank Sinatra at the time, and Sinatra cancelled a recording session at the last minute. Ragovoy found himself with a full orchestra, and free studio time. Under the circumstances he only had a few days to come up with an arrangement for the song. He not only created a great one, but legend has it that he got it in one take.
For some earlier Lorraine Ellison, check out her 1966 single "Call Me Anytime You Need Some Lovin'."
[kml_flashembed movie="http://www.youtube.com/v/wZ0cE5WEA9M" width="600" height="344" allowfullscreen="true" fvars="fs=1" /]