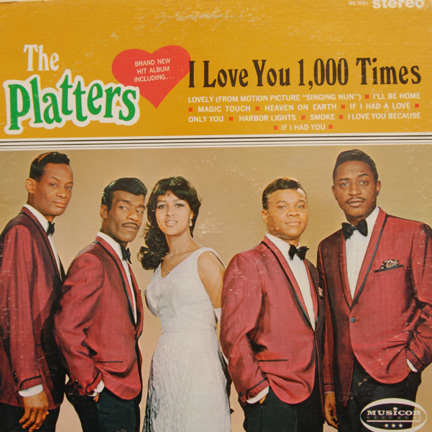 The Platters, who formed in Los Angeles in 1953, were arguably the most important vocal group of the 1950's. Led by singer Tony Williams, and under the guidance of songwriter Buck Ram, the Platters scored a number of major hits throughout the decade. They had #1 hits with "The Great Pretender," "My Prayer," "Twilight Time," and "Smoke Gets In Your Eyes," and a number of lesser hits in the era.
The group survived a number of lineup changes, but when the four male members were arrested in Cincinnati in 1959 on drugs and prostitution charges, things became difficult. While none of the four were ever convicted, their professional reputation was severely damaged.
It was around this time that Williams left the Platters for a solo career. He was replaced by Sonny Turner, but the group's record label refused to release any records that Williams wasn't singing on. For two years, older material from the Williams era was released until the Platters contract ended.
In the early '60s, confusion reigned as several groups of Platters were out on the road at the same time, including one led by Williams.
Against all odds, the official Platters signed to Musicor Records and made something of a comeback in 1966-67 with two indelible singles, "I Love You 1,000 Times",  which reached #6 on the US R&B chart, and #31 on the pop chart, and "With This Ring," #12 on the R&B chart, and #14 on the pop chart. No matter what you might hear, Sonny Turner, and not Tony Williams, was the lead singer on these two singles.
Legal battles between the numerous Platters groups raged in the ensuing decades. Even today, there are two groups of Platters who are allowed to use the name. It's a shame that the legal issues clouded the group's legacy, because the Platters were an important bridge from Tin Pan Alley in the '40s, to the doo-wop era of the '50s, and the classic soul of '60s.
[kml_flashembed movie="http://www.youtube.com/v/KO0Zba2Y5Uw" width="600" height="344" allowfullscreen="true" fvars="fs=1" /]