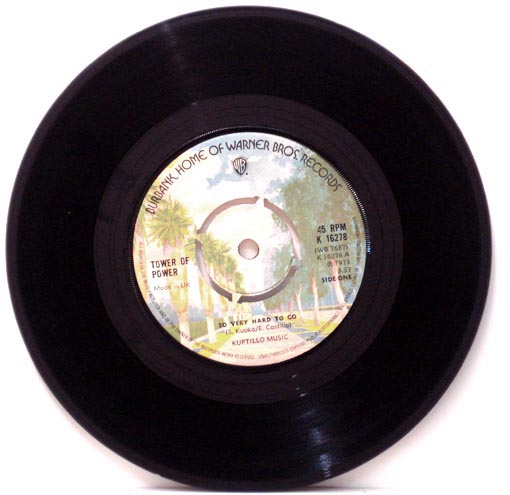 Once upon a time there was a wonderful club in Greenwich Village called the Bottom Line. In my opinion it was the finest music venue on the planet. Everyone, and I mean everyone, played there at one time or another. I went to a lot of memorable shows there. One great example was the appearance of Bruce Springsteen and the E Street Band for five nights (ten shows) in August 1975. How all of those guys fit on that small stage I'll never know, but as you might imagine, the shows were amazing. Sadly, the owners of the Bottom Line were forced to close when they lost their lease after nearly 30 years in business. I can't tell you how many people miss the place. I know I do.
I am writing about the Bottom Line today because it was there that I first encountered the great Bay Area band Tower of Power. Throughout the '80s and '90s TOP would hit New York City once a year, and I was always sure that I had reservations for their show at the Bottom Line. But I didn't just go alone. I would gather a group of funk-loving friends and there were often 15 or more of us at the shows. I've lost touch with a lot of those people over the years, but I will never forget those nights with good friends, and good music.
In 1970 Tower of Power released their debut album on Bill Graham's San Francisco Records, but it wasn't until Bump City in 1972, and Tower of Power the following year, that they really broke out. That self-titled third album remains the band's biggest to date, reaching #15 on the Billboard Pop Albums chart, and spawning their most successful single, "So Very Hard to Go," which reached #17 on the Billboard Hot 100. The album opener was perhaps the band's best-known song: "What Is Hip?"
The lineup back in '73 included sax player Emilio Castillo, who had founded the band. flugelhorn player Greg Adams and drummer David Garibaldi. The famous horn section was filled out by sax players Lenny Pickett, and co-founder Stephen "Doc" Kupka, flugelhorn player Greg Adams, and trumpeter Mic Gillette. The rock solid rhythm section was bass player Francis "Rocco" Prestia and drummer David Garibaldi. Chester Thompson played keys, Bruce Conte was on guitar, and Lenny Williams handled the lead vocals. Ladies and gentlemen, that was your classic, but by no means only Tower of Power lineup.
The fact of the matter is that over 60 musicians have passed through the band over the years. Each year we would see them it seemed like there was a new singer, or a new guitarist, or lead tenor player. Emilio Castillo has pretty much been the one constant through it all, and he's still there with what is, after all, his band. The thing is, it doesn't much matter who the players are. More than 40 years on, Tower of Power was and is one of the greatest live bands you will ever see. They're still out there on the road, so when they come to your town, do yourself a favor and go out and have a funky good time with them.
If you're a Tower of Power fan, particularly if you're a fan of that classic lineup, you might want to click here.
[kml_flashembed movie="http://www.youtube.com/v/VUFxj59Fa9o" width="600″ height="344″ allowfullscreen="true" fvars="fs=1″ /]