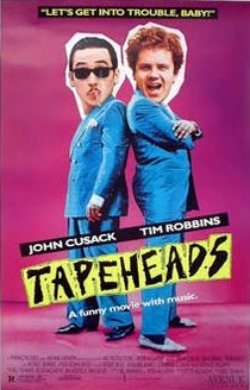 Well, long time, no see! I know it's been awhile since the last Soundtrack Saturday and for that, I'm sorry. The truth is, I've needed to take a break from this column for awhile, partly because I've been running out of movies/soundtracks I want to write about and partly because I've been a little burned out. But I'm back! This column will now run on a monthly basis and I'm hoping not to have any more long hiatuses in the future.
Several years ago, when this column still lived on my old blog, I went to see a band I'm friends with from Chicago play a gig somewhere outside of Indianapolis. After the show, we were having drinks and chatting and I was telling them about Soundtrack Saturday. Immediately, a couple of the band members started throwing out suggestions of films I should write about and Tapeheads (1988) was one of them.
I filed the suggestion away in the back of my brain, as I'd never actually seen the film before (yet another '80s John Cusack film I couldn't believe I'd never watched), though I'd heard of it. When I got home, I did a little research on it and, upon noticing that its soundtrack was out of print — criteria #1 for this column, as you know — I put it at the top of my Netflix queue.
So, why didn't I write about it before now? Well, it's taken awhile to get my hands on the soundtrack — out-of-print stuff isn't as easy to find as you might think — and I still wasn't able to snag all the tracks used in the film. But I got as many as I could, so I figured now was a good time to trot this one out.
If you've never seen Tapeheads, it tells the tale of two childhood best friends, Ivan Alexeev (Cusack) and Josh Tager (Tim Robbins), who, after losing their shitty jobs as security guards, decide to start their own video production company, Video Aces, with the goal of eventually making a music video for their favorite band, the '70s sould duo Swanky Modes (Junior Walker and Sam Moore).
This movie is 100% crazypants. It had been a while since the last time I'd seen it, so I'd forgotten just how insane it really is. First, Cusack's look is totally gross-o: slicked back hair, thin, disgusting mustache, horrible, ugly suits. He's supposed to be slimy, in both looks and actions, and I know that. But it's still disconcerting to have him look like a used care salesman trying to impersonate Clark Gable. In some alternate universe, I think his character and James Spader's character from Mannequin go to the same stylist.
Other than the obvious draw of the two stars, Tapeheads is chock full of cameos and unexpected supporting actors. First, and foremost, there's Don Cornelius — yes, that Don Cornelius — deftly playing shady record producer, Mo Fuzz. Hearing him talk about tits and ass is worth the price of admission alone because it's so unexpected and totally ridiculous. He does such a great job in this role that it makes me wonder why he never put more effort into his interviews on Soul Train. And don't even front — you know he's one of the worst interviewers ever.
You also have Mary Crosby, she who shot J.R., playing a tabloid music reporter; Connie Stevens and Doug McClure playing Josh's parents; Jessica Walter, best known these days as Lucille Bluth from Arrested Development, playing Kay Mart, the wife of a sketchy presidential candidate; and Xander Berkeley with a British accent (his big line is, gloriously, "Don't be a cunt.").
Cameos include Coati Mundi, who makes anything he's in better (i.e. Who's That Girl), "Weird Al" Yankovic, Ted Nugent, Doug E. Fresh, Michael Nesmith (who also served as executive producer), Martha Quinn and, if you look real hard you'll see an uncredited Courtney Love. But my favorite cameo, by far, is Jello Biafra as one of the FBI agents who arrest Ivan and Josh at the end because, as he's arresting them, he says, "Remember what we did to Jello Biafra?" Priceless.
Some of my favorite crazier moments in this film:
Cube Squared:
[kml_flashembed movie="http://www.youtube.com/v/rAisNBKNLqg" width="600" height="344" allowfullscreen="true" fvars="fs=1" /]
The Roscoe's Chicken & Waffles ad that Video Aces shot:
[kml_flashembed movie="http://www.youtube.com/v/o9dBiw7xfVU" width="600" height="344" allowfullscreen="true" fvars="fs=1" /]
"Tragedy hit the Greek Theater tonight when a fragment of SpyLab 14 hit the stage, killing the surprised members of the up-and-coming rock band, the Blender Children."
[kml_flashembed movie="http://www.youtube.com/v/7DBVsqB68nA" width="600" height="344" allowfullscreen="true" fvars="fs=1" /]
This movie also contains the best girlfight ever: Mary Crosby in a leather suit WITH NUNCHUCKS vs a blonde chick in red footy pajamas with two switchblades. Sorry, I couldn't find a clip of that scene.
As I said previously, I couldn't find all the tracks featured in the film. I did find the complete official soundtrack album, plus a few non-album tracks. One that I couldn't find was "Repave Amerika," which was written and performed by Tim Robbins (as Bob Roberts). That song title might seem familiar to fans of the film Bob Roberts as it was slightly reworked to become "Retake America" for that film, which was released four years after Tapeheads.
Swanky Modes – Ordinary Man
King Cotton – Roscoe's Rap
Bo Diddley – Surfer's Love Chant
Swanky Modes – You Hooked Me Baby
Swanky Modes – Betcher Bottom Dollar
Devo – Baby Doll (Sung in Swedish)
Fishbone – Slow Bus A-Movin (Howard's Beach Party)
Swanky Modes – Audience For My Pain
Swanky Modes – Language of Love
Swanky Modes – Ordinary Man (Can't Keep a Good Man Down Mix)
Circle Jerks – Beat Me Senseless
Dead Kennedys – In Sight
They Might Be Giants – Put Your Hand Inside The Puppet Head
The Zeros – Mr M-X 7