Before we kick off today's round of exquisite Mellowmas torture, how about some discount music and a contest? Our friends at Rhino are celebrating the Twelve Days of Chri — er, Rhino, and for the eighth day, they're not only offering a whopping 40% discount on the seven-disc, 130-track Whatever: The '90s Pop & Culture Box, but they're giving away a $25 promo code to one lucky Popdose reader! Here's what you need to do to enter:
Visit the Rhino site and look up the topic of the current Rhino Podcast (episode #96). Then email the answer to Scott Malchus with the subject line "Everything I Do (I Do It for You)." Our winner will be chosen at random, and all entries must be received by noon PST tomorrow. Good luck!
---
Jason: Well, well, well. Lookie what we have here. Genie Francis.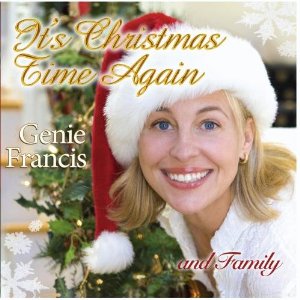 Jeff: Laura from General Hospital!
Jason: Okay, you just answered my first question.
Jeff: Boy, she sure was famous when I was a kid.
Jason: Can I ask you a second question?
Jeff: Are you going to ask if I ever thought I'd see her wearing a Santa hat and grinning like a mental patient?
Jason: WHY DO I HAVE THIS GODDAMN CD?
Jeff: Because it's a holiday CD, of course!
Jason: And a follow-up, if you will: WHY HAS IT BEEN SITTING IN MY CD COLLECTION FOR THE PAST 12 MONTHS?
Jeff: Well, last Mellowmas was kind of hectic.
Jason: Don't remind me.
Jeff: We were rushing through our posts as all kinds of stuff was coming out. Like, for instance, Genie Francis and Family's It's Christmas Time Again.
Jason: "Coming out" seems appropriate. Lots of stuff was coming out. Like vomit.
Jeff: Tell me, Jason. You have the CD. How's the packaging?
Jason: I don't want to.
Jeff: Is it professional quality?
Jason: Wait, you want me to look at the CD? Hold on, let me go to the kitchen. I have to fish it out of the trash.
Jeff: Next to the Judy Collins disc?
Jason: That disc may be on my roof. I'm not sure. It's one way of ensuring Santa doesn't wake me up in the middle of the night on Christmas Eve. He just skips over my place. Okay, I've got the disc. It smells like bananas and coffee grounds, for some reason. That's odd.
Jeff: "Eau de Genie." I think that's the fragrance she sells on QVC.
Jason: Why don't you tell the good people why you're asking me about the packaging?
Jeff: Well, it's been a year, but I think I remember this being a CD-R release. I also think I remember it being sold at not-quite-CD-R prices.
Jason: Was it some kind of thing where they manufacture the disc after you buy it?
Jeff: I think so, yes. And by "they" I'm pretty sure we're talking about Genie Francis and Family.
"Ding!"
"We got an order, guys!"
Jason: Well, believe it or not…it's not a CD-R. It's a legitimate silver CD. It even has a bar code on it.
Jeff: Define "legitimate."
Jason: Meaning it doesn't look any different from any other CD I've had in my trash can.
Jeff: Did it come out on Laura from General Hospital Records?
Jason: It came out on Pictograph Records.
Jeff: I hope the spine says "LGHR 0001"
Jason: Ha! PR-H002. But it does say on the front "Compact Disc Digital Audio CD-R Format." So I guess it's some kind of CD-R, but not blue or purple or green or whatever on the other side.
Jeff: PR-H002. Was it produced by Phil Ramone?
Jason: It's produced by Genie's brothers. Kenneth and…Ivor.
Jeff: I love this already. "Hi, I'm producer Ivor Francis. You may remember me from my work on It's Christmas Time Again, by Genie Francis and Family."
Jason: The three of them are pictured on the back of the jewel case. They all look eerily the same.
Jeff: I think I remember Genie Francis being married to that guy with the beard from Star Trek: The Next Generation. Is he in the picture too?
Jason: No, it's just the three of them.
Jeff: It would be great if they tricked Patrick Stewart into being on this.
Jason: Man, Genie's teeth are really, really white.
Jeff: I think Genie sells tooth-whitening stuff on QVC, too.
Jason: And her eyes are really, really blue. And her hair is really, really blond. The lip gloss is a little much, but other than that, she's quite pretty.
Jeff: Ah, but can she sing? Can she really, really sing?
Jason: You want the truth?
Jeff: I do.
Jason: Can you handle the truth?
Jeff: TELL ME YOU LOVE THIS. I want to hear you say, "It isn't that bad."
Jason: …it isn't that bad.
Jeff: MELLOWMAS VICTORY
Jason: You need to stop picking semi-good music for Mellowmas.
Jeff: Well, look, in my defense, it's a CD-R by a washed up soap opera star.
Jason: That's a good point.
Jeff: Seemed like a slam dunk.
Jason: But, as it turns out, her family has tons of musical talent.
Jeff: I think I went from "Hey, Genie Francis has a Christmas album" to clicking "Order" in about three seconds.
Jason: Now, the thing is, I probably won't listen to this CD again. I'm going to give it to my aunt, because I think she'll like it. Once I spray some Febreze on it.
Jeff: Does Ivor play a mean glockenspiel?
Jason: It sounds kind of like the Carpenters, kind of like mothballs.
Jeff: Intriguing.
Jason: It has a touch of jazz and a touch of Old Spice. It's something I think our older relatives would quite enjoy. Lots of jazzy, major-seventh harmonies.
Jeff: What the hell?
Jason: I just put that term in there to confuse you.
Jeff: phew
I thought you were going to tell me that Genie Francis made a Steely Dan record for Christmas.
Jason: Ha ha ha ha ha! Francis and Fagen: Together At Last. I can just picture the cover.
Jeff: shudder
Fagen would have his tongue in her ear.
Jason: Genie trying to maintain her beautiful smile, despite the fact that Donald has his hand on her thigh. Hey nineteen, that's Genie Francis! She don't remember the queen of soaps!
Jeff: Before we start mocking her music, I guess we should point out that she starred in one of the most highly rated episodes in TV history.
Jason: One that I imagine you watched live.
Jeff: I think I was probably in school, but I can guarantee my mom did.
Jason: If I ran into Genie Francis today, I would totally ask her out. And your mom did watch it live. I remember.
Jeff: Weren't you a zygote when it aired? I think it was 1981.
Jason: I was an early bloomer. And your mom likes 'em young.
Jeff: Oh, she just likes 'em. Now I want to find some velour sweatpants, a pint of bon bons, and watch old Genie Francis clips on YouTube. But I guess we have a job to do.
Jason: That's right. Let's play a song for our readers. Here's one of the snappier ones. "Jingle Bells."
Jeff: Hooray!
Genie Francis and Family — Jingle Bells (download)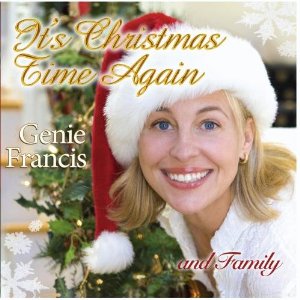 From It's Christmas Time Again
Jeff: Pretty!
Jason: See, that's some real production right there. I'm not saying it's good production, but it's certainly professional.
Jeff: It's better than some of the shit we've listened to. Whoa, are those real drums?
Jason: Ring, ring, ring, jing-jingle bells!
Jeff: I'm stunned.
Jason: Listen to those harmonies!
Jeff: Vibrato! What's with that percussion, though? I want to kick Paulinho da Costa over there in the nuts.
Jason: The Francis Family joins The Manhattan Transfer!
Jeff: I have this weird urge to snap my fingers.
Jason: Yeah, they went a little samba with this. Or something. Her vibrato is a little much, but it's certainly quite competent.
Jeff: This is adorable.
Jason: I mean, can't you imagine going over to your grandma's house and hearing this album?
Jeff: The arrangement can kiss my ass, but knowing it's Genie Francis singing with her brothers makes it impossible to hate.
Jason: YES! Finally, you agree with me about something!
Jeff: Jingle all the waaaayyyy!
Jason: Ha ha ha ha! Your love of soap operas has totally betrayed you! I love it!
Jeff: Damn, this IS jazzy. Who arranged this?
Jason: Ivor and Kenneth! The whole album was produced and arranged by them, and they play ALL INSTRUMENTS.
Jeff: Well, they're jerks for putting in all those stupid breakdowns, but it's obvious they put more thought into it than most of the performers we hear during Mellowmas. They probably thought, "This is our one shot to get our talent heard by someone. Anyone."
Jason: And check this out: "Genie Francis is donating 100% of her portion of the profits from this album to The Sisters of St. Francis Cuernavaca Children's Mission in Mexico. Feliz Navidad!" So this means two things. One, go Genie Francis. That's very classy of you.
Jeff: *Genie Francis gets 5% of the profits from this album
Jason: Two, IVOR AND KENNETH, YOU ARE GREEDY BASTARDS.
Jeff: I just Googled Ivor Francis to see if he has any other credits, thinking there could only possibly be one Ivor Francis ever in the history of the world, but no. Apparently there was a fairly famous Ivor Francis.
Jason: Maybe the Sisters of St. Francis are actually Genie Francis' sisters.
Jeff: Oh, wait, the famous Ivor Francis WAS GENIE'S DAD.
Jason: Whoa!
Jeff: He was on Broadway and in about a million movies.
Jason: That doesn't surprise me. These guys have talent.
Jeff: Well, we've been defeated. By Laura from General Hospital. I don't know what's real anymore.
Jason: I wonder if you could get Genie Francis to do an interview?
Jeff: "So, Genie, I bought your album as a joke and I totally thought it would blow, but I was sort of impressed. Discuss."
Jason: Oh well, we'll get 'em next time.
Jeff: Genie Francis: the Paul Carrack of Mellowmas 2010.
Jason: In the meantime, readers, if your parents are into this kind of jazzy-yet-traditional Christmas music, I would suggest picking up this record.
Jeff: The Sisters of Cuernavaca thank you!
Jason: ¡Feliz Navidad!
Jeff: ¡Gracias de Mellowmas! ¡Arriba!
[kml_flashembed movie="http://www.youtube.com/v/TBi4gT_GPyI" width="600" height="344" allowfullscreen="true" fvars="fs=1" /]