To say that Punchdrunk's new installation performance, Sleep No More, is all the rage might be a slight exaggeration, but for adventurous, pop-culture savvy New Yorkers, it has rightly become a "must see" event.  Originally from England, Sleep No More began its New York production this past spring, and since then, it has garnered such a positive response, it has already extended several times. It is now slated to close on September 5th.  The brilliance behind Sleep No More is wholly intertwined with its weirdness.  It's bizarrely conceived without question, but it's a captivating experience in a class of its own.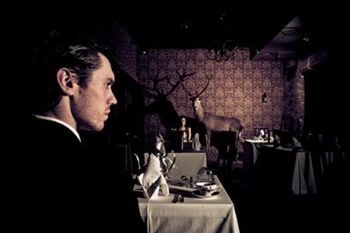 Pardon the vagueness, it's just really difficult to explain this show.  Even after experiencing it I'm not sure I've digested it entirely.  Suffice to say, it is hands on, fully sensory, and completely active. The McKittrick Hotel on 27th Street, between 10th and 11 Avenues, has been transformed into a creepy playground, the set for which Sleep No More attempts to tell a fragmented version of Macbeth. As an audience member, you don a mask that renders you anonymous, you separate from your party, and you explore the hotel. You are encouraged to touch things, follow the actors who run through the halls and perform intermittent word-less, dance-heavy scenes, and piece together the clues gathered from your journey. It's grand, it's lavish, it's dark, and it's full of intrigue.
I fully encourage intrepid patrons of the arts to check it out (at an admittedly steep $70 per ticket it's actually worth the price), but I do so with a few words of advice.
1. Wear comfortable shoes and clothing. This experience requires much movement from the audience and you don't want to be held back by a pair of too-tight heels.
2. Contacts are better than glasses. With a mask smushing your face for the duration of the performance, glasses just get in the way and actually challenge your vision.
3. It's hopefully handicap accessible, but you lose much of the experience if you're not able to run up and down flights of stairs and turn on a dime. The more mobile you are, the better your experience will likely be.
4. Not for the claustrophobic. Or for those afraid of the dark.
5. When you enter the hotel, you get a playing card; if yours is on the lower end of the deck (Aces are low) don't get a drink when you first get to the bar. There isn't enough time to drink it.
6. There is an end to the show, so don't duck out early. You'll know when it's the end…just follow the action.
7. Don't be afraid to really explore and don't worry about sticking with a group. An individual experience will probably be more meaningful.
8. After the show ends, you wind up back at the bar. Plan to stick around and have a drink — the entertainment is wonderful!
Want more New York theatre reviews, including one for Sleep No More?  Visit Theatre Is Easy at theasy.com.