In celebration of the former Beach Boy's 69th birthday, Popdose offers up a super-sized version of "The Very Guest Of…" and takes a look and a listen back at 15 occasions when Brian Wilson has stepped into the background and offered his decidedly distinctive vocals to the songs of other artists.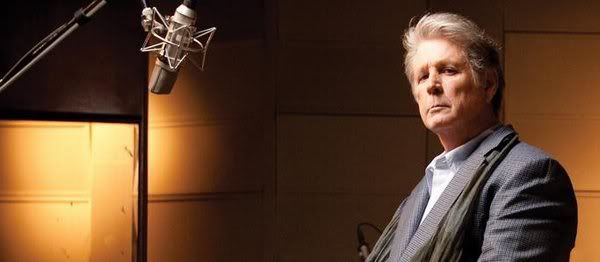 1. Glen Campbell, "Guess I'm Dumb" (1965) – Kicking things off on rather unsteady footing, I don't actually possess the documentation to confirm that Brian sang background vocals on this track, but given that he wrote it (with Russ Titelman), produced it, and made Campbell sound like a heretofore-unrevealed fourth Wilson brother, let's go ahead and give him the benefit of the doubt. "Guess I'm Dumb" got a bit of a boost in profile in 1996 when the Wondermints took a stab at the song…by which I mean that that's where *I* first heard it…but as it was never a particularly big hit, the song spent years in semi-obscurity before it finally began to find a regular spot on Campbell's best-of collections.
2. Jackie DeShannon, "Boat to Sail" (New Arrangement, 1975) – Although the bulk of DeShannon's success came virtue of her work in the '60s, with "What the World Needs Now is Love" and "Put a Little Love in Your Heart" both earning her top-10 hits, but she took a highly credible shot at '70s success when she teamed with producer Michael Stewart (Billy Joel's Piano Man) for New Arrangement. Sadly, the album didn't chart, but DeShannon got the last laugh: not only did one of the songs go on to become a signature song for another artist – God only knows how much she and co-writer Donna Weiss have earned in royalties for Kim Carnes' New-Wavey cover of "Bette Davis Eyes" over the years – but DeShannon can still smile at the memory of having once had Brian Wilson as a background vocalist.
3. Linda Ronstadt, "Adios" (Cry Like A Rainstorm, Howl Like the Wind, 1989) – In an interview with Holly Gleason for CD Review around the time of the album's release, Ronstadt gushed about Brian's brilliance, as you might well expect, but the best part of the discussion comes when she talks about the origins of their friendship. "I think we met at the Troubadour and became friends," she said. "He lived not too far from me, when I was living above the Sunset Strip. He used to come knock on my door on a regular basis, usually on the way to the health food store. Sometimes he'd be short of money and he'd come to my back door and say, 'I need to borrow 18 cents.' He'd get a couple bottles of grape juice and come back and we'd drink it together. He wasn't living at home at that point and he was having a hard time adjusting to things like doing his laundry, (so) we'd go sit in the laundromat and watch the clothes go 'round and talk about rock 'n' roll."
4. Paul Shaffer, "Metal Beach" (Coast to Coast, 1989) – I think it's probably fair to say that I like this album more than just about anyone else on the Popdose staff…well, certainly more than Mr. Giles, anyway…but I still think there are some extremely interesting musical amalgams going on within the record. Granted, the doo-wop-meets-hip-hop of "When the Radio is On" hasn't aged as well, but this track never gets old for me.
5. Ringo Starr, "In A Heartbeat" (Time Takes Time, 1992) – The idea of teaming Brian Wilson with the Wondermints remains one of the more inspired combinations of a '60s pop icon and a bunch of '90s pop geniuses, but I still can't believe Ringo's collaboration with Andy Sturmer and Roger Manning didn't end up being a bigger success. In addition to featuring the guys from Jellyfish, who even donated an original track ("I Don't Believe You"), Ringo tackled a Posies song as well ("Golden Blunders"). All this and Brian Wilson, too…? Yessir, and he's used to great effect as well.
6. Rob Wasserman, "Fantasy Is Reality/Bells of Madness" (Trios, 1994) – Although Carnie Wilson had racked up plenty of commercial success with her work as a member of Wilson Phillips, it's arguable that it took this collaboration with her dad and bassist extraordinaire Wasserman to earn her first across-the-board critical admiration.
7. Belinda Carlisle, "California" (A Woman and a Man, 1996) – Kicking off with the lines "I remember I was in the tanning salon / When I heard that River Phoenix was gone," this track from Carlisle's lone album for the short-lived Ark 21 label never had a chance in hell of making it as big as "Mad About You," but there's something decidedly dark and ominous about Wilson's vocal contributions to the song – which, if we're to be honest, are way better than Carlisle's – that make it a rather gripping listening experience.
8. Jeffrey Foskett, "Everything I Need" (Twelve and Twelve, 2000) – Though he's now long since been a member of Brian's touring band, I believe this duet was recorded in the embryonic stages of their working relationship. I admit to being a bit more partial to another track from the record, as my wife and I had our first dance as husband and wife to "The Best Thing About Me is You," Foskett's collaboration with Marshall Crenshaw and Bill Lloyd, but, y'know, this one with Brian ain't bad, either…
9. Richard Ashcroft, "Nature is the Law" (Human Conditions, 2002) – An avowed fan of Pet Sounds and Dennis Wilson's Pacific Ocean Blue, Ashcroft told VH-1 that when he wrote this track, "I was listening back and I was daydreaming, thinking about Brian and Dennis. I thought it would be great if I could get Brian to sing on it. I just got that feeling that it should happen. Call it daydreaming or visualization. All you do is oil the cogs. You make it easier to happen, but you don't make it happen. Six days later, I was doing a photo shoot and someone knew Brian Wilson's manager and before long he hears the song, reads about me and said he'd love to do it."
10. Wondermints, "So Nice" (Mind If We Make Love to You, 2002)
"It has been an unexpected honor to be able to sing with Brian Wilson as a part of his band for the last 12 years. The parts are anything but ordinary 1-3-5 barbershop, and there are hidden gems in the Beach Boys catalog for the uninitiated. Brian sang on a Wondermints track, and he has a certain buzz to his voice that cuts right through the mix, you can tell it is BW immediately, even if is mixed low." – Probyn Gregory
11. Styx, "Fooling Yourself (Palm of Your Hands)" (Cyclorama, 2003) – It only lasts for 39 seconds, and I have no idea how or why it came to pass, but the Dennis-DeYoung-less incarnation of the band managed to corral Brian to sing on what's basically just a quick run through the chorus of their classic track from '77. Frankly, I kind of wish they'd done a full version of it, because it's a pretty awesome reinvention of the song.
12. Scott Bennett & the Dotted Line, "No Wrong Notes in Heaven" (Scott Bennett & the Dotted Line, 2004)
"Brian came up with the lines, 'You can do no wrong, can't make a mistake, 'cause there's no wrong notes in heaven," when I was recording various instruments for the Gettin in Over My Head album. I said, 'Whoa, that sounds like a good chorus. We should write that song!' He said, 'You run with it. Make it slow rock, like 'Do it Again." I did, and when I finished the song, it only seemed right to get the Wilson vocal vibe on it. He killed it, especially towards the end." – Scott Bennett
13. Neil Diamond, "Delirious Love" (12 Songs, 2005) – Whether you've heard this or not depends on which version of Diamond's album you picked up upon its initial release, since Diamond also does a solo take on the track, but there's a limited-edition version of 12 Songs that offers this duet between Brian and Neil that's pretty darned groovy.
14. Taylor Mills, "Raven" (Lullagoodbye, 2007) – With all due respect to Mr. Foskett, Mr. Bennett, and the various members of the Wondermints, I've got to go out on a limb and call Ms. Mills the loveliest member of Brian's backing group. She also takes the occasional solo foray, and in 2007, she even manged to corral her boss to sing one of her songs.
15. Elton John / Leon Russell, "When Love is Dying" (The Union, 2010) – Elton's been an avowed Beach Boys fan for about as long as he's been tickling the ivories (see his song "Since God Invented Girls" for proof), and, hell, Leon is somewhere in the mix on Pet Sounds, so those guys go way, way back. In other words, we close with what's arguably the least surprising collaboration on the list.