Spider-Man: Turn Off the Dark, the $65 million Broadway musical featuring songs by U2's Bono and the Edge, may have finally made its way into previews late last month, but due to cast injuries and technical difficulties its opening has been pushed back once again, this time from January 11 to February 7. In the meantime, theatergoers in Chicago are encouraged to embrace another pop-culture mash-up of nontraditional source material, albeit one with a considerably smaller budget that's being staged in a nightclub a few blocks from Wrigley Field: Alien Queen, a "sci-fi rock parodyssey," combines the story lines of Ridley Scott's Alien and James Cameron's sequel, Aliens, with the music of Queen for an ultraclever, laugh-out-loud evening of gender-bending theater.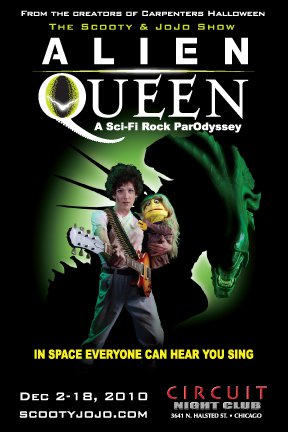 Describing Alien Queen to the Chicago Sun-Times in November, creator-director Scott Bradley said, "The aliens in 'Alien' are androgynous and Queen's Freddie Mercury made the transformation from hyperfeminine to butch and back again through his career. It all just seemed to work." Bradley and executive producer Jonny Stax are partners in the Scooty & JoJo Show, a theatrical outfit that previously hammered the soft rock of the Carpenters into the plot of John Carpenter's 1978 horror film Halloween to create Carpenters Halloween. (They're also responsible for Tran: The Atari Musical, which will be due for a revival if Tron: Legacy is a hit in movie theaters this Christmas.)
Without giving away too many details about Alien Queen's song score, which is performed by a four-piece band that accompanies the cast, suffice to say that "Killer Queen" and "Another One Bites the Dust" have made the cut, and "Don't Stop Me Now" pops up, so to speak, in an unexpected place. But this isn't a "jukebox musical" revue of Mercury and company's greatest hits: album tracks like "Get Down, Make Love," from 1977's News of the World, are given equal time alongside the Top 40 smashes.
The play's first act covers the events of Alien (1979), while the second spans those of its 1986 sequel. The hero of the series, Ripley, is now Ridley, in a nod to Alien's director, and as an acknowledgement that Sigourney Weaver's character was originally written as a man, he/she is played by actor Ryan Lanning. The name changes, which bring to mind both Mad magazine and drag shows, extend to Tom Skerritt's Alien character, Dallas, who's been rebranded as Phallas (William A. Barney), and Yaphet Kotto's Parker, who's now Packer (Rashada Dawan), though Bill Paxton's Marine from Aliens is simply, perfectly Paxton (Anne Litchfield) in this incarnation.
Ripley's cat, Jonesy, and her surrogate daughter from Aliens, Newt, are puppets performed by Monica Szaflik, but the most impressive creations on display are the alien costumes designed by Anna Glowacki, particularly the alien queen herself, who's played, in yet another instance of genderbendery, by Scott Bradley. The hermaphroditic "xanomorphs" ("From Xanadu?" one character asks) with penis-shaped heads and mouths of vagina dentata aren't exactly scary on a makeshift nightclub stage, but Glowacki's done a terrific job honoring H.R. Giger's original nightmarish designs.
You don't have to be familiar with any of the Alien films to enjoy Alien Queen (David Fincher's Alien³, from 1992, and Jean-Pierre Jeunet's Alien: Resurrection, from '97, extended the franchise, with mixed results), but it's obvious that Bradley and his cast have a lot of affection for these sci-fi/horror classics, especially lines like "They mostly come out at night … mostly" and "Game over, man! Game over!" Here's hoping Alien Queen, like Carpenters Halloween before it, will become a storefront-theater perennial in Chicago, mining big laughs from monsters and Mercury for years to come.
Alien Queen plays Fri 12/17 and Sat 12/18 at 7:30 PM* at Circuit Night Club, 3641 N. Halsted St., in Chicago. For tickets and more information, click here.
* On December 18 the show's run was extended to three Saturdays in January — 1/8, 1/15, and 1/22 — with a new start time of 8 PM.