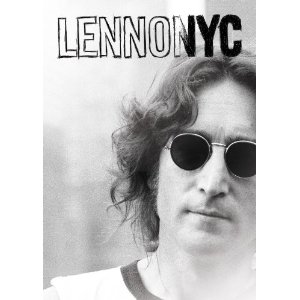 I don't know about you, but 30 years after his death the mere sound of John Lennon's voice is still enough to fill me with emotion. An enormous talent was lost to the world on that long ago December night, and more than that a powerful voice for peace was silenced.
I've watched most of the Lennon documentaries, and some of them are very good indeed. The problem that they all have, and the new PBS entry LENNONYC is no exception, is that they all have the same terrible ending. You see it coming, you know it's coming, from the first frame. It's like a runaway train that's coming right at you. You're powerless to stop it.
I would imagine that the story of the Beatles is among the most widely covered stories of the 20th century. There is very little that is not known about the band members, individually and collectively. The most that anyone can hope for from a new article, book, or film about the Beatles is that it will shed a little light on some less-covered aspect of their story. Still, the coverage keeps coming, and that is because we never seem to tire of the subject. Each season seems to bring a new book or film, and in the case of PBS, there are two new films, the other a dramatization called Lennon, Naked.
I'm pleased to report that LENNONYC does manage to provide a fascinating look at that period of John Lennon's life that began with his move to New York City in 1971, and concluded with his death there nine years later. We learn about his early New York City days, living on Bank Street in Greenwich Village, aligning himself with anti-war activists like Abbie Hoffman and Jerry Rubin, and making music with Village favorites Elephant's Memory. Those days are followed by Lennon's exile and subsequent "lost weekend" in Los Angeles. Eventually he returned to New York City where Elton John invited him to appear on stage at Madison Square Garden. Yoko was there that night, and the couple reconciled. Lennon then spent several years out of the music business, raising his son Sean in the Dakota, before returning with Double Fantasy in 1980, shortly before he died.
Of course Lennon was creating indelible music throughout this period, and those efforts are documented here, as is his struggle with the US government to avoid deportation. Along the way we get commentary from people who where there, including Yoko, May Pang, Lennon confidant Elliot Mintz, photographer Bob Gruen, and record producer Jack Douglas. There are also clips from Lennon interviews, and previously unheard audio talkback from various recording sessions including some madness with Phil Spector during the Rock 'N' Roll sessions.
LENNONYC was written, produced, and directed by Michael Epstein, and it provides a vivid look at John Lennon's post-Beatles life. If you missed it on PBS last week, it will certainly be repeated. In the meantime, you can watch it online at PBS, or pre-order the DVD, which will be released on December 7.