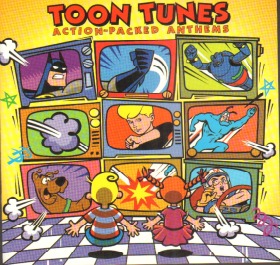 Welcome to another "Way Out Wednesday!" I've got a real treat for you today. Here's a great album featuring theme songs from a number of Saturday morning cartoons with a superheroic or adventurous slant. Since there's so much to cover here, I'll keep the comments to a minimum. Here we go!
We'll start with the '60s classic Spider-Man. The cartoon wasn't really that great, but what a jazzy theme song! Everybody knows it, even Homer Simpson. (By the way, this gives me a good chance to air one of my anal retentive pet peeves that I'm noticing quite often now that he's in the news again: It's "Spider-Man," people. Don't forget the hyphen, please. If you don't like it, don't blame me. It's Stan Lee's and Steve Ditko's fault!)
If you're more of a DC comics fan, here's the theme to Super Friends. This is a bit of a rarity because it's an extended instrumental version so, while you won't get the sonorous tones of Ted (Ted Baxter) Knight, you do get a lovely wocka-chicka wocka-chicka verse in there!
If you like your heroes a bit more on the silly side, here's the theme to that Jay Ward classic, Super Chicken.
And if you prefer a moodier hero, here's the one from Batman: The Animated Series.
If your tastes run more toward action adventure (and really really big eyes), here's the original Speed Racer theme.
Speaking of really big eyes, here's the theme to the anime classic Astro Boy. I've never seen a single episode of this cartoon, but I love the song. If I ever had command of a marching band and a children's choir, this is the first song I'd teach them.
If you'd rather have your heroes on a half-shell, the Teenage Mutant Ninja Turtles theme ought to work for you.
Some theme songs are more famous (or more infamous) then the cartoons they accompany, like this one for The Mighty Hercules. ("Iron in his thighs?")
…as well as this one for Hong Kong Phooey, featuring the great Scatman Crothers.
We'll end the festivities with The Tick. Everybody sing along now: "Dah DWEE dah dah dah DWEE dow…!"
If you want to hear this entire album, you can find it here. (And if you liked this post, you will. As many great themes as I featured here, I inevitably missed your favorite.)