Two weeks ago, Dead Milkmen tried to insult us by saying, "You'll dance to anything by Book of Love." Today, we officially respond: Goddamn right we will.
It's hard to believe now, but there was a point when Book of Love were as big as New Order, Depeche Mode, Ministry and Erasure. You couldn't go a single night in a club without hearing at least two of their songs, and with one spin of their 1986 eponymous debut, it is easy to see why: the record, no joke, is an alt-dance masterpiece. There is nary a lazy track on the album, and DJ Ivan Ivan's crisp, inventive production gave the band a sound like no other. The band's ace in the hole, though, was lead singer Susan Ottaviano, who has a voice that my wife once, and definitively, described as "beautifully bored."
Book of Love didn't seem to take their 12″ mixes very seriously at first. "Boy" and "I Touch Roses" were merely extended as opposed to remixed, but in the band's defense, neither song really needed much additional help in packing a dance floor. It Boy Jellybean Benitez handled remix duties for third single "You Make Me Feel So Good," but primary songwriter Ted Ottaviano — no relation to Susan, which is a far greater cosmic goof than Duran Duran sporting three Taylors — took the reins for fourth single "Modigliani (Lost in Your Eyes)." As catchy as the song is, Ottaviano had his work cut out for him; the drums were flat, and the production just didn't have the same oomph that the previous three singles boasted. His final mix, dubbed the "I Dream of Jeanne Mix" (download), was simply massive, sporting rock star drums, speaker-jumping hand claps, and more cowbell than the entire Blue Oyster Cult songbook. He also used this frog-like sound in the break that I have not heard before or since. It becomes this hypnotic refrain: du-du-dun, frog frog frog. Du-du-dun, frog frog frog.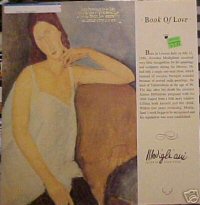 If Ottaviano makes a mistake, it's in the decision to get sample-happy with the word "Modigliani" and the phrase "I'm lost in your eyes," turning the latter into the kind of thing you'd expect from Stacey Q. Ironically, when he puts them together in the break to play off each other, they blend, as Marisa Tomei once said. Who knows, maybe he added the "I'm lo-I'm lo-I'm lost in your eyes" part because he knew that Omar Santana was coming in to edit the dub mix "Mo 'Dub' iani" (download), and figured he'd give Santana something to play with. Whatever the reason, Santana took the bait, filling the track with his then-trademark machine-gun edits and briefly trapping Susan in an endless loop.
For those looking to chill after a long night of clubbing, there is the "Requiem Mass" version (download), which famously served as the backing music during a poignant moment in "Planes, Trains & Automobiles." (The song actually appears twice, first in single mix form and later as Requiem Mass.) Stripped of its rhythm track, this mostly instrumental version focuses on the choral samples and other pretty bits. I never had much use for this mix at first — I was all about vaporized drum tracks at the time — but in retrospect, this was a pretty ballsy thing to put on a dance record.
Sadly, the club scene didn't appear to have much use for Book of Love after "Modigliani," either. The emergence of house music, followed by the industrial/techno boom of the early '90s, pretty much ate them alive. The band would surely disagree with me on this, but I contend that their inability to adapt was, ultimately, a good thing. They tried the house thing a couple times ("Tubular Bells," "Pretty Boys and Pretty Girls"), but it didn't suit them at all. They even gave "Counting the Rosaries" an industrial makeover, and while I actually think those mixes are awesome, it was not something I wanted to see the band explore in greater depth. What's next, Susan singing about how she touches death? No, no, no.
So fuck the Dead Milkmen. People danced to anything by Book of Love because their songs, to paraphrase one of their own titles, made people feel so good. And what's wrong with that? People only listen to Dead Milkmen when they're doing doughnuts in someone's lawn. Not much of a legacy, if you ask me. Book of Love's music, meanwhile, will live on forever in clubland. Uh huh.
Bonus: Book of Love's Ted Ottaviano talks to Popdose about remixing "Modigliani."
Okay, so this is what my I remember about that remix. It was my first solo effort producing a mix. Amedeo Modigliani had always been the band's own version of a rock star. After all, we were all art school students. At the time I was working on the remix I became submerged and almost obsessed in his life story. It read like a Bronte sisters novel. I wrote a short biography for the front cover of the 12″. Here it is:
Born in Livorno Italy on July 12, 1884, Amedeo Modigliani received very little recognition for his paintings and sculpture in this lifetime. He had only a single one-man show, which instead of success brought scandal because of several nude paintings. He died of tuberculosis at the age of 36. The day after his death his mistress Jeane Hebuterne pregnant with his child leaped from a fifth story window killing both herself and the child. Within two years ironically, Modigliani's work began to be recognized and his reputation soon established.
In addition to the extended dance mix and dub, I created a mix called the 'Requiem Mass' which was a choral piece inspired by this story. The bio was included with a detail of one of his paintings of Jeane on the cover of the 12″. At that time the artwork and drumless mix were unorthodox for dance singles and it was initially contested by some of the powers that be. I stood my ground and the single came out and did well. Ironically, it is the Requiem Mass that has been used countless times as source music for T.V. and film. The cream always rises!!!