The Friday Mixtape: 10/29/10 — Fiendishly Yours
When our man David Medsker sent out a missive to the rest of the writing staff in hopes of finding someone to pinch hit for him on the Halloween edition of the Friday Mixtape, I immediately raised my hand. I knew it had been awhile since I'd taken a shot at doing one of these things, but, damn, it turns out that it's been a two and a half years! As such, I decided to check in with the Grand Poobah of Popdose – Jeff Giles, ya'll – and see if I might be able to not only make up for lost time but also keep a vaguely Halloween-y theme by expanding the Mixtape to 31 songs, one for each day in what is ostensibly the scariest month of the year.
P.S. Bonus points for the first person to identify why I threw in the Nilsson song, even though it would seem on the surface to be an incongruous inclusion.
1. Harry Nilsson – Daybreak, from Nilsson – Greatest Hits (2002)
2. Future Bible Heroes – I'm A Vampire, from Eternal Youth (2002)
3. Waxing Poetics – Frankenstein's Daughter, from Bedtime Story (1990)
4. Phish – Wolfman's Brother, from Hoist (1994)
5. Joe Jackson – Invisible Man, from Rain (2008)
6. Dave Edmunds – The Creature From The Black Lagoon, from The Dave Edmunds Anthology (1968-90) (1993)
7. Serge Gainsbourg – Docteur Jekyll Et Monsieur Hyde, from Initials SG (2003)
8. World Party – Curse Of The Mummy's Tomb, from Egyptology (1997)
9. Tom Jones – The Witch Queen of New Orleans, from Gold (1965-1975) (2005)
10. Cliff Richard – Devil Woman, from I'm Nearly Famous (1976)
11. Eels – My Beloved Monster, from Beautiful Freak (1996)
12. John Wesley Harding and the Good Liars – If You Have Ghosts, from Where the Pyramid Meets the Eye: A Tribute to Roky Erickson (1990)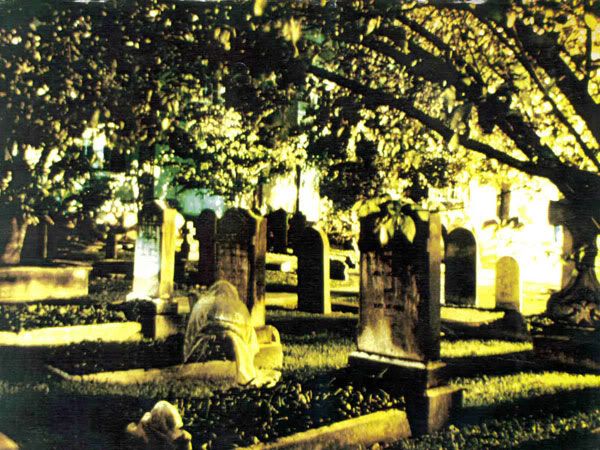 13. It Bites – Ghosts, from The Tall Ships (2009)
14. Shane MacGowan with Sinead O'Connor – Haunted, from The Snake (1995)
15. The Smiths – Cemetry Gates, from The Queen Is Dead (1986)
16. Elvis Costello and the Attractions – Shallow Grave, from All This Useless Beauty (1996)
17. Tom Petty – Zombie Zoo, from Full Moon Fever (1989)
18. David Bowie – Dead Man Walking, from Earthling (1997)
19. L7 – Pretend We're Dead, from Bricks Are Heavy (1992)
20. Kate Bush – Hammer Horror, from Lionheart (1978)
21. Tori Amos – Happy Phantom, from Little Earthquakes (1992)
22. Eighth Wonder – I'm Not Scared, from Fearless (1988)
23. Thomas Dolby – I Scare Myself, from The Flat Earth (1984)
24. A Flock Of Seagulls – Nightmares, from Listen (1983)
25. New Order – Spooky, from Republic (1993)
26. Seal – Killer, from Seal (1991)
27. The Rolling Stones – Too Much Blood, from Undercover (1983)
28. Strawberry Slaughterhouse – Teenage Torturechamber, from Teenage Torturechamber (1994)
29. The Police – Murder By Numbers, from Synchronicity (1983)
30. The Damned – Grimly Fiendish (THE BAD TRIP MIX), from The Light at the End of the Tunnel (1988)
31. North American Halloween Prevention Initiative – Do They Know It's Hallowe'en?, from the Do They Know It's Hallowe'en? single (2005)
---
---
---