Every year, Record Store Day brings us new musical releases to surprise and delight. One of the most delightful surprises this year was a live recording by onetime Pavement frontman Stephen Malkmus, performing Can's 1973 album Ege Bamyasi in its entirety. It wasn't an entirely unexpected move for Malkmus — he has long spoken of his love for the German experimental scene, and Can in particular — but still, it led us to wonder: When did this become a thing?
Bands have been covering each other's songs since the beginnings of recorded music, of course, and many bands have put out entire albums of covers wherein they pay tribute to their influences. (David Bowie's Pin Ups might have been the first — as he has been first at so many things — but everybody does it, now.) And there have been compilations that recreate classic albums with each track performed by a different artist (the British music press loves to organize these; New Musical Express masterminded Sergeant Pepper Knew My Father, which brought together Sonic Youth, Billy Bragg, Wet Wet Wet, and the Fall, among others, while Q magazine put together a well-received tribute to U2's Achtung Baby). And Phish had a tradition of covering an entire album at their annual Halloween shows; they referred to the practice as donning a "musical costume."
But it's a relatively recent innovation for one act to roll tape and recreate another act's album start to finish. (Malkmus breaks slightly from tradition by performing Ege Bamyasi's tracks out of their original sequence.) That noted musical omnivore Beck has made it something of a hobby, establishing a side project called the Record Club for that very purpose; but for most groups that turn their hand to it, the full-album cover is a one-off, even a holiday. Here are our picks for five of the best — and strangest — single-artist full-album covers.
Camper Van Beethoven, Tusk  (2002)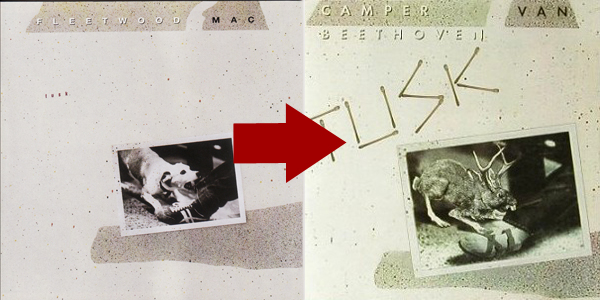 The pairing is odd, at first glance. But these Bay Area pranksters have always had plenty of pop smarts to go with their Left Coast acid-fried weirdness, and a musical reach that can veer from folk and rock to ska or even klezmer. Fleetwood Mac always had a dark and restless tinge beneath their FM radio sheen, and the sprawling double-LP Tusk played to their experimental side as never before. David Lowery and the boys both celebrate and subvert the spirit of this pop classic. Like the original, this Tusk is elaborately produced — but Camper Van Beethoven emphasize murk and dissonance. "Sara" (download) becomes a thing of lurching menace, with squalling guitar and tape loops threatening to swamp the melody. A ten-minute rage through the title track (download) starts off as a raga before veering into a cut-up sonic collage and back again. It may not be respectful, but it's weirdly heartfelt.
Petra Haden, Petra Haden Sings: The Who Sell Out  (2005)
Haden, late of the well-loved indie combo That Dog, has made her name as an interpreter of popular song. In duets with jazz guitarist Bill Frisell, she turns Coldplay and Foo Fighters tracks into the stuff of torch songs, and her a capella version of Journey's "Don't Stop Believin'" served as the basis for the arrangement used on Glee. But perhaps her finest achievement to date finds her recreating the sound of one of the world's great rock bands at the height of their powers — using only her multi-tracked vocals.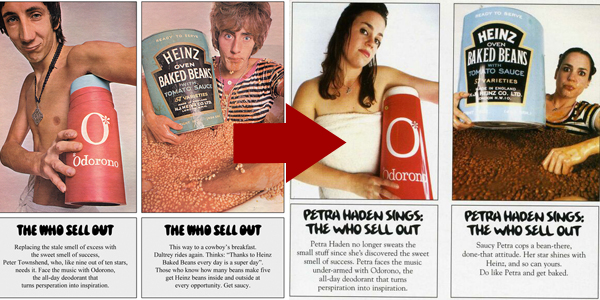 The project began when Haden's friend Mike Watt gave her a reel of eight-track tape with The Who Sell Out recorded onto two of its tracks. Using the original recording as a guide, Haden tracked herself singing along with every part of every song, from the caterwauling psychedelic firestorm of "Armenia City In the Sky" (download) through to the complex instrumental breaks of the closing "Rael," and everything in between — including the phony commercials and radio jingles — and touching on some of the band's best-loved songs, including "I Can See For Miles," "Tattoo," and the gorgeous ballad "Sunrise" (download). Pete Townshend himself has said of the record , "I was a little embarrassed to realize I was enjoying my own music so much, for in a way it was like hearing it for the first time," adding that he "felt like I'd received something better than a Grammy." But even that wasn't enough for Haden; she ended up putting together a ten-piece women's choir to reproduce the entire album live.
[youtube id="VNFoNBz9Dbs" width="600″ height="350″]
Doug Hilsinger and Caroleen Beatty, Brian Eno's Taking Tiger Mountain (By Strategy)  (2004)
Hilsinger and Beatty, both indie-rock lifers, wound up as bandmates in the San Francisco outfit Waycross. Bonding over a shared love for Eno's avant-pop experiments of the 1970s, they arranged and recorded a couple of songs from Taking Tiger Mountain for their own amusement. Encouraged by the results, they ended up covering the entire album — and Brian Eno himself was one of the first people to hear the finished product; when Eno visited San Francisco for a lecture in late 2003, Hilsinger approached him and literally pressed a CD-R of rough mixes into Eno's hands. Eno telephoned Hilsinger a few days later, so thrilled with what he heard that he not only gave his blessing to release the recording commercially — he agreed to write the liner notes.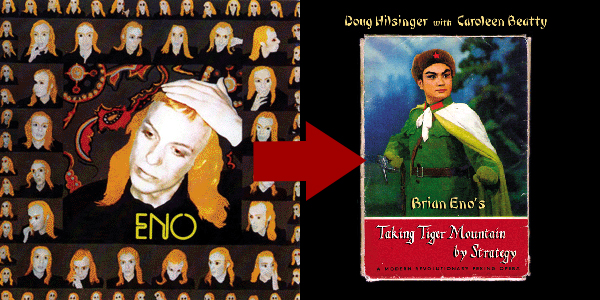 This reimagining of Taking Tiger Mountain became an underground sensation. Hilsinger and Beatty play it straight, finding the beating heart in Eno's cool, cerebral songcraft. Hilsinger plays all the instruments, breaking down Eno's studio-bound synth experiments into spiky hard-rock songs built around big guitars, booming drums, and Beatty's warm, soaring vocals. For a record made mostly in a bedroom studio, it's appealingly slick: in some alternate universe, the duo's version of "The True Wheel" (download) might have been a big radio hit.
The Walkmen, "Pussy Cats" Starring the Walkmen  (2006)
Now this is an odd one. Nobody ever claimed Harry Nilsson's original Pussy Cats as any kind of masterpiece. It was a fun record, sure, but it sounded like what it was — a genial, half-assed goof, the drunken lark of an artist capable of greatness, recorded during his infamous alcholic "lost weekend" with John Lennon. It's a patchy affair: Hell, it's a shambles — a mulligan stew of sloppy, inessential covers and heartbreaking originals, albeit backed by a Murderer's Row of session cats in it for ducats and laughs.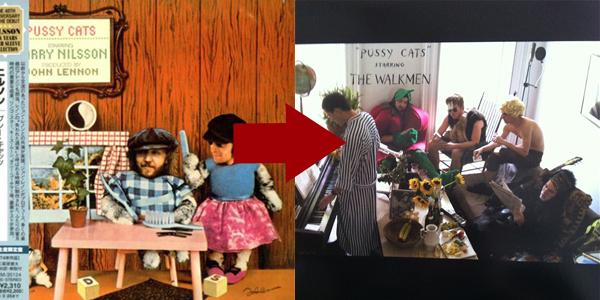 The looseness and lack of pretension that mark the Nilsson record has won it a following over the years — including New York scene heroes the Walkmen. Their remake of Pussy Cats began, as these things so often do, as a joke, a way to kill time between proper studio projects; but soon the joke had swallowed the joker, and the group found themselves studiously covering Nilsson's cover of "Subterranean Homesick Blues" (download), subjecting its throwaway energy to interrogation it was never built to withstand. Wheels within wheels, people; we're through the looking glass here.
Big Daddy, Sgt. Pepper's  (1992)
Big Daddy are a joke band — but it's one hell of a joke. The elaborate fictional backstory is that Big Daddy were a forgotten early rock n' roll band who, in 1959, while touring Southeast Asia under the auspices of the USO, were taken hostage by Communist forces and held in complete isolation for 25 years. When they were eventually rescued in the mid-1980s, they resumed making music, covering the popular hits of the day — but, since they'd never actually heard the originals and were working only from sheet music, they quite naturally interpreted the songs in the pop styles of the late 1950s.
(Or they were a bunch of L.A. guys who came together in the 1970s as an oldies act in the vein of Sha Na Na, and eventually thought it might be fun to cover some newer songs in that same style.)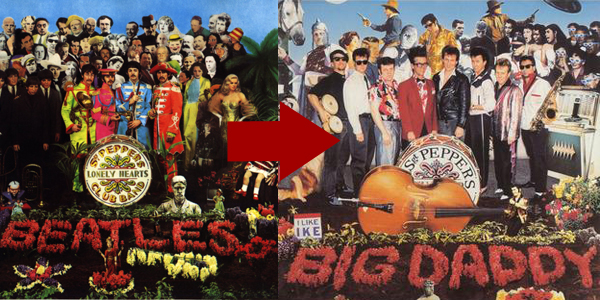 Whichever backstory you prefer, the music is rockin' good fun, combining razor-sharp chops, imaginative arrangements, an encyclopedic knowledge of 50s pop, and a twisted sense of humor. For their fourth LP, Big Daddy took a break from the songs of the 80s and 90s and set their sights on the Fab Four, with a full-length cover of one of the most beloved records of all time.
As always with Big Daddy, the kick is in the (mis)match of style to song. "With a Little Help from My Friends" becomes a Johnny Mathis crooner; "She's Leaving Home" (download) gets a Latin makeover; "Within You Without You" is rendered as beatnik jazz; "Lucy In the Sky With Diamonds" is a Jerry Lee Lewis-style rave-up. "A Day In the Life," done Á  la Buddy Holly, ends the album with the sounds of a plane crash, which is perhaps a joke too far — but for the most part the album's spirit is more in line with the finger-poppin' doo-wop of "Good Morning Good Morning" (download), making this time-warped Sgt. Pepper's as much a celebration as a send-up.