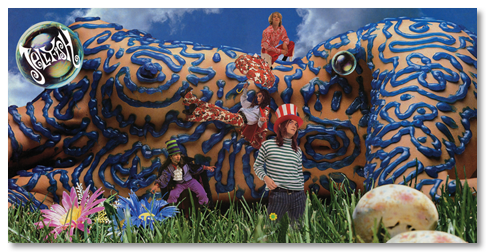 Last week I was happy to give you the opportunity to win the new Alex Chilton vinyl bundle from Omnivore Recordings. The contest got a great response, and a winner was chosen and notified on Friday. Thanks to everyone who entered.
If you didn't win last week, don't worry, I have another opportunity for one lucky reader this week. The prize is, once again, pretty amazing. It's another Omnivore Recordings release, this time it's reissue copies of the two Jellyfish studio albums, Bellybutton and Spilt Milk, presented on RTI's HQ 180-gram vinyl. Bellybutton is pressed on beautiful translucent blue vinyl, and Spilt Milk on equally lovely green vinyl. Bellybutton also includes a special tri-fold LP sleeve.
It's worth noting that these albums have never been released on vinyl before, and that the colored vinyl is only available on the first 1,500 copies of each album, after which they will be released on black vinyl.
But wait, there's more, and this is for the real fans. Omnivore originally pressed the albums on standard weight vinyl, but the test pressings were rejected and sent back to the factory to be melted down. A few copies were retained though, Bellybutton still on translucent blue vinyl, and Spilt Milk on what is described as "purple swirly vinyl." Our contest winner gets a copy of each of these test pressings as well. So that's four LPs in all.
Do you want to win this amazing package? Of course you do. Read on to find out how.
In the early '90s, while a lot of bands were turning to grunge, Jellyfish was still flying the banner for power pop. The band, founded by Andy Sturmer and Roger Manning, arose from the ashes of a band called Beatnik Beach. Jellyfish didn't have a long career, but they remain extremely influential and their music is still prized by aficionados everywhere.
As I mentioned earlier, Jellyfish only made two studio albums. Fortunately they were both brilliant. Bellybutton is something of a masterpiece, while Spilt Milk is merely great. Both albums feature great songs, terrific production and arrangements, and powerful vocals and first-rate drumming from Sturmer.
The first Jellyfish album, Bellybutton (1990), also features Jason Falkner. Falkner had played in a Paisley Underground band known as the Three O'Clock. When that band broke up, Falkner and Manning played together for awhile while both were living in southern California. Eventually Manning moved back to San Francisco, and when Sturmer and Manning needed a guitar player for their first album, Falkner got the call.
The music on Bellybutton drew on a wide range of influences that included the Beatles, the Beach Boys, XTC, and Queen. The album wasn't a huge success with the most successful single, "Baby's Coming Back," making it to #62 on the Billboard Hot 100 Chart.
Falkner wasn't happy about just being the band's guitar player and left Jellyfish after the Bellybutton tour. Back to being a duo, Sturmer and Manning brought in a group of studio musicians, including Jon Brion, to make their second album, Spilt Milk (1993). It was a much more elaborate record, at times close to being over the top, but the great songs, vocals, and drumming were still in place. The Queen influence was even more present.
It wasn't meant to last however, and by the following year, owing to the usual "creative differences" between Sturmer and Manning, Jellyfish was no more. In their wake they left two wonderful albums, and a lot of promise unfulfilled.
Now, to win the 180-gram vinyl copies of Bellybutton and Spilt Milk, AND the rejected test pressings of each each album, just answer the following question.
What recently deceased bass player, best known for his work with Hall & Oates, played on the second Jellyfish album, Spilt Milk?
I know. It's a gimme. Send an email to ken@popdose.com with the words 'Jellyfish Contest' in the subject line, and your answer in the body. The deadline for entries is Friday, January 20 2012 at 5:00 p.m. eastern time. With all apologies to our friends from foreign lands, this contest is open only to readers with a valid U.S. mailing address.