We all have albums we love, and songs we know by heart, but it's easy to forget that they're all made up of individual performances — and that the stories behind those performances are often just as entertaining as the music they produced. Luckily, we've started a series to help you remember: Anatomy, which looks at one aspect of a song or album through the eyes of the person who made it happen. This week, we talk with Jay Graydon, who supplied the famous guitar solo for Steely Dan's classic "Peg."
When you came in to play the solo for "Peg," a number of other guitarists had already taken a shot at it. Were you aware of the problems Becker and Fagen were having getting the sound they wanted?
Yeah. I was hired as an arranger and guitarist for an album (I forget the artist but I do remember my good friend Steve Barri was the producer) and while playing guitar overdubs one afternoon, Roger Nichols (Steely Dan recording engineer) had mentioned that fact. Roger mentioned he would recommend me as to play the solo, which obviously occurred.
Was the solo that you hear on the album recorded in a single take? How many passes did you take through the song?
There were three punch-ins. Here's how things evolved.
Within the first hour, I mostly played my standard pop/pop jazz solo vocabulary of the era, hunting for melodic connections. Some of the passes were better than average but not what was needed to really jump out as a quality solo.
We took a break and when getting back to work, Donald mentioned the key factor regarding the approach. He said something like, "Think 'blues' from time to time." That was the key to the concept! Note the chord changes bounce back and forth between a major 7th chord and an "add 2" chord with the "third" in the bass. Example: C major 7th to G2/B. With Donald's suggestion in mind, the key was to think melodic stuff (major scale sweet notes) over the major 7th shapes and try to incorporate occasional blues ideas (flatted 7th and flatted 3rd) over the "add 2" shapes when possible.
After a few passes, I fell into playing/bending "double stops" (two notes at a time) in the beginning of the solo, respecting the pretty notes (C major 7th) and fitting in the dominant notes (blues scale) on the G2/B. The guys dug the double stop lick, hence the first four bars were on tape.
The next section of the solo is along the same lines; I switched thinking between melodic major and dominant while playing a descending line. The same applies regarding the open string pull offs. Note: the space (rest) between the pull off licks was not a "punch in."
After the completion of that phrase…four bars to go. Donald mentioned to play a chops (fast) lick. I did so within a D major scale and then wandered my way down the neck, grabbing notes that would set up a nice transition regarding the return of the vocal.
Regarding the fade licks, I have decided to replace a few when digital editors allow for solo extractions/replacement. What I mean is a few of the ideas should have incorporated longer lines. Hollywood excuse — I was getting tired since I had been working all day (starting from 10 AM). The ideas are not bad and they stay out of the way of the vocal but if I had the opportunity to fix the fade, I would incorporate a few bebop lines.
Note: the solo and fade licks were recorded on one track (with the punch-ins). In the '70s era of multi track recording, the typical format used was 24-track analog. Unless the song is loaded up with many overdubs, open tracks are typically available but since they were near completion of the song, the guys were running out of tracks. They also wanted to keep previous solos — not sure how many were kept.
The problem regarding recording on one track is obvious: When the record button is engaged and the tape passes over the erase head, farewell to the previous ideas played. In this era of Pro Tools and the like, available tracks are never a problem.
[kml_flashembed movie="http://www.youtube.com/v/dz8AJh7_mKc" width="600" height="344" allowfullscreen="true" fvars="fs=1" /]
You've appeared on countless albums; for guys like me, who grew up during the '70s and '80s, your name in the liner notes was synonymous with a certain level of quality. And yet "Peg" is arguably the most famous solo you've recorded. Have you ever tried to guess at why this particular performance has stood out?
Probably a few reasons:
1) The song was a hit getting major exposure and still gets played in many adult formats;
2) The solo did not sound typical of commercial music of the era.
I humbly state I have played some other solos over the years that are quality. For those who are interested, check out my website for albums I have recorded.
Watching the Classic Albums documentary on Aja, Becker and Fagen seem like they might be a pretty tough crowd. Any nerves before you cut the solo?
It was just another record session as far as nerves go — every time I play a solo my heart rate slightly rises as I am hanging on by the seat of my pants, connecting ideas generated by my brain to my hands, hoping I connect the ideas in a melodic fashion. Note that when I went to that record session, I hoped I would play a solo that Donald and Walter would like, since a guitar solo on a SD album was a big deal among musicians of the era.
[kml_flashembed movie="http://www.youtube.com/v/waIBA6_0GQc" width="600" height="344" allowfullscreen="true" fvars="fs=1" /]
Even liner notes junkies who know your name may not know just how prolific you've been as a recording artist in your own right — and now you're operating your own label. Can you fill the readers in about Sonic Thrust Records?
Let's back up in time to the point when which I began recording as an artist as to lay out how things unfolded. Quite by accident, David Foster and I got a record deal with RCA in 1978 (we named our band Airplay.)
Here's the story: David and I were still playing record sessions in the late '70s and we were on a session for Maureen McGovern. During a break, David started messing around with a ballad idea. I loved his song start — as always — and I wandered over to the piano offering musical ideas. We started refining the song but had to get back to work.
After the recording session, we went to my house/studio and continued to work on writing the song. The next day or so, we recorded a demo. David gave the demo to Tommy Mottola (Daryl Hall and John Oates' manager at that time, and yes, the eventual head of Sony records years later). Tommy played the song for the president of RCA at the time and we were offered a record deal.
The album stiffed in the states but sold well in Japan and pockets of Europe and continues to sell. The music critics in Japan have noted we were responsible for creating a new music category they call "West Coast Pop." I humbly state others were surely responsible for the sound, such as Toto and the like.
David and I were busy producing other artists and it is my fault we did not promote the Airplay album since I disliked air travel at that time. Oh well. We did promote Airplay in 1996 in Japan when David had a concert tour. Yeah, too late for the impact, but better than nothing. There are some videos of this concert on YouTube.
Now for the next artist project. Steve Barri was an A&R record executive for many years as well as a record producer. We became good friends in the '70s as he hired me to play guitar, arrange songs, and co-produce records with him.
Around 1988, David Berman (former head of business affairs at Warner Bros.) was hired to run Capitol Records. He hired Steve as an A&R executive. Steve called me, asking me to write songs for Capitol recording artists such as Heart. I called Clif Magness and Glen Ballard to write such songs as well. After submitting the demos, Steve stated our songs and performances fit the current pop market and signed us as artists to Capitol. Glen came up with our band name as Planet 3 (as in "third planet from the sun").
We wrote/recorded many demos for Steve's approval, so we could record them as masters. Most of them were again recorded as masters with more detail as to performances, but the good news is the demos survived — leading to the release of the Planet Gems CD! More on that later.
OK, a week before we finished mixing the CD, David Berman was let go. New A&R staff was hired, along with a new president. It was clear he was going in another musical direction and we were dropped as artists. Since I thankfully have a solid fan base in Japan, EMI (Capitol Records' parent company) released the CD in Japan and it sold very well.
A few years later, I asked David Berman (a great lawyer) as to help me get out of the Planet 3 deal with Capitol. That happened, leading to the release on Sonic Thrust Records. (More on that as things unfold.)
In 1993, EMI (Japan) requested I record a album as an artist under a licensing deal for Japan as well as pockets in Europe. The album is Airplay For the Planet. This CD includes many great singers such as Bill Champlin (Chicago), Sherwood Ball, Joseph Williams (Toto) and Warren Wiebe, along with many great musicians and songwriters. The CD sold very well and I toured Japan and pockets of Europe in 1994 and 1996. There are videos of the Jay Graydon All Star Band on YouTube.
After the licensing deal was up in all countries, I formed Sonic Thrust Records as to release the Airplay For the Planet CD with a new mastering.
Here's a list of my stuff on Sonic Thrust Records. You can visit the site for each album to listen to sound clips of songs.
"The Bebop album is filled with NEW classy instrumental straight-ahead bebop jazz played by top-notch musicians (Brandon Fields – sax, Dave Weckl – drums, Dave Carpenter – bass, Bill Cantos – piano and Jay Graydon – guitar) and is highly praised by jazz authorities. Bebop is adding even more bright nuances to the multi-colored painting of the music genius of Jay Graydon. Jay handles the guitar following the "less is more" concept, playing with subtle intelligence as well as technical accuracy."
Jay Graydon — Airplay For the Planet
"Think sophisticated, catchy and playful AC/Smooth Jazz/Pop along the lines of Steely Dan; think magical harmonies with accessible melodic hooks; think superb original songs and arrangements e.g. the Grammy awarded song "After the Love Has Gone"; think a stunning host of the best musicians and vocalists on the planet, among them Bill Champlin (Chicago) and Joseph Williams (Toto), and you have Airplay For the Planet — highly praised, for the great musical performances, the outstanding melodies and production and especially for its superb mastering of the 2002 release. Those of you familiar with the way Jay expresses himself in pop music know that he has developed his very own style of playing, letting the guitar sometimes basically explode in a technically perfect aggressive solo and sometimes bleed in close harmonies and intense, painfully beautiful feeling — really squeezing the best out of the guitar."
Planet 3 – Music From the Planet
"With a previously unreleased Planet 3 song called 'Dreamers,' Music From the Planet is remastered by Jay and has new artwork and new liner notes with a picture of the Planet 3 band (Jay Graydon, Clif Magness and Glen Ballard) on the inside. This album has been much requested over the years and has been very hard to find. All songs are written by the creative songwriters Jay Graydon, and his band partners Clif Magness and Glen Ballard. Jay, Clif and Glen are the musicians behind all the performances and instruments in all songs. The music style is adult contemporary pop with many strong melodies — power ballads mixed with tough '80s synth rock, in the spirit of Toto, Chicago and the like. The ballad 'I Don't Want to Say Goodnight' was included on the soundtrack for the film Navy Seals with Martin Sheen in one of the leading roles, and 'Born To Love' was on the soundtrack for the film Ghost Dad directed by Sidney Poitier.
RAKE and the Surftones — Surfers Drive Woodies (2002)
"The Japanese version (18 tracks), remastered by Jay. This is an album which will take you back to the sixties, when the surf music waves were high. It is recorded in a surf style (Dick Dale, Ventures type of thing) with a host of the best studio musicians in the world, such as Dean Parks (Steely Dan), Steve Lukather (Toto), David Hungate (Toto), John Ferraro, Joseph Williams (Toto), Jason Scheff (Chicago) and many more, who are revisiting the music of their youth and the fun factor of this recording is shining through big time."
Planet 3 featuring Jay Graydon — Gems Unearthed
"This is an album that indeed lives up to its title! The music style is adult contemporary pop with many strong melodies — power ballads mixed with tough 80s synth rock, in the spirit of Toto, Chicago and the like. Recorded during the same era as the first Planet 3 album. This second Planet 3 album opens up a jewel case of treasures, fun and raw songs with major energy like "Push It In," blended with glowing precious stones like the beautiful ballad "Tonight You're Mine." "Old" Planet 3 fans will love it and be happy that the second Planet 3 album is finally to be released, and "new" Planet 3 fans will find this album to be a rare diamond to discover. This is ear candy for quality music lovers!"
Jay Graydon — Past To Present – the '70s
"From the Garden Rake Studios tape vault, super sounds of the '70s…an album as close to Airplay as it will ever get, featuring Jay Graydon on vocals, guitars, bass and some synth stuff; great singers such as Bill Champlin, Marc Jordan, Tata Vega, Lisa DalBello, Ed Whiting and more. On all tracks other musicians include such top names as David Foster, Jeff Porcaro, Mike Baird, David Hungate, Mike Porcaro, Greg Mathieson, to name a few. The album has 20 tracks and this stuff has never been released before. Apart from the main songs, there are a few bonus tracks – fun stuff like TV themes, a jingle, and also two instrumental tracks."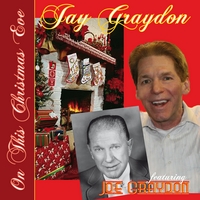 Jay & Joe Graydon — "On This Christmas Eve" (single)
"Get into the Christmas spirit and let the velvety smooth voice of Joe Graydon caress your ears in this lovely ballad, arranged and recorded by Jay Graydon in a pop version. The song — "On This Christmas Eve" — is produced, arranged, performed, mixed and mastered by Jay Graydon. His father Joe Graydon sings the lead vocal. Background vocal by Bill Cantos and Jay can also be heard in the bridge."
Jay Graydon with Sherwood Ball — "Crank Sinatra" (single)
"The Concept: 'So around the middle of 2008, I happened to watch a Frank Sinatra TV special filmed in the mid 1960's. The opening song is "Day In — Day Out." As always, Frank sang great and the Nelson Riddle arrangement was perfect for the era! What a great team they were! I dug the musicality so much I watched over and over and then began thinking what it would sound like to play the horn parts on guitar playing one part at a time as an experiment. With that in mind, I decided to take on the task of being a one-man band. The experiment turned out to be much fun and the result is a sound of guitars I had not heard before. I asked Sherwood Ball if he would like to sing the song and he was into doing the gig! Sherwood did a great job as always!!!' – Jay"
You recently started a band with Randy Goodrum, another musician and songwriter whose name has appeared on countless albums. What brought you together after all this time?
Randy and I have remained in contact over the years writing songs from time to time. Randy called and asked if I would like to write as he was coming to Los Angeles. I came up with a song start (that ended up being "Your Heartbreak" ) and after completing the song, we decided to record an album as artists. We became JaR. If you like Steely Dan (and the like), the odds are good you'll like JaR – Scene 29. Intelligent lyrics with memorable melodies over musical chord changes, along with some surprises.
What are you working on now?
The next JaR CD. I love writing and recording this stuff since Randy and I have no musical or lyrical rules! Much fun! Check out our website, JaRZone.
In closing, it has been said "There are no short-cuts in music." That was surely true before Pro Tools and the like.