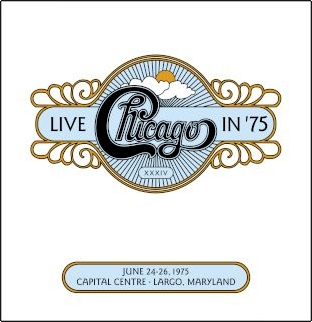 Chicago, the band, was at the height of its considerable powers in 1975, racking up Top Ten albums and singles ("Old Days," one of their best, hit Number Five that year), and touring successfully with the Beach Boys (with whom they'd scored a big hit—"Wishing You Were Here"—a year earlier). Onstage, the band could be by turns goofy (with their schmoozy between-song banter), smooth (as when bassist Peter Cetera sang one of his slow-burning love songs), snappy (as when the band's hot horn section kicked in), and—let's just get it out there—pretentious (see 1971's Chicago at Carnegie Hall for beaucoup examples. And beaucoup instrument tuning).
All of this made them great—well, maybe not the goofy stuff. Pretention can sometimes work, particularly, when it leads an artist or band to try new things, venturing into strange new territory. Chicago's massive sound filled the largest performance spaces this great land had to offer, which at the time were football stadiums and hockey arenas. Rhino Handmade has extracted from the proverbial vaults a couple Chicago shows from one of those hockey meccas (ye olde Capital Centre in Largo, MD) for a super-boffo package called Live in '75.
First of all, that package is impressive, as befits a Rhino Handmade product—they're the best at this stuff, and it shows. For Live in '75, you get two CDs, a poster, and a booklet with a fine essay by MOJO magazine US correspondent Ben Edmonds. There are lots of pictures of the band (though, strangely enough, few of the aforementioned Mr. Cetera, a currently estranged Chicagoan), and everything is tucked snuggly into a sturdy, tastefully decorated box. It looks like a masterpiece; it reads like a masterpiece; it must be a masterpiece, right?
Um … not so much. Chicago might have been a touring force in 1975, and they might have laid down the groove and the schmooze for tens of thousands of fans each night, but the folks at the Cap Centre shows did not get the best of the band. We're all used to live albums that have been touched up a bit—vocal clams corrected, out-of-tune instruments replaced, etc.—but this is the real deal; what we're hearing is what the audience got (perhaps mixed a bit louder or re-EQ'ed). And what the audience got was a bunch of uneven performances, many of which have, for better or worse, been preserved for eternity on Live in '75.
Let's start with the good news—the horns sound great. Splendid. Striking. Snappy. It's hard to argue with anything that has the Chicago horn section on it. They even looked the part—there's a photo of trombonist James Pankow included in the booklet, and he's rockin' the flashy, sleeveless Earth, Wind, & Fire jumpsuit (it's 1975, man—that shit wuz dope). Lee Loughnane's trumpet strays into angel Gabriel territory (dear God, but "Mongonucleosis" is so good), and good ol' Walt Parazaider uses those little woodwind and sax flourishes like a painter adding detail to his canvas.
The rhythm section pretty much holds their own throughout; on "25 or 6 to 4," they sound like they might have even lifted off into low orbit. The late, great Terry Kath was a monster on guitar, and could sing the sleepy prom slow dance "Colour My World" like he was whispering it into your ear. On "Wishing You Were Here," though, it sounded like he himself was taking a nap, only to be roused awake by Cetera's off-key traipse through the chorus.
Oh my God, but Cetera spreads off-key badness all over this thing. On "Old Days," his falsetto makes him sound like Screechy Gibb, the Bee Gees' bastard cousin. He clearly pisses off Robert Lamm during "Does Anybody Really Know What Time It Is," attempting notes in his background vocal that were clearly beyond him that night; this did not stop him from trying. Repeatedly. On "Call On Me," Cetera can't quite make it through the chorus without sounding like he was hocking up a loogie, before slipping back into bastard Bee Gee mode. By "25 or 6 to 4," the band should have covered his nose and mouth with a tube sock soaked in chloroform, and let him sleep off whatever the hell it was that ailed him.
Cetera is so bad on these songs, it makes me wonder how this recording made it out of the bootleg black market—his performances are really distracting, and really embarrassing. That fact, coupled with the lack of any close-up photograph of Cetera anywhere in the package makes me wonder whether Live in '75 might have been, however secondarily, an attempt to besmirch his legacy with the band. I have no proof of this, but I'm happy to start a good conspiracy theory.
Lamm comes off the best of the three voices on this night; his smooth baritone is the highlight of "Beginnings," the verses of "Does Anybody Really Know What Time It Is," and the older, wiser half of "Dialogue." And by the time the band plows through one of its legendary jams on "I'm A Man" (the one here goes 13 spectacular minutes), the audience was probably keying in on Lamm, and in a forgiving mood. Either that or they were really, really high.
So there you have it. If you dig mid-Seventies Chicago, check out Live in '75, but tread carefully. The horns are great; the jams are cool; the clams are many.