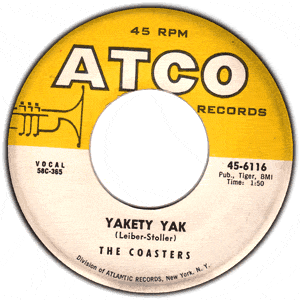 The name Carl Gardner is probably unfamiliar to casual music fans, but Gardner was the lead singer for one of the seminal rock and roll vocal group. As the vocalist for the Coasters, Gardner was the voice of massive hits like "Yakety Yak", and "Poison Ivy."
The original Coasters lineup included Gardner, Billy Guy, Bobby Nunn, Leon Hughes, and guitarist Adolph Jacobs. They formed in 1955 out of the remains of the Robins, a group that included Gardner and Nunn.
The Robins had recorded a number of singles with songwriters/producers Jerry Lieber and Mike Stoller for their label Spark Records. Their biggest hit together was "Smokey Joe's Cafe" in 1955, and it was that hit that persuaded Atlantic to offer Lieber and Stoller a contract to produce the Robins for Atlantic. Not all of the group members wanted to change labels. Soon the Robins were gone, and the Coasters had taken their place.
After the move to Atlantic, and some lineup changes, the Coasters moved to New York in 1957. The city would be their base from that point on. There they continued their relationship with Lieber and Stoller. It was a marriage that turned out to be made in music heaven.
The Coasters had a long line of hits that included "Young Blood," "Searchin'," "Along Came Jones," "Yakety Yak" (featuring King Curtis on sax), "Charlie Brown," "Along Came Jones," and "Poison Ivy."
After the hits stopped in the '60s, Gardner, who owned the rights to the Coasters name, continued to tour the country with his group. Unfortunately, as was the case with an number of vocal groups, there were a several groups of "Coasters" out on the road. Gardner was forced to spend a lot of time trying to stop the bogus groups.
Carl Gardner finally retired in 2005, and his son Carl, Jr. took his place. The original Coaster died last week. He was 83 years-old. These losses are incalculable, these musicians irreplaceable.
[kml_flashembed movie="http://www.youtube.com/v/lPfiu1KPCiY" width="600" height="344" allowfullscreen="true" fvars="fs=1" /]