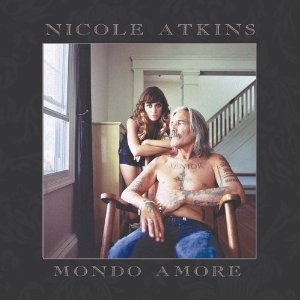 It seems oddly appropriate that my first CD review since leaving my NJ home should be a review of Nicole Atkins' new album Mondo Amore (Razor & Tie). After all, we are both refugees from the Garden State, active participants in the vibrant Asbury Park music community who left our homes in search of something … else. Nicole explained her move to Brooklyn in an interview with my colleague Dw. Dunphy posted earlier this week:
"You know, I love Asbury Park, it's where I'm from. But it's a pretty small town, and when you're going through a major personal shift, it's nice to be able to go somewhere that's a little bigger, to spread out a little bit, and go find yourself again."
To say that Atkins suffered some setbacks following the release of her stunning debut album, Neptune City, is something of an understatement. She lost her boyfriend, her band, and her deal with Columbia Records. But NJ people are known for their perseverance, and Atkins is no exception. Instead of allowing her talent to lie dormant, she got to work creating the songs for her sophomore album. Now, a new record deal with Razor & Tie in hand, she has returned with Mondo Amore, and it's a dramatic, powerful, and painfully honest reaction to the circumstances that have engulfed her in the last few years.
The title of the opening track alone, "Vultures," tells you everything you need to know about Atkins disdain for those creatures that circle above, and her determination not to roll over and play dead for them. Atkins is known to be a devotee of '60s and '70s music, and that influence is exploited brilliantly via the pop rhythms of "Cry, Cry, Cry," and the stomping, bluesy "My Baby Don't Lie." Elsewhere the dark and mysterious "You Were the Devil" segues perfectly into the beautiful devastation of "War Is Hell." "You Come To Me" is possessed of a manic energy that comes pretty close to punk intensity. As good as everything leading up to it is however, it's all been a prelude to the epic romanticism of the album's closing track, "The Tower."
Atkins' voice is a story on its own, alternately pleading, insistent, mournful, demanding, and a raft of other emotions that are often combined to great effect. Her music is not quite like anything else out there, and producer Phil Palozzolo has made sure that her interesting melodies and word pictures are surrounded by interesting frames. Atkins' new band is more than up to the task of providing the requisite intensity while remaining in service to her songs.
Now that Nicole Atkins has made it clear that she is in it for the long haul, I am confident that we will continue to hear great things from her for some years to come. Mondo Amore is a portrait of an artist, tested, but unbowed and unbroken. It is a long and powerful stride forward from the streets of Neptune City to World of Love.
[kml_flashembed movie="http://www.youtube.com/v/paLarbLjc6s" width="600" height="344" allowfullscreen="true" fvars="fs=1" /]