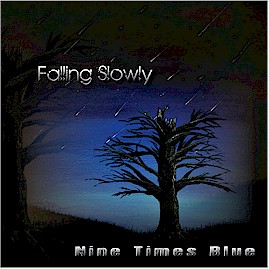 The title track of Atlanta-based Nine Times Blue's debut album (Renegade Recordings) is a keeper—muscular and melodic, it conjures in my mind a humid summer evening in 1993, leaving work after another interminable late night, when the absolutely correct song came on the car radio at absolutely the right moment, and I leaned back, exhaled, and took the long way home, the season and the song snapping perfectly into place. That song happened to be "Hey Jealousy" by Gin Blossoms, and "Falling Slowly" has more than a little Doug Hopkins and Robin Wilson in it, as I'm sure Nine Times Blue's front man and main songwriter Kirk Waldrop—a power pop acolyte, as well as practitioner—will admit.
The tension in the verses comes from the insistent rhythm section, and Waldrop sets out his list of lovelorn grievances:
I remember when you told me not to worry
But I worry still
And I remember when you told me just to trust you
But I won't trust again
Keeping pace with the bass and drums, though, Waldrop must break the lines like this:
I remember when
You
Told me not to worry
But I
Wor—
—ry still
This unwritten enjambment kicks the tension up another notch, and though short, the verse perfectly sets the listener up to be knocked sideways by the chorus, which breaks things wide open, as good choruses do:
So I'm falling slowly
Into another day
And as those those days add up
I feel so weak
Lost and lonely
Gotta find another way
Before I find myself
In too deep
As statements go, it's a well-worn one—the protagonist finds himself vulnerable in the face of a love he does not entirely trust. You've heard that before, right? As choruses go, though, it's a moment of perfect melody and release, one followed by an expertly structured and played remainder of the song. "Falling Slowly" could be played on rock radio right now, and should be, but it could also have comfortably rested on playlists back in '94 or '95.
There's not a note on Falling Slowly that you haven't heard before, mostly in the early to mid-Nineties, when the best radio rock wore its pop influences out there on its soft flannel sleeve. But leading off with this particular track brings up an interesting conundrum—when you've front-loaded your record with your best song, where do you go from there? The rest of Falling Slowly is solid, but not spectacular—to use a baseball metaphor, there are a number of singles and doubles, but not another bleacher shot like the title track.
What makes the album worth hearing are the little details, bits of smile-inducing stuff that quite often hearken back to earlier records, like my Gin Blossoms moment with "Falling Slowly." For one, Waldrop's voice makes him sound like he's related by blood to Pat DiNinzio, so if you still listen to Green Thoughts or Smithereens 11 once or twice a year, you'll be happy. The vocal timbre thing makes a song like "Silent Words" worth the spins you'll give it, even though the song crams too many lyrics into too small a space, with too little in the way of a hook.
Better, hook-wise, is "Grace," a mid-tempo ballad with a slide guitar figure that immediately conjures the memory of Mike Campbell's work on the Wallflowers' "Sixth Avenue Heartache." The chorus is sweet, too, providing the ideal dÁ©nouement for the song's verses. The jaunty thwack of "Serena" will get feet tapping anywhere it's played, and the vocal harmonies throughout are icing on the proverbial cake. The harmonies also lift "I Can't See You"—the "oohs" in the middle-eight and closing seconds are just the kind of small moments that make the best songs on the record worthwhile.
Such moments are absent, though, on tracks like "Million Miles" "Crazy to Think," and "Fun and Games"—songs in which Waldrop's angst and anger and heartbreak are unfiltered and earnest, but also uncut by a strong hook or melody. On a record full of first-person accounts of bad relationships, there's got to be something sweet to help the bitter stuff go down. "Falling Slowly" (the song) has that in spades, but the songs with an absence of the sweet stuff are difficult to punch through.
There's a lot of promise in Nine Times Blue's brand of rock and, though not a perfect record, Falling Slowly is worth a listen; its best cuts are worth a lot more. It will be interesting to hear where Waldrop and his band go from here.