Killing Joke, Absolute Dissent/Absolute Respect (Spinefarm)

What a mindfuck it was to hear a while ago that the original lineup of Jaz Coleman, Geordie, Youth and Paul Ferguson were reuniting to create a new Killing Joke record, the first with that lineup since 1982.  1980's self-titled album is one of the most influential post-punk releases ever and Killing Joke made their living off that and the 1981 follow up, What's THIS For…, forever cited as major influences on all sorts of alternative and metal bands worldwide.
Critically, their most well received album since those debut records was back in 2003 when Dave Grohl joined them on drums for their second self-titled record. I wouldn't be shocked to see Absolute Dissent to be placed in the same echelon as any of those three.
From the opening note of the lead title track you can feel the fire with these guys together again. The first three songs have sharp, harsh riffs and Jaz's typical angry growl.  "The Great Cull" is better than any track I've heard from the group in years, with a sludgy down-and-dirty, dragged through the mud feel. "Fresh Fever From the Skies" harkens back to the early years and details Coleman's strange experience of seeing seven glowing balls of light in the sky outside a London pub. "This World Hell" is the most brutal track on the disc, slightly industrial with an early Godflesh feel to it. But even through all the griminess what stands out the most is "European Super State," a eurodance (eurodance!!) track.  As the fifth track it's pretty much the glue that holds the disc together and despite the drastic difference in sound to the rest of the disc, it doesn't sound out of place at all. Of course Killing Joke has always written their own rules, so throwing this in the middle is not suprising. Hopefully this isn't the only album the four of these guys do now that they are back together but if it is, they have made a record to go out on top.
There's also a two-disc package available with a bonus album called Absolute Respect. It's filled with 11 covers of Killing Joke songs.  Unfortunately, only one track is new but it's a decent compliation of bands that have been influenced by the group.
Of course Metallica's cover of "The Wait" (Garage Days) leads off the disc, but Helmet's cover of "Primitive" and Econline Crush's take on "Pssyche" are two of the highlights. There's also a live version of "Requiem" performed by the Foo Fighters, the Nine Inch Nails remix of "Democracy" and my favorite, "Wardance" remade by Japanese hardcore group the Mad Capsule Markets.  It's a neat little disc that's worth the money if you aren't a superfan and already own all these songs.
[kml_flashembed movie="http://www.youtube.com/v/MPN7EvbrCp0" width="600" height="350" wmode="transparent" /]
Monster Magnet, Mastermind (Napalm)

When Monster Magnet calls, Steed listens. I've been a big fan since 1995's Dopes to Infinity but actually like earlier Monster Magnet records like Spine of God and Tab better than recent records. Every album starting with their big commerical breakthough (1998's Powertrip) has had many great moments but dull tunes as well making their recent material a little uneven.  However, Mastermind could very well be renamed Masterful as it's easily the best album in more than a decade.
More than anything else, I had been hearing the hype that this was a "return to form" and a trip back to those early days before radio got to them so my spidey senses were on alert, but I really don't hear that for the most part. What it feels like is that Dave Wyndorf really got his shit back together after overdosing in 2006 and was coherent enough to perfect his craft this time around.  Early on in the record there's a track call "Dig That Hole" that is the antithesis of this album.  It begins with a stark stoner riff before picking up steam into a menacing heavy growl followed by a radio ready chrous that bursts with energy.  "Hallucination Bomb" is a heavy-as-hell groove oriented track to lead off the album and it's followed up by "Bored with Sorcery" which is one of the great fist pumping anthems on the disc.
Although radio doesn't seem to be cool enough these days to pick up on Monster Magnet for another 15 minutes of fame, the first single "Gods and Punks" is made for rock radio. Actually, I can see my version of the video now – flashy, sort of with a Kid Rock flair, top down on the cadillac, dudes in wife-beaters in the front seat, half-naked chicks in the back, flying down the highway with reckless abandon (though the real version below is way different from that). Wyndorf's lyrics are great as well, like "I can think of easier ways of paying my dues / than choking on my chicken singing 21st century blues," ("Perish in Fire") or "Mama mama / tell me I aint gonna die / Baby baby / say you found the astro-glide," ("100 Million Miles Away).
The overall reason that Mastermind is so good though is that there is no filler. Every track resonates for the first time in ages and creates a wholly entertaining album.
[kml_flashembed movie="http://www.youtube.com/v/347M0hcgjcw" width="600" height="350" wmode="transparent" /]
Earth, A Bureaucratic Desire for Extra Capsular Extraction (Southern Lord)

It is a nice day in the world when a new Earth album hits your desk, even if it's only two old Earth albums made into one.  A Bureaucratic Desire for Extra Capsular Extraction is a nice one-shot package of the earliest work of the godfathers of drone.  It combines the first three recordings located on the 1991 Extra-Capsular Extraction EP and the four tracks from their 1990 demo, released in '95 as Sunn Amps and Smashed Guitars.  The only thing missing from the disc is the 31-minute live track "Ripped on Fascist Ideas" which was also on the latter release (and that's fine as you aren't missing a whole lot there).
Every drone band from Sunn O))) down to Mogwai owes a lot to Earth who not only pretty much introduced the sound to the masses but did it on a major label like Sub Pop.  If you haven't heard these releases (which most people haven't) the demos have a lo-fi sound like most demos do, but that doesn't mean that Dylan Carlson doesn't bring the heaviness on it. "Geometry of Murder" is one of those tracks where the low end is just so heavy that if you've got some loose bowels that shit's going to be shaken out of you. The focus of "German Dental Work" is the heavy metallic percussion which sounds more like an EinstÁ¼rzende Neubauten track than what you'd expect from Earth.  And if you are a fan, you at least should already know about "Divine and Bright" which is a mellower tune that features one of Carlson's best friends, Kurt Cobain on vocals. You can definitely hear an influence on Nirvana's Nevermind in this track.
The first three tracks on the album from the 1991 debut are much better produced and more straight drone than the demos.  The third track ("Ouroboros is Broken" which closed out the original release) is a masterful blueprint for the genre. Clocking in at a mere 18-minutes the repetitiveness of the one riff with static and feedback interwoven throughout is pretty much what drone metal is all about these days.  Just as any other Earth release A Bureaucratic Desire for Extra Capsular Extraction is a must for a fan of drone metal or anyone that wants to see a perfect beginning to a whole genre of music.
[kml_flashembed movie="http://www.youtube.com/v/RDERDV3hhO0" width="600" height="350" wmode="transparent" /]
Necrite, Sic Transit Gloria Mundi (The Flenser)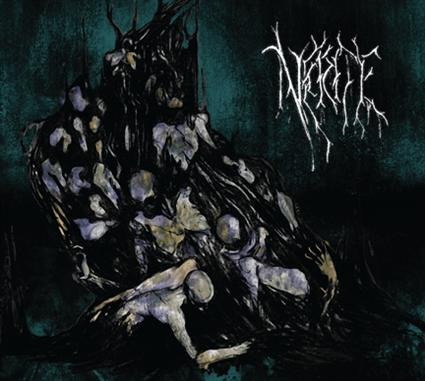 It's kind of cool to finally see an album from these guys as they've tossing around demos for years now without ever releasing a proper studio album.  Sometimes it's worth the wait though.  The US black metal scene has been gaining a lot of momentum recently and a group like Necrite really need to a part of any discussion on the topic.
From the Bay Area in CA, Necrite combine black metal, drone and funeral atmosphere to make one pretty adventurous album. US black metal bands don't seem afraid to deviate from the traditional sound which makes them stand out, good or bad. With Sic Transit Gloria Mundi you get multiple layers of sound and unique complexities in each track whether it's a more drone oriented track as you would expect from something called "Worship the Sunn ((O))" or hellish screaming over a raw, dark and doomy sound in "A Mass for the Harvest of Death."  "Bathing Open Wounds with Shards of Glass" is the key track on this five song 66-minute disc though. It's kind of hellish and creepy with some traditional blast beats and a bit of a blackened thrash feel at points. But it's the screaming death in the form of vocals by singer Thrull, that makes this a pretty harrowing listening experience (it's supposed to be though, so in this case, "harrowing" is a good thing).  I wish the drums didn't sound like they were recorded three rooms down from the studio but it's still one of the most solid black metal releases of 2010.
Vanderbuyst, Vanderbuyst (VÁ¡n Records)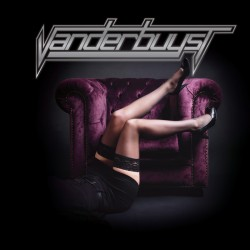 Dude,  this is quite a throwback.   Vanderbuyst is a dutch hard rock band formed by former Powervice guitarist Willem Verbuyst. From start to finish you get 1976-1982 relived all over again.  This absolutely could pass for a NWOBHM album from back in '81 or so with it's classic guitar sound.
I have read about their two-a-day crazy live shows but now with this album they've finally put out a full-length (eh, 7-songs, don't really know how full that it but that's what it's being called) and it's brimming with energy.  Two songs jump out right away as to the state of vintage-ness with the disc; "Traci Lords" and "Tiger."  Both are fabulous bursts of energy (especially "Tiger") but really, who still writes songs about Traci Lords and having the eye of the tiger in you? Then there's the 11-minute cover of UFO's "Rock Bottom" which is really an absolutely perfect fit for the record.  There is virtually no way I would have known this was new if I hadn't been provided the promo and while this stuff usually just sounds dated, between these guys and Christian Mistress, vintage is on its way back in style!
[kml_flashembed movie="http://www.youtube.com/v/OxVv4kDRm5Q" width="600" height="350" wmode="transparent" /]
Grave Digger, The Clans will Rise Again (Napalm)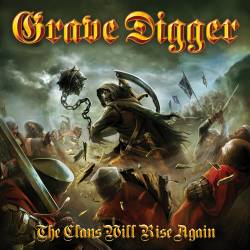 Grave Digger duped me a little bit on this one.  The intro track ("Days of Revenge") on The Clans will Rise Again is a bagpipe filled Scottish pleasure  leading me to believe I was going to get more of that in the coming tracks, but the bagpipes are few and far between on this power metal record.  Of course upon first listen I forgot that these fuckers have been around forever, since 1984 to be exact and this isn't the first time there's somewhat of a Scottish theme to one of their albums.  Back in 1996 they released Tunes of War which was a concept record about Scotland's struggle to gain independence from English.  The Clans will Rise Again is again about Scotland but this time more about the people and the history of the country.
This is their 15th album and they certianly don't appear to be slowing down at all.  Clans is filled with energy and power, with anthemic songs like "Highland Farewell" intertwined with riff-fests like "Paid in Blood" and "Hammer of the Scots."  At 13 tracks the album could have done without one or two songs and I've always had a little bit of a hard time Chris Boltendahl's heavy German accent but the riffs still remain front and center and it's a total headbanger. Check out the video for "Highland Farewell" below. Man, Boltendahl looks like he's 150 years old, doesn't he?
[kml_flashembed movie="http://www.youtube.com/v/lqp6z6vfHX8" width="600" height="350" wmode="transparent" /]
Iron Fire, Metalmorphosized (Napalm)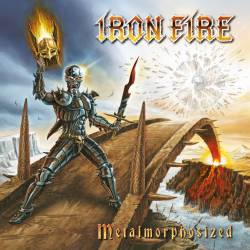 Six albums and a decade after releasing their first one, Iron Fire is still going strong. Unlike Grave Digger, Iron Fire didn't surprise me at all.  I mean, with a title like Metalmorphosized could this be anything else but grandiose power metal?
These Danes have had a revolving lineup over the years but singer Martin Steene brought in some former members to record this disc and the chemistry is certainly there.  It has what every good power metal disc should have — epic riffs, blistering solos and majestic choruses.  The guitar solo in "Nightmare" is probably the best on the album while the ballad "Crossroad" has the best soaring chorus and "Riding Through Hell" provides the most power on the disc. If you're familiar with Iron Fire, it definitely sounds like them. Nothing terribly unique but if you dig power metal you've come to expect that anyway.
[kml_flashembed movie="http://www.youtube.com/v/dxK2oVB7zM8" width="600" height="350" wmode="transparent" /]