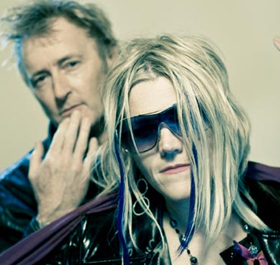 The power ballad arts, I am happy to say, are still being practiced today by a small cadre of artists both old and new. This is a good thing, possibly the best of all things, particularly for those of us who still crave moments of artistry that entice us to hold lighters above our heads and sway in unison. It does my stony little heart good to hear new examples of slow, dramatic statements of purpose or declarations of desire or love or determination—chill-inducing stuff that puts to music the swells of passion that rise in the listener, or that the listener would love to have rise in him or her.
Last time in these parts, we covered a new John Waite song that fits perfectly into the pantheon of power ballad greatness. Recent stuff from old hands like Foreigner and Journey and Jeff Scott Soto (both solo and in the guise of a band called W.E.T.) and by-God Whitesnake also fit the bill. The influence is even felt in recent work by acts you don't tend to associate with power ballads, like (gulp) Train and even Miley-fucking-Cyrus. And no,  it's not a stretch to say that something like Cyrus' "The Climb" belongs in the same conversation as Waite and Whitesnake—had, say, Vixen recorded the song in '88, it'd be on every Metal Ballads compilation you find at Wal-Mart these days.
Great power ballads can also come completely out of nowhere. Cathy Richardson has spent the last three years playing New Grace Slick to Paul Kantner's Elderly Paul Kantner in the recording/touring production of Jefferson Starship: The House of Blues Years (the band also includes drummer Donny Baldwin who, as we Popdosers recall with glee, once broke Mickey Thomas' face). If you haven't heard her blow the fucking roof off a building singing "Somebody to Love," check out this clip from a recent Jim Peterik/World Stage show. Go on. The rest of us will wait for you.
[Gotta click here to see it, cuz embedding is disabled.  It's worth it, though.]
How 'bout that?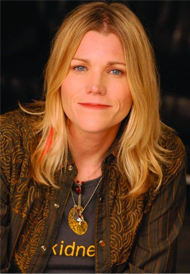 Richardson also fronts a band called the Macrodots, who play a smokin' hot brew of melodic hard rock, and who are about 25 years too late to become the arena-bustin' juggernaut they deserve to be. If you get a chance to hear their record, The Other Side, check it out. Songs like "Not Too Late," "If I Could," and the title track should be on rock radio (if such a thing exists anymore), and the band's pedigree (in addition to Richardson, the band includes Scandal co-founder Zack Smith and the aforementioned Donny Baldwin, who, it should be said once again, once broke Mickey Thomas' face) simply screams quality. The record is an eardrum-breaking, heart-tugging, privates-kicking blast of rock goodness.
The Other Side also features "Save Me," one of the most dramatic power ballads I've heard in years. Channeling her inner Ann Wilson, Richardson faces down a lonely night of the soul the only way true rock chicks know how—by shredding her lungs in a full-throated roar to the heavens. I mean, come on—the chorus says it all:
Can you hear me or am I alone?
I lost my way and I don't know how to get home
Trapped in my prison, burning in hell
Someone come and save me from myself
Not since the sweet devil got Melissa Etheridge's soul has such an over-the-top expression of pain and passion seemed so bloody apropos. Or bloody and apropos. I can just hear my dear mother (the Steve Perry fanatic) saying, "If she keeps singing like that, she'll ruin her voice." I love my mom, but I don't think that's true, nor do I think Cathy Richardson would care. There's only one way to express what she's expressing.
Listen to the music, too—the spooky keyboards, the anvil-down-the-staircase drumming, the acoustic guitar and droning electric guitar, the little bits of effects here and there. The production and arrangement really are a full-on, multi-layered sensory assault, all to the greater glory of the song.
I love this stuff. I live for this stuff. To hear a power ballad this striking and not have to carbon-date it back to '87 or '89 is the whole reason I keep paying attention to modern melodic rock. It's classic and new, simultaneously. I have no faith that it will blow up into a stardom-making move for Cathy Richardson or her Macrodots, but that's the fault of the recording industry and not the artists. The fact that "Save Me" exists at all tells me yes, there is life in my favorite genre. That bit of knowledge makes me a happy man, indeed.