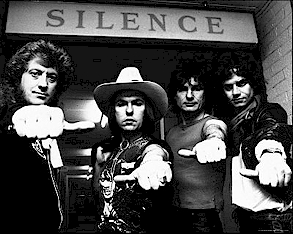 I was lucky. I turned 14 in 1984—a goofy, hormonal, awkward, music-obsessed 14. To have been an adolescent tuned into the radio in 1984 was to have experienced musical nirvana (with a little N—kids who were seven years old in '84 would have their own moment seven years later). The winter gave us Van Halen's 1984, the Pretenders' Learning to Crawl, Queen's "Radio Ga Ga," the Go-Go's Talk Show, the Footloose soundtrack, and the Cars' Heartbeat City. Spring saw the release of Scorpions' "Rock You Like a Hurricane," Steve Perry's Street Talk, Laura Branigan's "Self Control," Chicago 17, and Tina Turner's Private Dancer.
The summer, however, was the mother lode: Born in the USA, Purple Rain, "We're Not Gonna Take It," The Warrior, "I Can't Drive 55," "Infatuation," Ice Cream Castle, Diamond Life, "Lights Out," "Sister Christian," "Naughty Naughty"; the radio filled with those and others by Wham, Cyndi Lauper, Billy Idol, Phil Collins, Rick Springfield, Huey Lewis, the Pointer Sisters, Madonna, Deniece Williams, Ratt, Rockwell, Lionel Richie, Bryan Adams, Genesis, Ray Parker Jr., ZZ Top, Duran Duran, and so on and so forth. I won't even get into what cool shit was to come in the fall, or even what was happening on college radio and in metal. Suffice to say, it was a great year, the very best of years, a year that comes along once an adolescence, if you're lucky.
I was lucky.
I had been a fan of Quiet Riot's 1983 chart-topper Metal Health and immediately bought its follow-up, Condition Critical, when it came out in the summer of '84. Like others, I was taken with "Cum on Feel the Noize" and "Mama Weer all Crazee Now," which turned out to be cover tunes originally written and released by Slade—a glam band from the UK that had never so much as made a dent in America. Turned out, though, that they were huge in England, scoring 17 Top 20 hits, including six Number Ones, and the originals Quiet Riot covered were the tip of the proverbial iceberg—songs like "Gudbuy T' Jane," "Skweeze Me Pleeze Me," and "Look Wot You Dun" were absurdly catchy, not to mention absurdly spelled.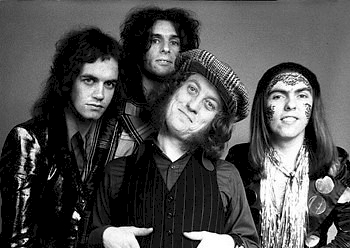 When, in the wake of Quiet Riot's success, Slade landed on these shores in glorious 1984, it was with an oddly Celtic-tinged rocker called "Run Runaway" and an oddly titled album, Keep Your Hands Off My Power Supply (which was a re-released version of a record called The Amazing Kamikaze Syndrome that they'd put out in Europe the previous year). "Run Runaway" landed them in the US Top 20, and its strange performance video became an MTV hit.
Slade's success seemed to stem in large part from their incredible aptitude at writing anthems—songs that armed the glam kiddies, punters, and yobs alike with shoutable choruses and fist-in-the-air attitudes. Their stab at the power ballad arts was likewise anthemic, and likewise huge in their homeland and throughout Europe. "My Oh My" hit Number Two in the UK in '83, and was a months-long Number One hit in countries like Norway and Sweden, whose propensity for odd spelling made Slade's songs that much more appealing.
Written by cheeky frontman Noddy Holder and bassist Jim Lea, "My Oh My" replaces choruses (the hallmark of just about every great power ballad) with the repetitive refrain of its title, punctuating most lines in each verse like I'm using periods now. Holder starts out with a peculiar comment on relationships that appears torn from Ye Olde He-Man Woman-Haters Handbook, in its more tolerant later editions:
I believe in woman, my oh my
I believe in lovin', my oh my
Don't a woman need a man
Try and catch one if you can
I believe in woman, my oh my
Perhaps the women who hung out at Slade shows had trouble catching men, but Holder's belief in lovin' likely slowed him down enough that such a chase was brief, indeed. He continues his observations in the next verse:
We all need someone to talk to, my oh my
We all need someone to talk to, my oh my
You need a shoulder to cry on
Call me I'll be standing by
We all need someone to talk to, my oh my
Notice what he does here? He moves the lens outward, off him and his beliefs, encompassing everyone's need of conversational companionship, and by doing so engages in the communal spirit that any anthem worth its salt must engage, pulling every listener into the song's orbit, forging a connection with all who hear him sing. He goes back to his own personal entreaties to the woman who apparently successfully caught him, briefly, before doing this in the third verse:
We all need a lotta lovin', my oh my
Yeah, a whole lotta lovin', my oh my
I can lend a helping hand
If you ain't got nothing planned
We all need some lovin', my oh my
The communal and the carnal meet—Holder can now talk about lovin' (though he's left catchin' behind) as a common need. And it's not just ordinary lovin' we all need—it's a whole lotta lovin', and when he sings of the volume of lovin' we all need, his voice goes into mini-howl mode, showing us he really means it, though not in a scary or off-putting way or anything. He can lend a helping hand (though let's be honest—where has that hand been?), but it's really up to us to agree or disagree with his declaration. And in order to convince us he's right, he has elfin guitarist Dave Hill come in and solo; the lighters we raise at this moment are our votes of approval and agreement; the rate of our swaying is a measure of our need for lovin'. By the time Hill is done, we're all ready to sing along: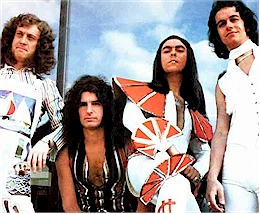 So let's all swing together, my oh my
We can all swing together, my oh my
You've got troubles of your own
No need to face them all alone
We can all swing together, my oh my

Well, we're not talking about lovin' anymore. Damn. Or maybe we are indeed talking about lovin', but only as a segment of a greater call to action—of helping each other through bad times, of swinging together. Or maybe it is all about lovin', but in a Bob & Carol & Ted & Alice-kinda way. The meaning is further complicated by the final verse:
So let's all pull together, my oh my
Yeah let's all pull together, my oh my
We can ride the stormy weather
If we all get out and try
So let's all pull together, my oh my
Yeah let's all pull together, my oh my
So we're swinging, yes, and we're pulling. We need a whole lotta lovin', and we're swinging and pulling. At 14, I didn't care; I'da swung and pulled damn near anything at that point, but it didn't matter. I was hooked on the Slade record, it's misspellings, and its anthems. "My Oh My" clipped the US Top 40, and made it onto my personal soundtrack that summer; to this day, I hear it and immediately flash back to that wonderful year of music.
Sadly, on these shores, Slade wuz barely hurd frum again. Itz a little sad, reelee, when you thynk abowdit.