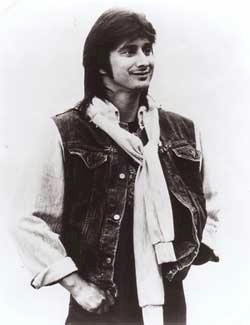 While by no means indisputable proof, most available evidence points to the conclusion that ex-Journey front man Steve Perry is a dick. Oh, sure, he's happy to pop up at baseball games and victory rallies to lead crowds through lip-synched renditions of "Don't Stop Believin'," the rallying cry for perceived underdogs and streetlight people everywhere. He'll even hang out near his former band's star on the Hollywood Walk of Fame and pose for pictures with surprised fans. And his interest in bovine insemination has helped many hopeful cows become parents (though adoption is always a good option, as well).
But watching his smarmy interview segments in VH-1's Behind the Music episode on the band undoes most of the good will he's managed to generate ("I never really felt like I was part of the band," the noted control freak famously told the camera, while somehow keeping a straight face). Longtime Journey manager Herbie Herbert has filled two lengthy online interviews with tales of Perry's dictatorial ways and questionable business decisions. To top it off, current Journey producer Kevin Shirley recently reported that, 13 years after he left the band, Perry is "still a key component of the decision-making part of the band. Nothing gets played or released without Steve Perry signing off on it."
But nobody said talented people had to be nice. And we do have indisputable proof of Perry's talent—namely, his hippified Sam Cooke croon and the stadium-packin' anthems and weepers he co-wrote during his time in the band. Arena rock would simply have not been the same without "Open Arms," "Separate Ways," the aforementioned "Don't Stop Believin'"—really, the whole of Escape (1981) and Frontiers (1983) — plus the smattering of soundtrack singles ("Only the Young" and the amazing "Ask the Lonely"), and the back catalog of album tracks both huge ("Wheel in the Sky," "Any Way You Want It," "Lovin', Touchin', Squeezin'") and not-so-huge ("Just the Same Way," "Anytime/Feelin' That Way," "Patiently," "The Party's Over").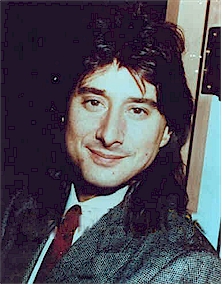 In 1984, though, things began to go sideways for the band. Apparently consumed with jealousy at the solo records guitarist Neal Schon was making with follicly challenged keytarist Jan Hammer, Perry went into the studio on his own to create Street Talk, a strong solo statement that essentially recast the Journey sound in an adult contemporary mold—more Manilow than Mutt Lange. Not even power ballads like "Open Arms" or "Faithfully" had done that (though the band would codify this approach on '86's Raised on Radio). "Oh Sherrie" was the super-boffo, worldwide mega-hit, but there were no fewer than five singles and radio tracks pulled from the record's ten tracks.
One of them was not "Running Alone," the lone true power ballad on the record ("Foolish Heart" was a good ballad, but was missing much in the way of power). At once an anthem of empowerment and a fond look back at the innocence of childhood, "Running Alone" showcases the versatility and power of Perry's voice, and makes us forget, if only for four minutes, his personal petulance.
The song begins with a guitar and keyboard figure that introduces the general melody. After letting the intro linger for maybe half a bar, Perry enters and sets a pensive scene:
Looking down I watch the night
Running from the sun
Orphan stars and city lights
Fading one by one
Oh sweet memories
I call on you now
It's a beautiful, contemplative moment, and Perry describes it without much effort. The guitar figure comes back in, and he moves to the second verse, peeling back his reflection to show, however, vaguely, the reasons for his thoughts in the moment:
Two too many hearts been broke
Along this lonely road
Steel grey eyes can shine the lies
Until they look like gold
Cold city sidewalks can turn your heart to stone
The street won't defeat me
Cause I've got the will I'll survive
I don't mind running alone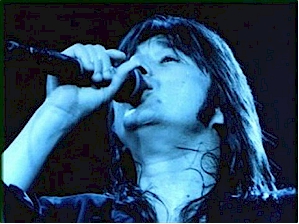 The chord change when he hits the word will in the penultimate line always gives me a bit of a chill—the soft lift given to the statement of survival is perfectly timed and executed, a small but excellent example of Perry's way with a melody. The last line brings the song back down to earth, enabling an advance to the second verse, where Perry's meditation opens wide, encompassing greater personal and creative forces outside his own head:
I believe that every soul
Has a song to sing
The spirit's locked in every man
Waiting for a wing
Oh so much wasted
And oh so little used
The trick of the dreamer
Is keeping yourself from the blues
And I don't mind running
"The trick of the dreamer / Is keeping yourself from the blues." From a purely artistic perspective, I cannot disagree more—how much great music, poetry, and literature emerges from the desperation and sadness of the dreamers who created them? However, if the dreamer in question is merely one with pie-in-the-sky ambitions, a healthy disregard of "the blues" and other obstacles may indeed be useful. It's hard to know which is the case here—the verse is sufficiently detached from the sentiments with which Perry opened the song, making the line's intention unclear. What is clear is that the second verse serves as a useful bridge into the magnificent chorus:
Everyone's a hero
If you want to be
Everyone's a prisoner
Holding their own key
Every step I take
Every move I make
Always one step closer
I don't mind running alone
On their own—on the page, divorced from the music or the singer—the lyrics come off as new-agey, motivational Oprah-speak (two whole years before Oprah went national). Given voice by Perry, however, and backed by power chordage of an exceedingly high caliber (props to session vet Craig Hull), those lyrics and their sentiments become scripture sent down from the heavens. They're better than a cortisone shot and a Starbucks double-espresso redeye—you feel like you can run through a wall, powered only by Steve-fucking-Perry, and emerge unharmed. You're able to save Lois Lane and kick General Zod's ass, probably simultaneously. Everyone's a hero, if you want to be, goddammit, and after that chorus, you really, really want to put on the cape and squeeze into the tights.
Perry's not done the ruminatin', though. He backs off the pedal to consider the most innocent among us:
Laughing children echo down
The concrete alleyways
Oh their voices
Calling, calling, calling yesterday
Oh sweet memories
Returning to me now
When young eyes saw clearly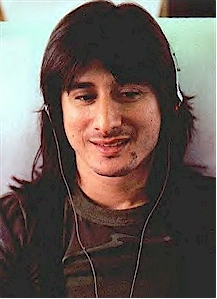 Again, it's a vague reflection, this time on childhood (complete with kiddie sound effects and some poor tyke's voice mumbling, "Can Steve come out and play?"). It's also a masterful use of quiet-to-loud dynamic, as the final line about "young eyes" hangs for several beats, Perry's voice trailing off into the ether, before the chorus explodes once again in a glorious blast of thunder and melody. When Perry finishes, the chorus yields to the guitar and keyboard figure that started the song, and the last sounds we hear are children laughing.
It's a sort of cool/sort of cloying end to a beautiful, bombastic piece of power ballad goodness. Though never released to radio, "Running Alone" has always stood out to me as the finest cut on Street Talk, one of the highlights of Perry's period as the voice of commercial rock. It's the sort of song that makes one care not a whit whether his band mates or manager liked him, whether he was too controlling for his own good, or how much evidence of his dickishness was piling up in the Journey camp. It's evidence of his greatness as a singer.  Soon after though, Perry would effectively shut Journey down for years, preferring to run alone, for real.