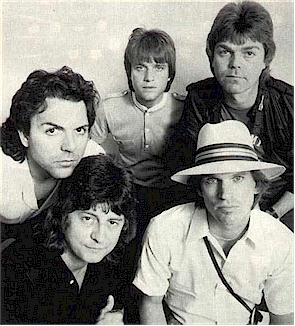 Not that anyone noticed, but I've been scarce in these parts for the last month or so, due to a number of professional and personal things that required too much of what little brainpower and emotional fortitude I have left at this point in my life. But I missed yuhs, and hope to be back here doin' my thing on a regular basis again, unless we have another one of those "storms of the century" that sends my house floating down the creek with me and my family (including our new cat) floating along with it.
By far the coolest thing I did in this period was officiate the nuptials of two good friends. To my utter shock, it was perfectly legal in the Commonwealth o' PA to do so, long as I got "ordained" by an existing religious institution and did a couple other fellowshippin'-type things with the bride and groom prior to the big day. I even studied up on case law, a) to make sure such an enterprise was legit, and K. and B. would not discover, a decade down the line, that they'd been living in sin for ten years longer than they'd thought; and b) so that when K.'s parents asked me whether there was indeed lawyerin'-type precedent for a non-believing ex-Baptist like myself to hitch their daughter to B.'s wagon, I could answer unequivocally in the affirmative.
The wedding itself was a lovely affair, something I could take only tangential credit for. The fire breathers that stood at either side of the entrance and greeted each guest with twin blasts of overhead flame managed to do so without burning down the hall—impressive, but not as impressive as the lariat twirler who scampered up and down the aisle, darting under and over her rope as she showed the guests to their seats. The pre-ceremony music was interesting—Stevie Wonder's Journey Through "The Secret Life of Plants," played through one of those Bose systems you see on TV—but so was the scent of orchids and bulbines, piped in from a whole line of 'jacked Buckmister Scent Dispersal units (one of which, the bride was aghast to find out, still contained a whiff of doe pheromone. This was okay, though—it just made the guests hungry, though one groomsman reported being a little turned on).
At the last minute, I abandoned my twenty-minute homily that compared marriage to the Somme Offensive, the "Time Capsule" episode of Happy Days, and the 1988 "Fog Bowl" game between the Eagles and the Bears. I went instead with five minutes on love and marriage, as envisioned by Sammy Kahn and voiced by Frank Sinatra, which I suppose was nice, but which lacked the scope and grandeur of my originally intended message.
What I was thinking, though, as my friends faced me and I spoke to them and their gathered loved ones (and the fire breathers and lariat twirler), was not "Love and Marriage," but the lyrics to another song, one I've loved for nearly 30 years, which was performed at my wedding, nearly 16 years ago.
As I've written before, the first time I heard Survivor's "Ever Since the World Began," I was 12 or 13, and have always considered it a perfect wedding anthem. I imagined it playing the moment the groom stands alone at the altar, just before the bride comes down the aisle. In many ways that moment is a culminating event — as if his entire life has somehow been lived simply to lead him to that point. The opening verse speaks to that idea of summation and destiny:
I'll never know what brought me here
As if somebody led my hand
It seems I hardly had to steer
My course was planned
And destiny it guides us all
And by its hand we rise and fall
But only for a moment
Time enough to catch our breath again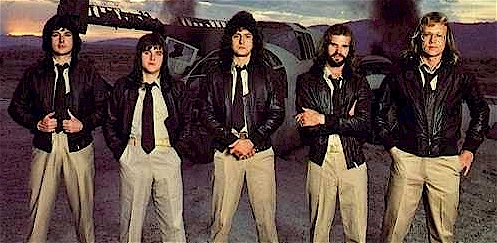 There is a weight present in those words, and in the music and melody that accompany them. The singer acknowledges the enormity of the moment, in terms of personal accomplishment and the progression of a life to an important milestone. The opening lines of the chorus, however, put it all into perspective—how even the most significant moment of a life is rendered somehow smaller by the true enormity of the universe that surrounds every individual:
And we're just another piece of the puzzle
Just another part of the plan
How one life touches the other
It's so hard to understand
It's difficult to understand, but there's no harm in trying, and our understanding—our very willingness to try—is bolstered by the strength we find when we find one another, when love binds us:
Still we walk this road together
We try and go as far as we can
And we have waited for this moment in time
Ever since the world began
Of course, there's no proof that the "wedding anthem" angle is present anywhere but in my head—writers Jim Peterik and Frankie Sullivan pitched "Ever Since" to Sylvester Stallone, for use in Rocky III (instead of that one, Stallone went with a different tune, one about a tiger or ophthalmology or something), and eventually Sly used the tune in his unwatchable prison flick Lock Up. Tommy Shaw covered it on his second solo album, and current Journey frontman Arnel Pineda's  incredible performance of the song was one of the YouTube clips that guitar god/D.C. Housewife boinker Neal Schon saw, that got the Filipino wonder his gig.
The mystery and passion inherent to the song are its hallmarks, regardless of who's singing it, or which piece of celluloid it's cued up behind. The best, longest-lived marriages are likewise the ones in which the spouses maintain mystery with and passion for one another. I'm grateful for the last 16 years of my marriage, and wish K. and B. all the best in theirs. A little doe pheromone can go a long way.