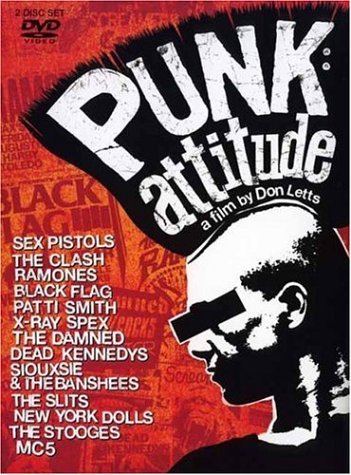 "The rebellious part of it is very important because people get too complacent. And I think the fight against that complacency is punk rock." — Jim Jarmusch from Punk: Attitude
When you hear the word "punk," it probably conjures up a lot of different things. You might think of your favorite song by the Ramones or the Clash. Or perhaps you think of mowhaks and safety-pinned cheeks. Or maybe you think of some amazing piece of street art you once saw. Or you might even think of those kids who live in your neighborhood who are constantly causing trouble and trying to "stick it to the man" — hell, maybe you are one of those kids.
Whatever you think of, the images, sounds and ideas you associate with the word "punk" come from somewhere. Punk isn't just a music genre; it's a culture. A state of mind. It is an attitude.
In his 2005 documentary, Punk: Attitude — which, after being out of print on DVD has just been rereleased as a two-disc set by Shout Factory — filmmaker Don Letts, a legend in the punk world himself, explores what it actually means to be punk. The film makes the case  that punk isn't just about the music, but it's about the fashion, the art, the film, the writing and, yes, the attitude that accompanies it.
Had Punk: Attitude only explored punk rock, it would've been a brilliant music doecumentary. It takes a look at the musicians that influenced punk and created its roots — from the '50s, with musicians like Jerry Lee Lewis, Chuck Berry and Elvis Presley, to '60s acts such as the the Kinks, the Count Five, the Doors and the Velvet Underground then through to the Stooges, MC5, and the New York Dolls. It also, of course delves into punk's heyday in the mid-to-late '70s with acts like the Sex Pistols, the Clash, the Ramones, X-Ray Spex and the Slits. Letts covers all his bases, discussing punk subgenres, like No Wave and hardcore, with bands like James White and the Blacks, James Chance and the Contortions, Theoretical Girls, Black Flag, the Circle Jerks, Minor Threat, the Dead Kennedys and many more. Finally, he takes a look at how punk has evolved today (well, at least as of 2005) with bands like Green Day, Rancid, Blink 182 and Limp Bizkit.
But Letts doesn't stop at the music. He also explores the punk culture and helps the viewer understand more about the people who were an integral part of making it what it was then and what it has become now. We learn about punk fashion and how it came to be — from the influence of Vivienne Westwood and Malcom McClaren to Johnny Rotten, with his infamous "I Hate Pink Floyd" shirt, to Richard Hell, who is credited with introducing the deconstructed, safety-pinned look that is widely associated with punk. We also learn about punk writing through all the various underground zines that popped up, both in the States and in the U.K. Punk art is discussed, from Andy Warhol to street art, as is punk filmmaking. So at the end of the film, you are left with a comprehensive idea of what punk was, is, and how it continues to evolve.
As with most documentaries of this nature, Punk: Attitude mixes opinions, stories and memories from a variety of musicians, filmmakers, photographers, fashion designers, artists and writers, such as Henry Rollins, Jello Biafra, David Johansen, Jim Jarmusch, Mick Jones, John Cale, Chrissie Hynde, Thurston Moore, Siouxsie Sioux and Poly Styrene. That list of names just scratches the surface — take a look at this cast list.  It also offers a wealth of photos and rare concert footage to accompany the stories and accounts of the figures interviewed.
As far as the DVD itself goes, I think Shout Factory did a nice job. On disc one, you have the film itself, along with only a couple of extras, which I think are kind of lame. I was particularly disappointed in the text-only "Where are they Now?" feature, which was not updated at all for this rerelease. For example, the blurb about Ari Up does not inform you that she died in October 201o of cancer (incidentally, today is her birthday; she would've been 49). I didn't look at all the blurbs for the "Where are they Now? extra, but I'm assuming they haven't been updated with the artists whereabouts up through 2010, either.
The most desirable extras land on disc two. Highlights for me include the L.A. Punk short film; the Henry Rollins interview (which comes to no suprise to anyone who knows how much I love him), "Fanzines," "Women in Punk" (my favorite of the extras, which takes a pretty in-depth look at X-Ray Spex and its frontwoman, Poly Styrene, who, incidentally, has a new solo album coming out in March that I'm very excited about), "U.K vs. the U.S." and "U.S. Post Punk Documentary." Many of these extras contain extended portions of interviews that appeared in the feature and give more depth to certain subjects that were just touched upon in the movie.
Overall, I think this is a fantastic film that is essential viewing for any punk fan. Hell, even if you're not a fan of punk, you will certainly learn a lot about what I think is one of the most misunderstood genres of music.