Some people are just flat-out smart-asses.
It's not necessarily a bad thing to be at times, mind you, but a good smart-ass pulls it off with a modicum of grace and might give you a chuckle for it. In the music world, there are relatively few of the latter. Instead of a wink and a nod, they just about knock you unconscious and then ask if "you saw that." You can tell one from the other by their choices in the realm of cover songs.
A word of note to anyone who is not a music nerd accidentally finding themselves at this site: a cover song is when an artist records another artist's song, hence covering it. The term 'remake' fits as well. The term 'smart-ass', at least relative to this article, refers to those who decide to go all hipster and record something that bears no relevance, charm or wit toward their own sensibility. I'm thinking of Madonna's cover of "American Pie" or that godawful A Perfect Circle CD where the songs weren't just reworked, they were worked over, until all that was left was roadkill disguised as tribute. Then there's the Bluegrass Tribute to Pink Floyd's The Wall. More notoriously, I'm thinking of the late-'50s pop songs from black artists covered by teen idol white artists because, you know, if it comes from a white guy in a sweater, the subtext can't be about sex. Right? Pat Boone? Tutti Frutti?
Rather than waste time whining about when it all goes wrong, let's instead see when it goes right, when the emphasis falls on the smart and not so much on the ass. To start things off, there are three artists who are honored and covered so often that some generations may only recall the copy and not the original. The Beatles may not exactly fit that criteria, but Bob Dylan and Leonard Cohen certainly do. If you think "Knockin' on Heaven's Door," are you hearing Eric Clapton or Guns n' Roses? What's "All Along the Watchtower" without Jimi Hendrix's guitar flash? Does Jeff Buckley epitomize "Hallelujah" now, and if someone says "Lucy in the Sky With Diamonds," do you go to Elton John as readily as John Lennon? If you approach a song with a small degree of respect to the original intent, you sometimes find a way to make it your own.
In the early '90s a lot of bands were going through identity crises. The fans had moved on to other genres, the ephemeral '80s were over, and even some of the musicians themselves had drastically changed. Danny Elfman was well on his way to film-score stardom and the boho-goth-pop of Oingo Boingo just didn't fit anymore. In several interviews, he was quite content to let it go, yet the band returned as the abbreviated Boingo. Gone were the new-wave jitterbugs around the cemetery, as guitars and no small amount of anger crept into the fold. You can hear it on their version of "I Am the Walrus" as it is structurally faithful but sonically snarling, the psychedelic swirl transplanted with a real sense of menace. It works and I imagine that, were he alive, Lennon would have approved.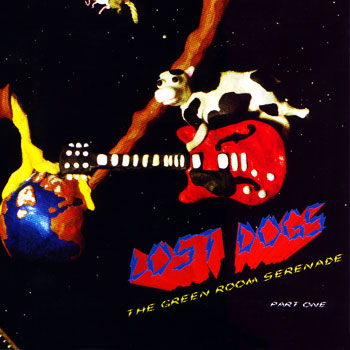 Having pointed out Leonard Cohen's "Hallelujah," I now turn to a totally different cover. There's little that can be said of Jeff Buckley's incredible redo other than it still winds up in the iTunes download top 10, thanks to soundtrack placement. Yet there's another Cohen cover that brings up the same army of goosebumps: "If It Be Your Will," as performed by the Lost Dogs. The quartet of Terry Taylor, Mike Roe, Derri Daugherty, and the late, great Gene Eugene break the verses up between them and then all join up at the end in four-part harmony, turning a very personal statement into something of a universal sentiment. The choice of the song is also a key point to recording a good cover. You don't have to go obvious. Rufus Wainwright recorded "Hallelujah" as well and so could have The Lost Dogs. The beauty is often in the unexpected details rather than the usual ones.
For clarity's sake, the Beatles' "Yesterday" has been recorded 3000 times. Now that's obvious.
Terry Taylor is no stranger to cover territory. His version of "Long, Long, Long" from his A Briefing for the Ascent is eerily similar to George Harrison's original on "The White Album." Taylor's band Daniel Amos, however, transforms the Four Seasons' "Can't Take My Eyes Off of You" into a playful yet aggressive garage rocker. Where Frankie Valli worked the smooth clean-cut side of seduction, Taylor and company somehow project summer danger, cruising, having fun being just a little bit bad. Gnarly guitars substitute the swingin' horns of the original, turning a tune that on a good day is merely pedestrian and on a bad day is just lame into something eminently crankable. Turn it up.
Whether it be the thrilling, seamy skankitude of Prince's "Darling Nikki" or the widescreen soft rock of Gerry Rafferty's "Baker Street", Foo Fighters' Dave Grohl seems to fully realize that the best remakes are ones that are just a bit reverent. When the various artists compilation Radio 1 Established 1967 came out it produced a feeling of hope and dread in me – hope because the concept was that of modern pop stars covering old tunes that were big on Britain's Radio 1… Dread because some of these pairings were no doubt going to suck it hard. The Streets attempting to sing "Your Song", Sugababes molesting "Betcha by Golly, Wow" and The Fray (Does it really matter what the Fray did? Probably not. Like a reverse King Midas, the Fray has a way of touching gold and turning it into a freshly coughed-up hairball.) I dare say that the comp's only saving grace is Foo Fighters hard-charging rendition of "Band on the Run." Once again, Grohl's not out to reinvent the wheel, just to hook the motor up to a monster battery. Recommended while driving down the freeway at 65 MPH with the windows down.
As always, the reasons why one ought to remake someone else's song are fairly clear but execution is everything. Having fun with an opportunity sometimes produces worthwhile things while going at it with base revisionism, or even a sense of contempt, only prompts people to wonder what kind of smart-ass you thought you were.
I wouldn't be doing my job if I didn't point you all to the lovely and very worthwhile Coverville.com. Their podcast attempts to give it all to you, not just the cream of the crop but the bottom of the barrel so give them a little bit of your time, okay? And, oh well, what the heck? Here are a few more things done by other folks (You know I spoil you!)
Aerosmith – Remember (Walking in the Sand)
David Lee Roth – Just a Gigolo
Devo – (I Can't Get No) Satisfaction