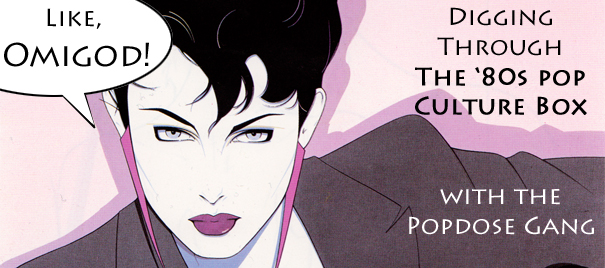 We're down to a bit of a skeleton crew this week as we continue plowing through Disc Three of this seven-disc set — which probably shouldn't be surprising, considering what we have to work with. Dunphy sums it up best: "There are maybe two songs on this list I could be bothered with on my own, and one of those is probably if I was stuck in a shopping mall."
---
# 11 Bow Wow Wow, "I Want Candy" (1982)
Peaked at #22 on Billboard's Hot Rock Tracks, but a Top Ten in the UK.
[youtube id="_crXC-rFG9E" width="600″ height="350″]
Ted Asregadoo — How do you cross a punk look with a song that's one big pop hook? The answer is clearly Bow Wow Wow's cover of this 1965 tune. It was a kind of gateway song for those who loved pop music, but wanted to feel somewhat rebellious by embracing the punk fashion in the video. The fact that the song has endured for decades after its release in 1982 just goes to show you that despite the rather dated look of the video, "I Want Candy" is a timeless piece of pop.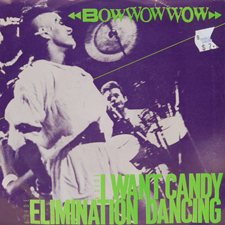 Dave Lifton — OK, so now we have the Bo Diddley beat, reinterpreted by a trio of Brill Building pros, which was then covered by a British band led by a singer of Burmese ancestry. It shouldn't work, but it does.
Jon Cummings — Between the fact that covers rarely maintain their primacy over the original versions (in this case the Strangeloves) and the Simpsons' family-ization of this song a few years back, it's easy to forget what a shock to the system Annabella Lwin and this band represented in 1981-83. There was the jailbait nudity (she was 14) on the Last of the Mohicans album cover, the antagonizing of the piracy-obsessed music biz with "C-30! C-60! C-90! Go!", and the band's perpetuation of svengali Malcolm McLaren's exploitation of African rhythms for his very-white benefit.
And then there's "I Want Candy" … which was, when you think about it, awfully innocent considering the craziness that swirled around the group through its brief existence.
Jack Feerick — One of my favorite covers ever, one of my favorite songs of the decade, and my clear winner for the week. It's all about the attitude, about doing a lot with a little. The old Bo Diddley is dressed up with some Drummers-of-Burundi licks; the guitar and bass are blown out with monstrous tone, but each plays only a handful of notes.
As for Bow Wow Wow themselves; yes, they were cynically assembled by McLaren as a marketing device. But hey, Sigue Sigue Sputnik was conceived in the same mode, and while you may know the name, you're almost certainly not humming "Love Missile F1-11," are you? Whereas Bow Wow Wow actually had a good fistful of fun pop-punk songs.
Dw. Dunphy — Bow Wow Wow still tours apparently. A dumpy little club out here in New Jersey is going to have Bow Wow Wow in this month. And frankly, I don't know enough about the band to care about what I'm missing. We have this cover song, and that's about it. And even at that I feel no particular empathy toward the track. It's a Bo Diddley hand jive. It's got a naked woman on the cover having a picnic (that's not sanitary). And with all of that, I can't be bothered.
---
#12 Dexy's Midnight Runners, "Come On Eileen" (1982)
A Number One hit all over the place, with more than a million copies sold.
[youtube id="oc-P8oDuS0Q" width="600″ height="350″]
Asregadoo —This song was all over the place. But I liked it for the girl who played Eileen in the video. She was cute — which meant I could watch this video over and over while overlooking Kevin Rowland's ugly mug.
Back in '82, I was just starting my record collection, and I came across a UK hits compilation at Tower Records which had a live version of Dexy's hit "Geno" on it. I really liked the song much more than "Come On Eileen," and felt somewhat superior that in my little backwater suburban hamlet in Northern California, I knew Dexy's Midnight Runners' previous hit… and knew all the words. Since that brief period, however, I have forgotten all the words and haven't listened to "Geno" since. But "Come On Eileen?" That song will seemingly never go away.
Feerick — Oh, how I have always loathed this song. Theoretically, a merger of Irish folk with a rock'n'soul underpinning should be something that I dig. But I'm here to tell you, folks: Kevin Rowland is no Van Morrison, and that's putting it mildly. In practice, this thing is just a bummer. Instead of any true fusion, it's a gimmicky mess, with every element seemingly calculated to annoy; the start-stop structure, the brain-dead yobbo chanting, the acceleration at the bridge, Rowland's ridiculous vocal mannerisms — it's just tedious and horrible and I hate it and the fact that it is still inescapable on the radio, thirty-plus years later, is an affront to God and man.
And the video! Don't get me started on the outfits and the stupid romanticization of poverty and oh God, just open a window; it stinks of B.O. and fail in here.
Cummings — Mr. Rowland, I believe the purpose of calling that clothing item "overalls" is that you're wearing something UNDER them. Put on a shirt, for crying out loud!
Dunphy —Another song that blew right past me and didn't even muss my hair. The "too rye aye" stuff wears out its welcome right quick, and that bit in the middle where they do the "King Of Fuh" bit with "Come on, Eileen, I wanna…" is silly. And it's not sanitary.
Lifton — Q: What's grosser than grease on Olivia Newton-John?
A: Come on Eileen.
Thirty years on, I still can't hear this song without thinking of that joke.
Feerick — You guys are disgusting.
Cummings — I love this song. It's grating as all get-out, and Rowland's voice is terrible, and it gave a generation of American kids completely the wrong idea about British-isles folk music, but still. Has anyone ever noticed that Michael Jackson ripped off this video for "The Way You Make Me Feel"?
---
#13 Toni Basil, "Mickey" (1982)
Hit the top spot in the US, Canada, and Australia.
[youtube id="LSfnopkT37I" width="600″ height="350″]
Lifton — Hey, remember how last year we were all complaining about 27-year old Carly Rae Jepsen pretending to be a teenager? Toni Basil was 38 when this came out.
Feerick — Dude, Toni Basil was in Easy Rider, fa chrissakes. She played one of the hookers in the dropping-acid-in-the-graveyard scene.
Lifton — Either way, Chapman and Chinn sure knew their way around a big, dumb hook better than anybody. I wouldn't be surprised if Puff Daddy owns everything they ever wrote.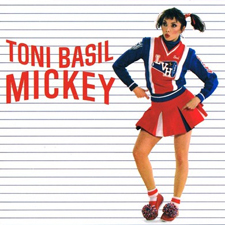 Dunphy — Yeah, this was unnecessary. This is likely the most immediately recognizable song of the week, but it's one of those that after hearing it thirty odd years later, you need to ask why it was such a hit. Basil does the vocal squeaks like Lauper and Bozzio from Missing Persons, but that Farfisa organ just goes on a bit much. And the fact that she's singing about a sexual attraction to a cartoon mouse, well, that's really not sanitary.
Feerick — "Not sanitary" doesn't begin to cover it. Have you listened to this song? It's the same conceit as "Johnny, Are You Queer?" but like a million times dirtier, and with a great driving beat. Love it, love it, love it.
Cummings — I really love the closing credits from "Bring It On." And that's pretty much all I have to say about the song that has defined cheerleader culture for 30 years now.
Asregadoo — Jesus Christ that video! Cheerleaders…and most of them look pretty butch. Until "Pop-Up Video" on VH1 put their famous "info bubbles" in the video back in the '90s, I had no idea that Toni Basil was the person who helped David Byrne get that quirky dance going for the "Once in a Lifetime" video. But there are hints of that quirky dance in "Mickey" that she briefly performs — which is what made the song New Wave, I suppose. The tune itself is pure pop genius directed right at middle and high school girls who were looking for a kind of powder puff anthem. The fact that guys liked it as well, and it could be easily danced to in high school gyms across the country, didn't hurt either.
---
#14 Golden Earring, "Twilight Zone" (1982)
The band's only US Top Ten single.
[youtube id="a1sf2CzEq0w" width="600″ height="350″]
Lifton — Oh, I loved this one. It still kinda holds up, mostly in the quality of the performances, but the attempt at ominousness is somewhat laughable now.
Cummings — Remember the days of the rock'n'roll single? This has a hook almost as great, and a vibe as simultaneously celebratory and menacing, as the Earring's previous one-hit wonder, "Radar Love." (When you have one hit in 1974, and one more in 1983, and nothing of any value on either side of either song, doesn't that make you a one-hit wonder twice?) Earlier this year I heard "Twilight Zone" and After the Fire's version of "Der Komissar" within a couple hours of each other, and couldn't remember that they weren't by the same band.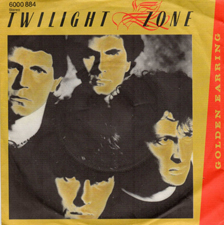 Feerick — There was a weird Germanic strain in 80s pop, wasn't there?
Anyway: Leaving aside the question of whether a band can qualify as a two-hit wonder if the two hits are a decade apart, it occurs to me that "Twilight Zone" and "Radar Love" both pull off a similar trick, using similar means — creating an atmosphere of sweaty, paranoid dread with a relentless bassline and an unhinged, theatrical vocal performance — albeit to rather different ends.
When this came out, I remember the critics giving it a very sober consideration, finding hints of parallels to the likes of John Hinckley Jr. or Mark David Chapman. There was all kinds of beard-stroking about it. Looking at the video, though, it's pretty clear that the band was not 100% serious about the whole thing.
Still, it's a damned odd piece of work, juxtaposing the campy elements (ladies and gentlemen, the Dancing Torture Girls!) with that bleak, seemingly-endless final shot of the protagonist waiting for the firing squad. The playing-card imagery indicates an homage to The Manchurian Candidate, and the clip manages to conjure some of that same unsettling mix of satire and horror.
Dunphy — I really like this song and always have, so I'm calling it song of the week. Buying the single was difficult because there's little emphasis on the words "twilight zone" in the lyrics. It's tossed away. No, you think it is called "When The Bullet Hits The Bone" (also unsanitary and really painful), so you are looking for that and not finding it on the 45s rack. You are told the song's actually called "Twilight Zone," so you buy that, go home, put it on, and what do you have? The goddamn Manhattan Transfer, that's what you have.
But this is still a nice slab of '80s AOR. I wouldn't suggest the album it came from though, titled Cut. It's kind of blah.
Asregadoo — My favorite song on this list. The driving beat, the paranoia, the… well, the whole damn enchilada. But since they are a Dutch group, I suppose I should say "the whole damn herring."
Feerick — You're thinking of Sweden. "The whole wheel of cheese," I think it would be.
Asregadoo — I don't think there's anything bad I can say about "Twilight Zone" except what's up with the title of Golden Earring's album that came out in 2012?
Feerick — Yikes. Talk about unsanitary.
---
#15 Melissa Manchester, "You Should Hear How She Talks About You" (1982)
#5 US. Manchester won the 1982 Grammy for Best Female Pop Vocal.
[youtube id="Y8AuCrUJWQI" width="600″ height="350″]
Mike Heyliger — That Melissa Manchester song is catchy beyond belief.
Dunphy — Likely the second-most immediately recognized song and, frankly, it's not at all bad. It's a pop song geared for the adults and, as was already stated, was meant to pull Melissa out of those dour weepers she had been pigeon-holed for. That I like this song much better than "Come On Eileen" isn't helping my cred at all.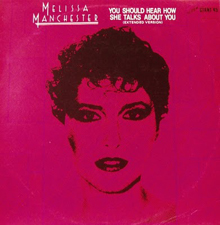 Cummings — Popdose readers should hear how we don't talk about this song.
Asregadoo —This tune comes from the hit factory of Dean Pitchford — probably best remembered as guy who wrote the screenplay and was the soundtrack coordinator of the film Footloose. It's got many of the elements that make for a good pop song — the most important is a very catchy chorus.
Clearly this song helped Melissa Manchester get out of the ballad-heavy rut that made her famous, but if you dig a little deeper into the album, Hey Ricky, you'll hear that it was a kind of bait and switch for the consumer. For the people who bought the album for "You Should Hear How She Talks About You" thinking they would hear more songs like that, were probably disappointed. Too many songs on the album sound like the Melissa Manchester of the '70s — which makes me wonder how many people asked for their money back.
Lifton — I always thought Madonna ripped off the chorus for verses in "Material Girl." That's about the best thing I can say about this.
Feerick — Melissa Manchester reportedly didn't want to record this song in the first place, so I see no reason why I should be made to listen to it.