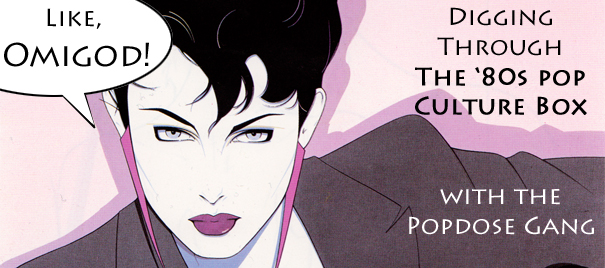 A milestone, of sorts: This week, as we reach the midway point of Disc 4 of this seven-disc box set, we're at the official halfway mark of the series. And we're only up to… 1983?
---
#6 Martin Briley, "The Salt In My Tears" (1983)
Peaked at #36 in the Hot 100.
[youtube id="-C-w5yrCV5E" width="600″ height="350″]
Jack Feerick — Hey, it's Bug from Uncle Buck all grown up!
Dw. Dunphy — Perfectly serviceable 80s power-pop with a video that answers the question: whatever happened to Bob Welch's beret? Briley reminded me of what you might get if Graham Parker fronted John Waite's solo band.
Dan Wiencek — Funny you should say that, because I was just about to add that this reminded me of a slightly less acidic version of Graham Parker's "Local Girls." Which is not at all a bad thing.
Feerick — Yes, but how much is the salt in your tears actually worth? Salt was once worth a great deal, actually; Roman soldiers, as any fule kno, were once paid in the stuff, which gives us our word "salary."
Martin Briley's presence on this compilation is a little baffling, given the actual chart performance of "The Salt in My Tears," until you look upon him as a symbolic presence — a sacrificial one, even — standing in for the legion of pop-chart also-rans; your Al Corleys, your Billy Rankins, your Van Stephensons — all the hard-striving pop-rockers who provided a reliable stream of radio fodder without ever attaining for themselves even the modest cult status of, say, a Donnie Iris.
Ye bland interchangeable white guys of the 80s airwaves, with "The Salt in My Tears" do we salute you!
Cummings — Love this song; still have the 45. Would have been a great Rick Springfield track. If Rick ever does a Manilow-esque "Summer of '83" power-pop album (and why hasn't he yet?), he should include it.
---
#7 Cyndi Lauper, "Girls Just Want to Have Fun" (1983)
Written by Robert Hazard in 1979; Lauper's version reached #2 US.
[youtube id="PIb6AZdTr-A" width="600″ height="350″]
Dunphy — One of the best examples of when the right song and the right performer meet up. Lauper was, of course to none but the geekiest music fans, the singer from Blue Angel and that tidbit was relevant only after the cultural explosion that was Lauper in the 80s. She didn't look, sing, or act like anyone else in the business. She openly embraced the "show" in show biz, especially with the inclusion of Captain Lou Albano (aka Super Mario) in the video for this song.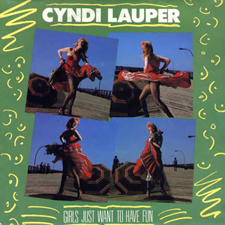 The She's So Unusual album was a marker of individualism for the girls in my junior high school, much as Madonna's records for for a different segment of those girls. At that time, us guys gravitated to Madonna because she had the sexpot vibe, but I think Lauper's record holds up a little better. No respect taken away from Madonna, who was one of the queens of pop music of the era, but her first two efforts are very careful (sounds like a weird attribution, right?). Lauper had an almost anarchic energy about her that still powers that album.
Feerick — Listening to this after many years, I am amazed by how not-annoyed I am. Cyndi largely keeps her vocal affectations under control here — at least, compared to something like "She Bop." There's a hiccup here, a nasal snarl there, but her voice has real range and power, and a surprising amount of technique. She's all-out belting, at the top of her range and the top of her lungs, but it never gets away from her.
The backing track, though, is just horrible; thin and fizzy, an exhausting aural sugar rush. Cyndi is preposterously loveable, but the backing vocals are super-grating.
Funny what you say about the right song meeting the right artist, Dw. Years ago, my friend Grant recorded a lo-fi acoustic cover of this — sort of a Gary Jules "Mad World" treatment, notionally speaking. He's got kind of a mournful voice anyway, but it was a revelation how much hidden conflict and pathos is uncovered in the lyric. When a man sings "Girls Just Want to Have Fun," it becomes a lament — he's out all night, taking his girl around , trying to show her a good time, and his parents think he's crazy for spending all his time and money on her; and judging by the unexpected minor chords and the unresolved melody, he's not sure he'll be able to keep her, not sure that he's, well, fun enough for her. Totally transformed the way I heard the song, and I wonder if that's the read that Robert Hazard had when he wrote it.
Cummings — Cyndi doesn't get quite the props these days that she oughta. She made a lot of things possible for female artists who don't trade so much on skin'n'scandal as Madonna has. The She's So Unusual album is one of the five most important pop albums of the '80s, as far as I'm concerned — and one of the very best.
I saw Cyndi live twice: in an arena on the "True Colors" tour, when she was riding about as high as she ever did, and then in the early '90s at the Chestnut Cabaret in West Philly. She had lost most of her audience by then, and I went to that show expecting it to be kinda depressing — but instead she tore the place up, exhibiting vocal skills she either didn't have or hadn't bothered with six years before.
Dunphy— Another thing about Cyndi is that she has made her post-superstardom count for something. She really deserves a lot of respect, and yet she still doesn't take herself too seriously.
[youtube id="kxG1kimjLNA" width="600″ height="350″]
---
#8 The Romantics, "Talking In Your Sleep" (1983)
#3 in the US Hot 100; topped the Dance charts. Later covered by the Brit band Bucks Fizz.
[youtube id="JmGMzyajA2U" width="600″ height="350″]
Cummings — Putting me to sleep, more like it.
Feerick — Jon Cummings, everybody! Be sure to tip your servers on the way out!
Dunphy — I never heard the singer's lisp until it was pointed out to me. Now it is all I hear. Bugger.
Such a different band since their previous hit (and previous singer) "What I Like About You," "Talking In Your Sleep" sounds like 1983 to me. It sounds like John Hughes soundtracks and shoulderpads everywhere, and big hair, and formal jackets worn informally with the sleeves rolled up to the elbows. In other words, I like the song but it has the power to remind you of an era very clearly. Hard to call it timeless, so let's not.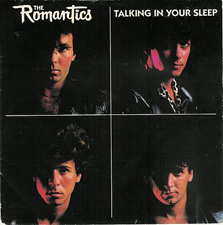 Feerick — Well, I would. My pick of the week, no question. What I dig about it is the way the parts all lock together, like teeth in a gear. The guitar skank is where the bass ain't, and the metronomic second guitar part complements the others, and for all the echoing voices on the verses, and the ringing guitar triplets and booming drum hits in the leadup to the chorus, the song is cavernous — there's all this open space that's left unfilled.
Cummings — I suppose it's OK, but the songwriting is kinda amateurish — even compared to the ubiquitous "What I Like About You," which is forever known in my house as "the Shepard geek song" because when I used to DJ at dorm parties in college, "What I Like" was the one song I could count on to bring the nerds onto the dance floor. There would be a collective "EEEEEE!!!!", and then three minutes of head-bopping and pogo-ing before I'd yank the needle off the turntable and put on "Reel Around the Fountain" or something to drive them back into the corners. I felt like Margaret Mead the whole time.
(Which, of course, reminds me of my favorite-ever quote from another '80s icon, Bloom County: Margaret Mead's last words, "Man, these Samoans are a surly bunch.")
Dunphy — AAACCCKK, THHHHPTTT.
Wiencek — Ooh! When do we get to Billy and the Boingers?
Dunphy — I dunno. Was Deborah really hairy?
---
#9 Peter Schilling, "Major Tom (Coming Home)" (1983)
Original version topped the charts in Germany, Switzerland, and Austria; English version US #4.
[youtube id="N1Hs2AQwDgA" width="600″ height="350″]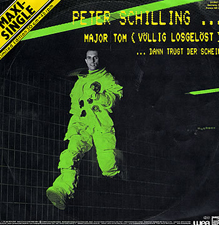 Cummings — Ah, the great tradition of the sequel-song by a different artist. I didn't hate this song, but wasn't the coolness of "Space Oddity" about 90% the fact that Major Tom DOESN'T come home?
Dunphy — This song is just weird. I guess it is a response to David Bowie's "Space Oddity" and later "Ashes To Ashes," with its admission that "we know Major Tom's a junkie." In Schilling's Deutschepop view Major Tom is still an astronaut. The song is okay, but I never could enjoy it fully because it felt way too cold and synthesized while, at the same time, trying to convince you it isn't. Some of that is the keyboard overload. The other is Schilling who, I'm guessing, is singing phonetically to be understood completely… giving his delivery a static, robotic sound. He needn't have worried. Only a few years later, the Scorpions would come to "rot you lock a horrockan."
Feerick — This is the only Major Tom-related thing you need to see this week…
[youtube id="KaOC9danxNo" width="600″ height="350″]
---
#10 Naked Eyes, "Always Something There To Remind Me" (1983)
US Top Ten.
[youtube id="zMAe31FFHbo" width="600″ height="350″]
Dunphy — At the opposite end of the spectrum from "Major Tom," this song is loaded with synths yet doesn't sound particularly cold. Has to be the singing, which displays a bit of emotion. This song would be a template of sorts for the rest of the 80s.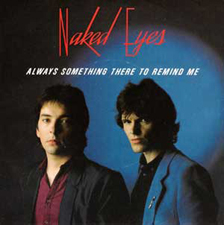 Feerick — Insert standard rant about music confronting its own heritage and legacy here. That being said, this is how you bring the music into the present as a vehicle, rather than as an artifact. Where (say) Taco is doing a self-conscious interrogation of the old music, never letting you forget that it is a curiosity from and antique age, Naked Eyes simply plug a classic pop song structure into a then-current framework and present it as a wholly modern experience. And it plays like a contemporary song. There were, I'm sure, millions of kids who had no idea this was a cover; I certainly didn't.
The overblown synthdrums are simultaneously clunky and charming. I know from experience that when you're learning drum programming, it is very tempting indeed to go bananas with the tom-tom fills; that overenthusiasm actually makes the track sound more human and alive.
Cummings — Hey, Digging for Gold fans: Did I ever tell you how much I hate Bacharach/David? Well, I didn't even KNOW how much I eventually would hate them, generally speaking, when "Always Something There To Remind Me" became one of my least favorite big hits of the '80s. In fact, I didn't even know they wrote it before I came to hate it. I initially dug the synth lines just fine, but as it became more ubiquitous it wore badly — sorta like ABC's first singles, which I eventually found unbearable.
But you know what? I gotta give Naked Eyes one thing: those goofy synths were about as good as Bacharach & David deserve — and they're certainly more appropriate than the "sophisticated" arrangements that rendered most of Dionne Warwick's singles so schlocky.