An assortment of big hits and fazed cookies this week, as we make our way to the midpoint of Disc Five…
---
#6 Corey Hart, "Sunglasses At Night" (1983)
A Top Ten in the US, but peaked only at #24 in Hart's native Canada.
Feerick — I've actually liked some other things that Hart has done, in a guilty-pleasure sort of way — "Never Surrender" still hits my buttons — but this bites "Sweet Dreams (Are Made Of This)" too blatantly for me to enjoy it even ironically. Hart's got a little nothing of a voice, with working modalities of either a marble-mouthed mumble or a sore-throat yell; when he sticks to the former he's fine, but he leans too heavily on the latter here.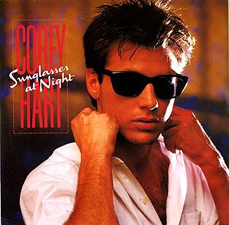 He's got decent taste in bass players — his early singles have some nice slippery fretless work — but the screaming RAWK! guitars are just evidence that he's trying too hard.
I was surprised to learn, some years back, that Corey Hart is good friends with wackadoo cult genius Jane Siberry. Like, what hidden depths does she see in him? Or is it just a Canadian solidarity thing?
Dunphy — I think Corey Hart was the trigger that killed '80s pop-rock.
Medsker — Corey Hart was pretty worthless, wasn't he? This song never made much sense to me. The lyrics seemed more about using certain words that sounded cool than actually making a coherent statement. So is it true that Clapton plays the solo?
Feerick — Nope. Clapton did play on Hart's record First Offense, but only on the album track "Jenny Fey" — and he played dobro on that one. (Why would you hire Eric Clapton for your album and then confine him to the dobro?) You might be thinking of Jon Astley's 1987 single "Jane's Getting Serious," which did have an electric guitar solo from Clapton. (Astley co-produced First Offense, so there's your connection.) (But his song is probably not about Jane Siberry, so that one's a bust.)
Dunphy — I was going to say! I know Clapton has lent his services to some less-than-auspicious efforts over the years, but the thought of him saying, "I want to be a part of this!" had me a little rattled.
As for Astley, that makes much more sense. He was well-connected, as he was Pete Townshend's brother-in-law (still may be for all I know), so there was a talent pool already open to him before he became better known for production/mixing work.
Cummings — Poor Jon Astley. His entire life is a Rickroll.
Asregadoo — That's because Jon has it made with the guy in shades (oh no).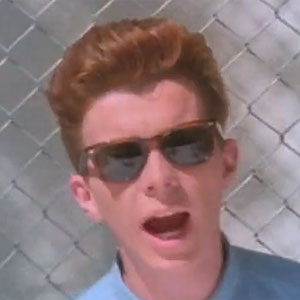 Feerick — Oh no, indeed!
Dunphy — Screamin' Jay Hawkins already did this one and called it "Constipation Blues." Seriously, Corey. Take a laxative.
A side note: was there any '80s name more '80s than "Corey"? What would the female equivalent be?
Cummings — It's tempting to say this song could only have happened in the '80s, but — apart from the synth hook — that wouldn't really be true. In the '50s, it would have been a Carl Perkins hit. In the '60s, it would have been a beach-music sentiment about surfing after dark. In the '70s it would have been a Cher story song about some coke-addled player who gets his comeuppance from the dark lady he left to rot in some big old musty mansion.
Feerick — Proof of concept: Dwight Pullen had a regional hit in 1958 with a smokin' little rockabilly number called "Sunglasses After Dark." Later covered by the Cramps, by the way, because, y'know, the Cramps.
Cummings — As for Corey Hart — 30 years on, I still have no idea what this song is about. But I love the line "She cuts my security."
Lifton — A few good pieces — the main synth riff, the B-section, the outro solo — but that don't equal to a good song. A better arrangement (like a decent drummer) and a stronger lyric and this could've been a much bigger song. But I hadn't realized until now just how much Hart's trying to be Springsteen in the vocals. He doesn't have the muscle behind it, but his range and phrasing is very similar.
Feerick — If you mean he sounds like he's got a mouth full of mashed potatoes, then yeah.
Wardlaw — I can't get behind the Corey Hart bashing. He only had a few songs that I liked, but "I Am By Your Side" and "Never Surrender" show a bit more depth than what's on display here with "Sunglasses At Night."
---
#7 John Waite, "Missing You" (1984)
Number One is the US, #9 in the UK.
Feerick — Speaking of innovation begetting imitation; this cops tone and mood from "Every Breath You Take" in a really obvious, opportunistic way that puts me off. Waite's general air of being a self-pitying, weasel-faced dink with an obnoxious bray of a voice finishes the job, for me.
Medsker — This disappointed me after hearing the great single "Change" from his previous solo record, but I see its appeal. Waite's sung better songs, but I was happy to see him get a hit.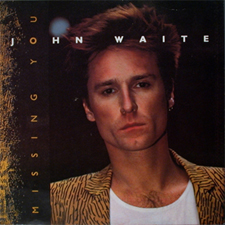 Feerick — I had the opposite reaction, myself. I was kinda bummed to see him score with such subpar material, since I also had really enjoyed "Change." Maybe we should put that one down to Holly Knight, who wrote it.
Dunphy — The reason why this song takes so much crap is because it was — and depending on what you're listening to, still is — overplayed. Still, it is a textbook pop song. If this could be categorized as one of the worst things the decade produced, we got away pretty well, and thanks.
I'm even kind of a fan of the Tina Turner cover.
Cummings — These days I hear a lot of people ripping this song … even my wife doesn't like it anymore, and she's a total sucker for ballads like this … but I've never lost my affection for it. It tucked in nicely with all the craziness on the radio during the summer of '84, from Prince to Bruce to "Ghostbusters" to "The Warrior" and "We're Not Gonna Take It" and all that stuff. It was a great summer for pop music, and "Missing You" had a big hand in that.
Lifton — Unfortunately, this gets lumped in as a monster ballad, but it's before the hair metal era, and it's a much better song, with a production that reins in the worst excesses of the genre. "A heart that's breaking down this long distance line tonight" is a great lyric, especially as an introduction to the chorus.
---
#8 Nena, "99 Luftballons" (1983)
A Number One just about everywhere except the US, where it peaked at #2.
https://www.youtube.com/watch?v=9whehyybLqU
Feerick — Funny: Local radio always played the English-language re-recording. Anyway, I like that these guys sound like a band. Yeah, there are synths all over the place, but they manage to sound like five kids in a garage somewhere, one with an old Korg that he bought secondhand with his paper route money (or zeitungzustellgebÁ¼hrnotwendigkeit.)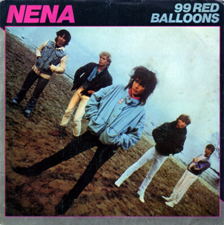 Medsker — It was the drums in the German version that hooked me. They had a lot more thump than the handclap drums on the American version.
Dunphy — Did we like the song or were we just taken by the multinationalism? I'm going with the latter only because, despite being a snappy new wave tune, this has had no second life whatsoever. It was born in the decade, thrived and died in the decade, and is only resurrected when we're talking about the decade. The members of Nena (or Nena and her bandmembers, however that was) must look at the members of Modern English with such hatred their eyeballs burst into flames.
Cummings — This came on the radio the other day while I was in the car with a bunch of friends, and we couldn't agree whether to leave it on — or whether we preferred the German version, with the sloppier synth part, or the English-language version, which made no sense at all. As far as the video goes, applying the "Red Balloon" concept (what a great short film that was!) to nuclear war was a sketchy idea, with mediocre execution. But it all succeeded commercially, so who's to argue?
Feerick — Well, yeah. I mean, we talk about musicians getting edgy and political, but let's face it — you're not really running the risk of alienating anybody with a song like this. There's no one who is in favor of nuclear war.
Lifton — See what I wrote in the "Der Kommissar" segment a few weeks ago about growing up in a family that was still fighting World War II. But given the anti-nuclear war theme, it was a little less scary ("Look, they don't want another war. They've changed!"). It helped that it was a decent track. But I can't hear it today without thinking of how beautifully it was used in Grosse Pointe Blank.
---
#9 General Public, "Tenderness" (1984)
#27 US, #11 Canada. Interestingly, it barely cracked the Top 100 in the band's native UK.
https://www.youtube.com/watch?v=nmoHQ2DC3zo
Medsker — Great energy, simple chorus, and it has an oboe riff. If I have the time, I'll make an mp3 from my interview with Dave Wakeling, where he does the oboe riff. It's pretty funny.
Feerick — I like Wakeling a whole lot. He's a smart guy, funny and self-deprecating, and he's got a million great stories to tell. On the whole, though I prefer his work with the Beat because it has more focus. There's a lot of unnecessary studio jiggery-pokery here obscuring the song, from that little oboe run (is it an oboe? sounds more like a bassoon to me) to the jacked-up handclaps.
It's funny that the Beat always had such a sense of space to their records, despite having seven guys all playing their asses off and jockeying for the spotlight. It worked, though. The songs had room to breathe. This, not so much. "Tenderness" is a terrific song, but only a mediocre record.
Dunphy — I think I was biased against General Public because it was a disruption toward The Beat (redubbed the English Beat over here, in deference to Paul Collins' Beat). There's nothing wrong with the output of General Public and that's how I feel about this song as well. It's a good little tune.
I can only imagine Paul Weller taking the equal portion of guff for moving from The Jam to The Style Council (though General Public and The English Beat were much more on the same stylistic page than the Style Council ever was to The Jam).
Cummings — I developed a dance just for this song, and would play it every week while DJing dorm parties just so I could practice it while my girlfriend bopped around. It was my second-best dance, after the Daryl Hall impression / mockery I worked up for "Method of Modern Love." As for the song … one of my very favorites of the decade.
Lifton — This was #27, really? I remember hearing it a lot on WHFS when I was in college a few years later, but don't remember it when I was listening to Top 40 at the time. Good song, but nothing special.
---
#10 Tracey Ullman, "They Don't Know" (1983)
#2 UK. #8 US. Written and first recorded by Kirsty MacColl in 1979.
https://www.youtube.com/watch?v=DfRI1XjDFCU
Feerick — I will never stop loving Kirsty MacColl, but honestly, this is just glorious, whoever is singing. And Tracey sounds so sweet and guileless, I might ju-u-ust prefer her version.
See, Kirsty was nobody's fool, and was a top-notch scholar of pop classics as well. "They Don't Know" is a pastiche of the girl-group sound, and when Kirsty sings it, it sounds like a pastiche; her tongue is just a teeny tiny bit in cheek. But Tracey not only sings it — she acts it, and sells the blissful, besotted innocence of it completely straight. It's a wonderful record, and listening to it in preparation for this review I wept like a baby.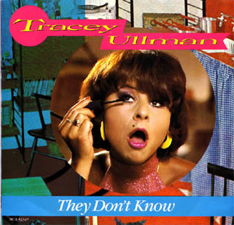 Interesting history on Kirsty's version. It was recorded in 79 as a non-album single and released to UK radio, where it got a fuckton of spins, reaching #2 in the airplay charts. The 45s were pressed — but there was strike at the distributors, so the records, for the most part, sat in the warehouse; the label had no product to promote, and since the official UK singles charts is entirely sales-based, "They Don't Know" did not appear.
So it became a very well-known and well-loved song that you mostly couldn't buy. It didn't appear on an album until 1995, when it was included on Kirsty's compilation Galore.
Medsker — I love Kirsty MacColl. Love, love, love her. But I'll take Tracey's version of the song over Kirsty's any day of the week and twice on Sunday.
Dunphy — My favorite track of the week, and like many of our readers, I had nary a clue about it until long after the Fox TV show existed.
Cummings — I didn't know Tracey Ullman was a comedienne when this single came out — she hadn't really made an impact yet in the US — and I fell so deeply in love with the song that I ran out and bought the You Broke My Heart in 17 Places album and played it constantly for six months. No clue that there was a trace of irony to the whole project. And once I did know, I didn't much care. I remember writing a column on "Walkman-ability" for the college paper in early '85, and noting that Tracey was at that time the voice singing me to sleep every night. For some of us, she made tracking down old Connie Stevens and Doris Day records cool. (I remember many record store trips spent hunting down the Doris Day original of "Move Over Darling," which Tracey sang on her second album. Now, as with practically everything else, the song can be had with two clicks of a mouse. Does instant accessibility really provide a better lifestyle than we had when we needed to forage for the music we wanted? I think not. But I digress…)
Feerick — Ahem.
Lifton — Twenty years earlier, this would have been the biggest hit any of the girl groups ever had. Now, a year before the Bangles released their full-length debut, it's somewhat forgotten by everybody but us. And now I'm imagining Susanna Hoffs singing this, and I am sighing.
Java Joel Murphy — "They Don't Know" may be in my top 10 songs of the 80s. Just a perfect pop song. Reminds me of flying kites with my sister and friends on Easter Sunday, 1984, with the Rick Dees Weekly Top 40 playing on my boom box. Fun fact — they used Kirsty's "Bayyyeee-beeee" from the original in Tracey's version.
Feerick — And why not? You don't mess with perfection, friends.