As we wrap up Disc Six and head for the final reckoning, we'll just quote an email comment from our own David Medsker, when he got a look at this week's line-up:  "Aiiieeeeeeee!"
About sums it up, really.
---
#16 Harold Faltermeyer, "Axel F" (1985)
From the soundtrack to Beverly Hills Cop. #3 US, #2 UK.
Dw. Dunphy — Could be worse. It is a pop track that's terribly easy to just go along with, but while it has that quality going for it and would guarantee it some level of public affinity, I have to wonder why it was so big. I'm guessing that at this point people were so into the whole Eddie Murphy/Axel Foley thing that the song would have needed to be super-mediocre to fail. So I don't feel too badly about liking it, but the public interest scale is out of proportion.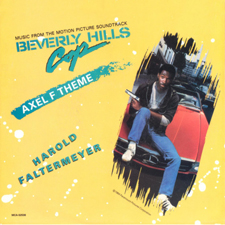 Jon Cummings — It's better than "Miami Vice Theme." It's not as good as the hit single from Beverly Hills Cop 2, "I Want Your Sex." The song in my head when I think of "Axel F" is invariably actually "Rockit." I have nothing more substantial to say.
Jack Feerick — This is a bit of a paradox. On the one hand, it sounds so incredibly dated as to constitute a veritable time capsule of synthpop technique circa 1985. On the other hand, it has held up really well. By which I only mean that I'm not yet sick of it. The fact that it's relentlessly, ridiculously catchy and melodic probably helps with that.
I'm curious: did Dave Lifton's parents let him listen to this?
Dave Lifton — Yes, Jack. I was allowed to listen to this (and thank you for paying attention). Whether or not I wanted to was a different story. That main melody makes a good theme but the other sections don't really go anywhere, especially not the two-note bridge, where it takes some Simmons toms to wake us up from the 30-second stupor.
Dan Wiencek — Always liked this one, and I still do. It has a slightly detached air about it that sets it apart from a lot of other stuff of this ilk. We haven't talked much about (gulp) break dancing so far, but there was definitely an identifiable strain of tunes that felt more or less designed for that pastime (which according to Wikipedia is properly called B-boying, so excuse me for being white and suburban). Anyway, breaking had obviously had its day by the time this rolled around, but "Axel F" does feel like the long, dragging tail of the breakdancing scene, kind of like the way "Ain't No Stoppin' Us Now" was the last gasp of the disco single. It's like a Muzak-ized version of "Rockit." But I like it anyway.
---
#17 DeBarge, "Rhythm of the Night" (1985)
Written by Diane Warren. #3 in the Hot 100, #1 in the R&B and AC charts.
Feerick — Damn, that is one candy-ass falsetto.
Cummings — The All-Powerful El rears his high-pitched head. This song seems to exist outside of space and time (and criticism), so I'll just leave it alone. For nearly 30 years I hear this song and I imagine James deBarge going home between recording sessions to play house with 18-year-old Janet.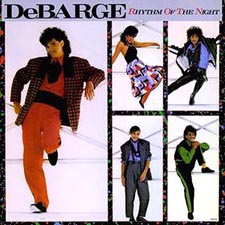 Medsker — "Rhythm of the Night" is one of the most bloodless songs of the decade. Fake party sounds! This party sucks, dude. I'll be out on the deck with a drink and my Walkman
Dunphy — Which came first: Lionel Ritchie's "All Night Long" or DeBarge's "Rhythm Of The Night" because I kind of hear them both.
Cummings — "Rhythm of the Night" is the Alex Keaton child of "All Night Long." Lionel grabbed for the jugular of pop crossover with a lame "partay" song and a multi-racial video teeming with kids in day-glo. DeBarge split the difference between black and white – physically as well as musically – and turned in a song so unbelievably conservative that the fake partay going on in the song is the only one for which the song could conceivably have provided the soundtrack.
Feerick — Remember all that stuff I said about the Shannon song a while back? This track has some of the same elements as "Let the Music Play"—live percussion layered with drum machines—but it doesn't work here at all.
Wiencek — The Bad '80s Party Anthem strikes again. (And will strike again — see below.) Again I ask, what was it with these whitebread party anthems back in that decade? If you were walking around the neighborhood and heard this wafting from someone's patio, you knew you could run wild, 'cause all the grownups were too busy drinking wine coolers and talking about last night's Family Ties and listening to this cheese to bother about what any of us kids were doing.
Lifton — Dance songs about dancing have been a part of the pop music landscape since the beginning of pop music. This is one of them.
Feerick — Yeah, but dancing is a sweaty, physical act, and the best songs about dancing serve up a little sleaze with the beats; but the DeBarge family is so sickeningly wholesome as to make the Cowsills sound like the Manson Family.
---
#18 Billy Crystal, "You Look Marvelous" (1985)
Peaked at #58 US, #17 Canada.
Feerick — The awful thing is that the backing track is just about identical to "Rhythm of the Night."
Crystal gets off some good absurdist one-liners, but "You Look Marvelous" is a parody of a parody of a species of show-biz smarm that was played out even in 1985. A punchline about Bert Convy hosting Tattle Tales was a deep-cut callback even when this was recorded; in 2013, it belongs in a museum. The whole song feels like it requires footnotes.
Medsker — The best thing about "You Look Marvelous" is Arthur Baker's production. The rest of it is filler.
Java Joel Murphy — Letterman's Paul Schaffer co-wrote "Marvelous", didn't he? (He also wrote "It's Raining Men", I think).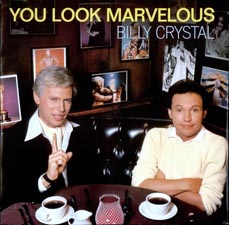 And the 12″ extended dance mix (yes, one exists) is "dope" (as the kids say). Remixed by Baker and the Latin Rascals. The music track is pretty much a rip-off of another Arthur Baker production — "Dance On Your Knees" by Hall & Oates.
Dunphy — I mourn the loss of novelty hits frequently, but something like this is like a gag in my mouth. It may have been a flat-out hoot at one time, but it just makes me pray for power outages. It reminds me, unhappily, how we were once talking about Gabe Kaplan's "Up Your Nose" and a bunch of us asked that the track be provided, just to remind ourselves of what it was. What it was was PAINFUL. I wouldn't say this is as painful, but damned if it ain't a really, really bad idea.
Cummings — As the person who provided that MP3 of "Up Your Nose," I'll just say that I also still have my 45 of the Piscopo-as-Sinatra "I Love Rock and Roll" medley — though I wish he and Eddie-as-Stevie would have just recorded a full-length version of "Ebony and Ivory."
But honestly, why is this here? It didn't even sniff the Top 40. "Take Off," I can understand. "King Tut," had it been an '80s hit, I could fathom, because it did receive significant airplay. But this? This is a tangent. And one that, by the time the single was released, had already lost the vast majority of its charm.
Wiencek — The '80s was the decade of the standup comedy boom, and with it came a rise in novelty singles by standup artists. (Anything for even a chance at airplay, I guess.) In addition to "You Look Marvelous," you had "Rappin' Rodney" (Rodney Dangerfield), "Do the Watusi" (Howie Mandel), "Boogie in Your Butt" (Eddie) and Sam Kinison's utterly superfluous take on "Wild Thing." Crystal also joined with Christopher Guest to give us "I Hate When That Happens," which might have been a marginally better choice.
Lifton — One day, pop culture historians will be able to view with the proper distance how Crystal not only survived a potential career-killing character-based novelty song, but managed to become a major movie star for the next 10 years. That said, in full disclosure, I had this album and loved it.
But yeah, given Dan's point about how many stand-ups released songs consisting of one-liners recited over beats, how did Steven Wright NOT manage to put a single on I Have A Pony?
Feerick — What, "Rachel" doesn't count?
---
#19 Don Johnson, "Heartbeat" (1986)
A Top Five hit. Written by Eric Kaz and Wendy Waldman.
http://www.youtube.com/watch?v=YZD82U6w3RM
Wiencek — Another novelty song, in a way. I don't know anyone who took this seriously, including the people who liked it.
Feerick — Is it just me, or are the drum machines just getting louder and more obnoxious as the decade wears on? This thing is friggin' hammer.
Johnson doesn't have a terrible voice, but it's ill-served by the hard-rock trappings. Songwriter Eric Kaz has done a lot of country-pop material, and "Heartbeat" mightn't have been a bad record if performed in that vein—but instead it's drowned in ugly chorus effects and stupid whammy divebombs.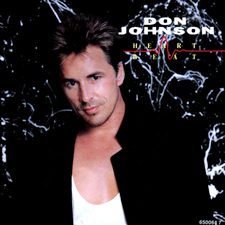 And wow, are those key changes ill-advised. That bridge is an absolute trainwreck—falsetto or no, the songs gets away from poor Don entirely.
Medsker — The most hilarious thing about "Heartbeat" is how awful Johnson's performance is in the video. "Can you feel the heat" (pretends to touch something hot) …awful.
Michael Parr — The video also features a young Dweezil Zappa in the role of guitar player. Clearly Frank parlayed his Miami Vice guest spot into an "opportunity" for Dweezil.
Feerick — I'm pretty sure the Dweez actually played on the original recording. He's listed in the album credits.
Will Harris — The video also features a young Giancarlo Esposito, who I got to talk about his connection to Johnson in an interview for The AV Club. Here's an extract:
Esposito: … I did three Miami Vice episodes, somewhat unusually playing three different characters. I did all of them within about a year, maybe a year and a half. I died in the first one, the second one I lived, and the third one I died. I changed my look for each one, which was another reason why Don liked me.

After the episodes, I get a call from Don saying, "I'm gonna be a singer. I'm doing an album." And I was, like, "Really? You sing?" He said, "Well, I sing now! And I need you down here on Friday." You know, I get a lot of calls where someone calls me and asks me to bail them out. …. So I said, "Okay, Don, tell me the truth: Who did you cast for this role originally?" And he said, "I wanted Hector Macho' Camacho, but…" [Laughs.] I said, "Okay. I'll come down." There were a plethora of stars in the "Heartbeat" video that he did, and I saved his butt. That's the secret to our friendship.
Cummings — HA! "I'm a singer NOW…" That's all that needs to be said, isn't it?
Dunphy — TV stars longing to be pop stars. Johnson shockingly doesn't harm himself too much with this. It is competent pop music stuff made by someone who we admittedly had lowered the expectations bar to worm-grazing stage. It is far, far, far better than Phillip Michael Thomas' Living The Book Of My Life, and even more fortunate for Johnson, I don't regularly accidentally refer to him as Phillip Seymour Hoffman.
Cummings — Jesus Christ. Could somebody cue back up the Miami Vice theme, please?
Lifton — I wouldn't call this a novelty song, but rather an unfortunate cocaine-induced attempt at what the kids today call cross-platform synergy. Let's not forget, after all, that it was Johnson's co-star who coined the term EGOT. How did that work out for you, Philip?
By the way, I love that there's a Wikipedia entry for EGOT.
---
#20 Wang Chung, "Everybody Have Fun Tonight" (1986)
Made it all the way to #2.
Lifton — Mr. Chung wants all to have fun tonight, and yet provides us with a song that prevents us from doing so.
Feerick — I have to believe that this was private joke that went terribly awry. Wang Chung were kinda cerebral and moody by nature ("Dance Hall Days" may have been doggerel, but it was sinister doggerel), and "Everybody Have Fun" was probably meant to satirize their own self-serious image. (And, it occurs to me now for the first time, it might also have been meant as a piss-take of Talking Heads.) The fact that they go through the video maintaining the demeanor of morticians gives me some confidence in this theory.
But they ended up with one of those fluke curses of the industry — the single big hit that effectively kills a career.
That said, Wang Chung do have a sense of humor. They played the TV show Baby One More Time a couple of years ago, and played a version of "Hot In Herre" that was not only funny, but burning.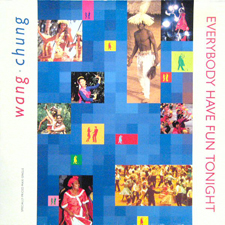 Wiencek — Harmless enough, and not nearly as grating as other would-be party songs. The only Wang Chung I am at all curious enough to listen to again is the To Live and Die in L.A. stuff.
Medsker — I remember the DJ teasing the audience with the debut of the new Wang Chung single, and I sat there with my finger on the pause button, waiting to record it. Then it came on, and before it even hit the first verse, I remember feeling completely deflated. What the hell is this? And then came the seizure-inducing video, and I was pretty much done with Wang Chung.
Dunphy — This was Wang Chung trying to out-Sting pop Sting. You can hear it in the bridge especially. I also hear the Talking Heads allusions slightly, but I don't think any of this was consciously done. This was just how pop was in 1986, and if you were popular you were probably riding the wave. If you were riding the wave, then you absolutely were picking up stylistic points from all the others.
For myself, I don't hate it at all. If I was looking toward The Wang for anything, it would have been the more subversive "Dance Hall Days" or the To Live and Die in L.A. soundtrack.
And as has already been said, this is a golden example of the hit that becomes so synonymous with a band, and so omnipresent in its time, that it smothers all other possibilities for the artists. "Everybody Have Fun Tonight" is where Wang Chung as a hit entity was born. Convenient 'cause it is where it died too.
Cummings — This seems to be the only song this week that merits any analysis whatsoever. It has outlived its pop-radio usefulness to spawn an ironic catchphrase whose use I remember from at least two occasions — spoken by uber-dork Frasier during a Cheers episode, and spoken by the geeky protagonist in 13 Going on 30. I'm sure there are plenty of others, but I can't be bothered to hit Wikipedia right now. The video was nauseating, yet simultaneously kinda cool, though ever since Fight Club came out I imagine a giant penis being spliced into all those herky-jerky cuts. My wife despises the song. I prefer "Dance Hall Days."
Feerick — You, and everybody else with a working pair of ears.