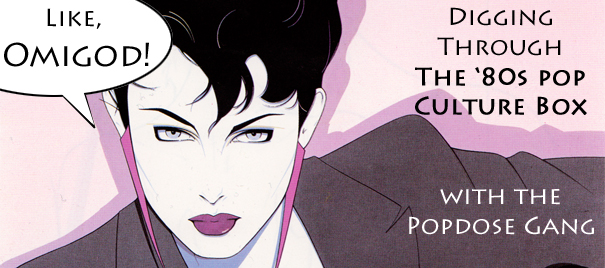 Still on Disc One of this compilation, and get a load of this line-up! This may, in fact, be the single Mellow Gold-iest article we've ever done or will ever do on Popdose.
---
#11 Air Supply, "Lost In Love" (1980)
#3 in the Hot 100, #1 Adult Contemporary.
[youtube id="MNqji6FjekQ" width="600″ height="350″]
Chris Holmes —
I was fairly oblivious to the whole Air Supply phenomenon, although I think my mom had one of their cassettes. Something with a hot air balloon on it perhaps? Anyway, I guess this is a great song for someone who heard "I'm Not in Love" and thought, "You know, I really did like that 10cc song but it was just a bit too intense."
Jack Feerick — The opening acoustic guitar briefly threatens something elegant and folky. No such luck.
What "Lost In Love" does demonstrate, though, is how much country-and-western is in Air Supply's musical DNA. That loping rhythm, the pinpoint bass, the occasional overplaying of bored sessionmen, the overload of keyboard fairy-dust — all of it, straight outta Nashville, for better and worse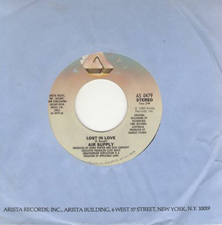 Dave Lifton — This comes up on SongPop a lot, and I'm always embarrassed at how quickly I usually get it. Listening to "Lost In Love" now I'll give plenty of credit for just being a pretty tune with great harmony singing. I don't see a need for the female choir, but at least it has none of the bombast of their later hits (fuck you, Jim Steinman). Even when Grimace takes over in the coda it's quite nice.
Dw. Dunphy — There is something about the airiness of the backing vocals to this that sucks me in every time. In retrospect you don't really want to give the tune too much credit because it is so lightweight it might just float away, but it is a good tune. It's impossible to deny that. I'll also say that of their hits, it is a black sheep as it lacks the kind of crying-towel bombast we would get from them for the rest of the decade.
Rob Smith — Funny enough, the U.S. mix of the song pulls the female voices back a bit from the Australian mix (which can be found on the Definitive Collection, released in 1999). I guess them Aussies dig their lady choirs.
Brian Boone — Pretty awesome they got fellow Australian Olivia Newton-John to go batshit crazy in Act 3.
Dave Steed — It took me a long time to take Air Supply seriously but these guys can sing the hell out of a love song, can't they? None of their songs have really stood the test of time but the majority of them, including "Lost In Love" are actually quite catchy once you remove the layer of sappiness that is draped over everything.
Dan Wiencek — Was ever a band more ironically and, at the same time, more aptly named? Every metaphor I can think of for Air Supply and how they fail to engage me involves air: it's like a fluffy meringue that dissolves on the tongue without leaving much of anything behind; it's like warm air rising out of a heat register in the floor, which briefly leaves that weird smell in the air until it goes away and you stop thinking about it.
Feerick — [EDITOR'S NOTE: FART JOKE GOES HERE]
Wiencek — I mean, I like soft rock and all, but this lacks any warmth to my ears, any organic vibe or groove. I think part of the reason is that the lyric just seems overcomplicated and fussy, like you have to really pay attention to it to follow what's going on. Is it even a love song? Is it an "I fucked up and I'm sorry" song? I'm not hooked enough to suss it out.
David Medsker — I have very specific memories attached to this song, including the thought that I knew I wasn't supposed to like these guys — they were a band for girls. And yet, I could not deny that this was a catchy song. I did always laugh at those firework-type sound effects in the break, though.
Mike Heyliger — As I've probably mentioned before, my early childhood was informed musically by urban radio, religious radio, and easy listening radio. I remain an unironic fan of Air Supply-or at least Air Supply's hit singles. This song doesn't really take off for me until Hitchcock starts ad-libbing towards the end, and I'm fully aware of its uber-cheesiness, but I still love it. Matter of fact, as soon as I'm done typing all of this out, I'm gonna go listen to it. And sing along. Loudly.
Java Joel Murphy –My favorite Air Supply song (although "The One That You Love" is a close second). I first heard it on the K-Tel compilation Sound Waves, and thought he was a chick. The sound of AM radio in 1980.
Jon Cummings — Certainly the best Air Supply song, it's unfortunately not the first one that springs to mind when the duo's name is mentioned. (That would be "All Out of Love," which has become more iconic as one of history's ultimate wimp/loser anthems — not least because of its use in that most pathetic of all date scenes in Todd Solondz's film Happiness.)
But I digress. "Lost in Love," as easy as it would be to dismiss it, is truly exquisite — gorgeous harmonies and those rising backing vocals, the acoustic guitar. Air Supply plays a club near my house every six months or so; I never go, but thinking of this song always gives me pause before I think, nah, it could never be any more than a bland-out schmaltzfest.
---
#12 Dolly Parton, "9 to 5″ (1980)
Topped the Hot 100, Hot Country, and Adult Contemporary charts.
[youtube id="xAQ2SiSAt-A" width="600″ height="350″]
Medsker — I can't hear this song anymore without thinking of Andy Samberg, and three different kinds of bears.
Cummings — This song embodies that moment when Dolly crossed over from music stardom to film stardom, and became utterly useless as a singer for a period of about 15 years. The song is rather indistinguishable from the film — one can hear the typing-pool Smith-Coronas in one's head, then quickly envision Dabney Coleman all trussed up like a pig on a spit, without even listening to the song.
Feerick — Divorcing this from the movie connection for a minute: This song seems a bit of a departure for Dolly, but think about it — she's always written about the woking poor and those on the wrong side of the service economy, the only difference with "9 to 5″ being the explicitly urban professional viewpoint. Purely from a socio-economic perspective, though, it's of a piece with her other work.
Dunphy — The movie and the song were both unlikely phenomenon. Dolly had proven she could break through to the general market out of country, and the movie was certainly star-studded, but were people going to actually buy into a screwball comedy about three secretaries — the acerbic Lily Tomlin, the go-along-to-get-along Jane Fonda and the sassy Parton — with subterfuge in mind for scuzzy boss Dabney Coleman? After that, there was a short-lived TV series featuring Valerie Curtin, Rita Moreno, and Dolly's sister Rachel Dennison. I digress this far to just instruct the reader that the song itself has had a much more vibrant life after all the media from which it came, so that says a lot more about the power of Dolly than I really could.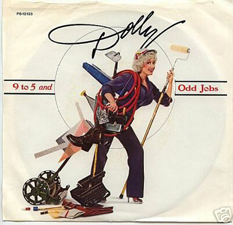 Murphy — This was a phenomenon. Like a "Gangnam Style" or "Call Me Maybe". Everyone knew this song. I think this even charted R&B.
Boone — Dolly is of course the best, and she's at her peak here. And although she's one of the Glorious Ones of Talent and has never worked an office job or a 9-to-5er in her life, she gives a convincing, emotionally real account. I like the typewriter/nail-on-desk clickity-clack effects most of all. However, at a young age, with working parents, I didn't understand the song, because if you had to take your mandated breaks, you probably work 8 to 5, or 8:30 to 5, or 9 to 5:30. I couldn't reconcile that and also I was a weird child.
Holmes — I shouldn't like this, but I do. It's so calculated and superficial, and if anyone but Dolly had recorded this I would probably hate it. But dammit, I love Dolly. She has that combination of sex appeal and down-to-earth, aw-shucks humility that is endlessly appealing.
Heyliger — I really wasn't aware of Dolly's singer/songwriter credentials until fairly recently. All I knew of her (musically) was "Islands In The Stream" and this song, which is catchy enough, but completely lightweight. "9 to 5" is one of those songs that you know every word to, but you wish you didn't know every word to it.
Wiencek — A little too calculated to really love, but it's a damn clever song for a movie that's both a good period piece — remember when Lily Tomlin's kid says "Come on Mom, let me roll you a joint"? — and an enduring statement about office politics. (For real: my company's HR department used scenes from it to illustrate improper workplace communication.) The populism of the lyric hearkens back to another crossover hit, "Take This Job and Shove It" (which would also be made into a film following the success of 9 to 5), and Dolly sings it with that just-right blend of humor and grit.
Lifton — God, I adore her. I forgive her more ridiculous moments because when she nails it, like here, you see just how smart she is, and always has been.
---
#13 Eddie Rabbitt, "I Love a Rainy Night" (1980)
Topped the Hot 100, Hot Country, and Adult Contemporary charts.
[youtube id="VJ1GQFtHGxU" width="600″ height="350″]
Boone — I bet this did horribly in Australia, as they hate anything to do with rabbits and also it's interminable.
Lifton — Pure formula for country crossover: Come up with the title and only build upon it slightly, while repeating the hook as much as possible. But I never realized until now just how much Eddie Rabbitt sounds like Nick Lowe. If only it had half the charm or wit.
Feerick — He does sound like Nick Lowe at that. Which is weird. With that beard, and that weatherbeaten face — you'd expect more of a Waylon Jennings-esque groan, wouldn't you? Not the well-mannered, over-enunciated little nothing that's on display here.
Lyrically, it's not exactly Dylan — but second-verse-same-as-the-first isn't a cardinal sin, not in pop music. It's really about the rhythm, in the same way that T. Rex was all about rhythm; that clipped acoustic strum, the fingersnaps, the punches of electric guitar. it's the kind of thing that usually comes in the breakdown of the song, but "I Love a Rainy Night" is all breakdown.
Dunphy — Rabbitt had three big tunes starting with this, continuing with "Driving My Life Away" and concluding with "Step By Step," and through each phase you can hear the countrification starting to drain out of his delivery, Little wonder there as he was born to Irish immigrants in Brooklyn and lived his young life in East Orange, New Jersey, so you can say he was southern by choice and not by chance.
As to this song in particular, it is the quintessential earworm. The lyrics are numbingly simple, and I guess that's the charm of it in that you don't really feel like you're repeating "I love a rainy night" a gazillion times, yet you totally are.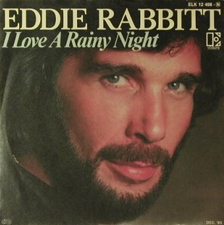 Steed — This was another one of those songs my Mom used to spin with me and I've always loved it. It's a driving song to me. I love listening to it in the summer with the windows down while everyone else around me wonders what decade I'm stuck in..
Holmes — I could be mistaken, but I think this is the only Eddie Rabbitt song I've ever heard. This thing is all chorus, and even at that I'll probably forget about it as soon as I finish writing these comments.
And now, allow me to be the first one to reference MST3K during this series: "He's totally pounding Eddie Rabbitt!"
Murphy — My Mom was more into Barry Manilow, musically, but she thought Eddie was hunky, in a post disco/post-Urban Cowboy mode. Along with "9 To 5" and Eddie Rabbitt, there was Kenny Rogers, Ronnie Milsap, Juice Newton, Alabama, Terri Gibbs, the Oak Ridge Boys et al.
Heyliger — Man, that whole Urban Cowboy phase spawned a lot of crappy music, didn't it? God rest Eddie Rabbitt's New Jersey-born soul.
Cummings — This single was no earth-shattering achievement … nothing Rabbitt ever did was a shattering achievement … but it sure went down easy. Love the guitar on this track.
Feerick — Mm. I found the guitar tone a little surprising: the solo is drenched in fuzztone — and it's a very familiar-sounding fuzz. I think all the electric guitar parts on this were recorded through a Scholz Rockman.
Medsker — I miss guys like Eddie Rabbitt. Maybe it's completely irrational, but I look at him differently than I look at later crossover country acts. This isn't my favorite song of his — that would be "Drivin' My Life Away" — but it's awfully catchy. More importantly, he always looked like the luckiest guy in the world because he was able to make a living out of performing. It was hard for me not to like the guy.
Wiencek — I guess he loves a rainy night, huh? Another songwriter might have tried tying the rainy-night imagery to something romantic — I love a rainy night when we're watching it together, baby. Not Mr. Rabbitt: he loves rain, and goddamn it, he's sticking to his guns. Power to you, Eddie. Don't forget your galoshes.
Feerick — Funny thing about Rabbitt being the son of Irish immigrants: I reckon the title phrase betrays an Anglo-Irish speech pattern. When speaking in the abstract, American English favors the indefinite plural where a Brit or Irishman would employ the singular; an American would say, "I love fried chicken" (or even "I love me some fried chicken"), vs. the transatlantic "I love a bit of fried chicken," for instance. "I love rainy nights" is the more American sentiment, but Eddie's phrasing has more bounce — again, it's all about the rhythm.
---
#14 Christopher Cross, "Sailing" (1980)
#1 US, Record of the Year, Song of the Year, Best New Artist.
[youtube id="VMkIuKXwmlU" width="600″ height="350″]
Feerick — Talk about video killed the radio star…
Cummings — I can't bear this song. Never could. I have 31-year-old, yet crystal-clear visions of reaching for the scanning dial on my Walkman radio as soon as the first notes hit. What a comedown after "Ride Like the Wind"! I know there are Popdosers who swear by Christopher Cross, but (despite my temporary affection for "Arthur's Theme" when it was out) I can think of no one I more strongly wish had been a one-hit wonder. And this ain't the hit.
Boone — Christopher Cross is of endless fascination to me, or at least the cultural climate that made this song a #1 hit is. Were things so incredibly bad in Carter's America that everyone was frayed to the point and broke to the point where, since they couldn't actually go sailing, a song about sailing would suffice? A song so incredibly unrelatable and sung by a man with a voice so sweet it's otherworldly on a Peter Cetera level? I swear, he's half alien, half Karen Carpenter because man does he sound sad all of the time. RIP, Christopher Cross.
Dunphy — This would be so much better as a straight instrumental. I am convinced of this because I find the instrumental piano bridge utterly irresistible. I could probably listen to that alone in a loop. The rest of the song has its charms too but I find it hard to be too generous with it. "Sailing" in my mind is something rich guys do. This song might as well have been called "wine tasting and truffles after a round of tennis." But at the beginning of the go-go '80s the culture was intoxicated with "the good life," Dynasty and Lifestyles Of The Rich And Famous, so a hit song about cruising the sound on your sloop is par for the course.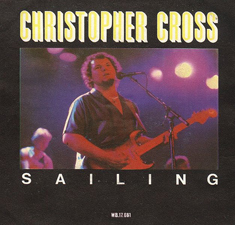 Feerick — Never really registered the lushness of the arrangement, at the time; for me it was (and still is) all about that chiming, circular guitar lick. Hypnotic.
I never really registered it as an "Eighties song," either. Conceptually, it belongs to the Seventiest of the Seventies, with the whole laid-back quote-unquote "sophisticated" West Coast jazz-pop scene. The wispy piano solo, if nothing else, makes it clear that they're trying to invoke the Dan's Aja. I'd put Christopher's general lack of enunciation down to that, too — the one mortal sin of the El Lay contingent was to come off like you're trying too hard.
Medsker — I remember disliking everything Cross did out of hand upon its release — it all just seemed so wimpy, even to a wimp like me. A few years ago, though, a guy I know shared a collection he made called 8 Track Heaven, which is basically Mellow Gold with a different title. And when this song came on, I suddenly understood why it was so popular. Sure, it's one of the whitest songs ever recorded, and Cross could use some enunciation lessons. But I can no longer argue against the guitar melody and that oh-so-soft instrumental break.
Wiencek — When I heard this song at the age of nine, I thought it was one of the most beautiful things I'd ever heard. And then I wasn't nine anymore. Snark aside, those opening arpeggios really pull me in, and like Dunphy, I find the modulated piano bit at the bridge to be damn good. The trouble is it's topped by the most indifferent, passionless lead vocal ever committed to tape. I mean, how many times did you have to hear it to realize there were even words in that mumbled bit after "heeeeard it"?
Holmes — I have nothing bad to say about one of the patron saints of Yacht Rock or this lovely slice of mellow smoothness. I also love that in the linked video, Cross is rocking both a double-neck guitar and an Earl Campbell jersey. It only shows just how confident he was in his ability to be glide right into your ear canal that he could sing this while looking like a frat boy.
Murphy — Meh. Never really got it. Seems like a nice enough fellow.
Steed — I really love Christopher Cross, always have, always will. As his star started to fade he started releasing stuff that rocked a little more which is what I wish he would have done from the beginning. Chris Holmes is correct here — the guy looks like a linebacker in the video for "Sailing" and yet he's singing one of the least manliest songs of the decade. And has anyone ever done so little with a double-neck guitar? As much as I love him, "Sailing" is an insanely wimpy song.
Heyliger — "Sailing" is, indeed wimpy, but it's certainly memorable, and melodic, and well-crafted. Cross's nasal voice wasn't good for much except atmosphere, and this song is pretty much all atmosphere. It's almost New ge-y to me.
Lifton — Matt Wardlaw just killed a box of chalupas in honor of this song. Obviously it's really well-produced (fuck you, Michael Omartian) but still, when I hear this I think, "God, this was really that popular?"
---
#15 Grover Washington with Bill Withers, "Just the Two of Us" (1981)
#2 US Hot 100, Grammy for Best R&B song
[youtube id="8oxb4LayC7A" width="600″ height="350″]
(That's a fan video for the full-length album track, by the way.)
Holmes — And now I need a cigarette.
Dunphy — I can't fight it. It's smooth as all get-out and one of Withers' last recordings before his self-imposed exile from music. It gave Quiet Storm adult contemporary a good reputation that would be completely destroyed in years to come.
Feerick — My onetime brother-in-law was heavy into Grover Washington's Winelight back in the day; every generation gets the smooth-jazz horn player it deserves, I suppose, and in one sense Grover was there to fill the void between Chuck Mangione and Kenny G.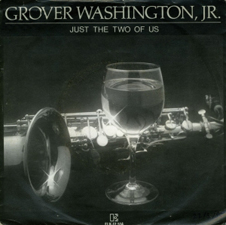 But really, he can't help but come off as a sideman on his own record. The overwhelming impression — besides the seasick stereo ping-pong of the Rhodes, that is — comes from Bill, and holy shit is he good. The scary thing is, this isn't anywhere near as good as Bill could be. He's not phoning it in, exactly, but all in all this must be considered minor Bill Withers. And it's still the winner of the week.
Also: Man, is that agogo mixed high on the coda.
Murphy — My second 45 (after "Kiss On My List"). I pictured Withers as looking like a pudgy Grady from Sanford & Son. This song earns the distinction as "First Long Version Of A Song I Ever Heard" — on a French Montreal station my Dad happened to be listening to. They played the album version. I wondered why it was so long. My li'l intro to radio edits.
Cummings — Withers is a god. He's not THE god, but he's A god. And this song, right from the moment it was released, felt like it had been around forever, like a warm blanket that you've held onto since childhood. In fact, it still feels like that.
Lifton — I'm pretty sure I had heard "Lean On Me" and "Ain't No Sunshine" at this point but not made the connection that it was the same person. I don't think "Just The Two Of Us" is as strong as his earlier work, but damn, it's always good to hear that voice.
Wiencek — The clear winner this week, this is not just the most soulful thing on the docket but the least dated-sounding. Warm, intimate and romantic, with a lyric that shines through clearly and simply. Yeah, this'll do fine.
Steed — One of the best songs of the year here. I can't help but tap my foot to this one every time I hear it. It's simply a gorgeous song with a perfect pairing of Washington and Withers together.
Heyliger — So…is this the biggest "smooth jazz" song in pop music history? Or is it "Rise" by Herb Alpert? Either way, those two songs are almost good enough to give the whole genre a pass. Almost.
I can't say anything bad about Bill Withers' voice. I can't say anything bad about this song, either. Despite being used in Lord knows how many ad campaigns, being sampled in a variety of rap songs, and being covered by Bill Cosby, it still stands up. That's the mark of great music.
Medsker — Hell, yes. It may have ushered in a wave of bad jazz, but this is a damned good song. It's fun listening to the full-length album version, too. Steel drums!