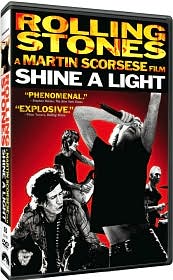 After watching the first 10 minutes, the most surprising thing about Shine a Light, Martin ScorseseÁ¢€â"¢s concert documentary about the Rolling Stones, is that it ever happened. Shot in grainy black and white, the Á¢€Å"behind the scenesÁ¢€ beginning captures miscommunication after miscommunication, compromise after compromise. If itÁ¢€â"¢s not the set design (which Stones front man Mick Jagger claims is what Scorsese wanted, only for Scorsese to claim itÁ¢€â"¢s what Jagger wanted), itÁ¢€â"¢s the lighting (Á¢€Å"We canÁ¢€â"¢t burn Mick Jagger!Á¢€ Scorsese exclaims to his stage director), or moving cameras (Jagger doesnÁ¢€â"¢t want them to distract the audience, but Scorsese politely says, Á¢€Å"It would be good to have a camera that moves,Á¢€ as though he were an athlete saying it would be nice if he could use his arm). Through this Scorsese does his best to keep any frustration or confusion beneath the surface, covering it with nervous laughter and shrugs.
The matter of the set list is the most passionately debated, with Scorsese giving recommendations to Jagger, who keeps his own list of songs sorted by their Á¢€Å"knownnessÁ¢€ (well-known, medium known, etc.). After failed attempts to find out the set-list in advance, Scorsese resigns to just asking for it as soon as possible. Jagger promises heÁ¢€â"¢ll comply, and he does — giving it to Scorsese all of 30 seconds before the show starts. JaggerÁ¢€â"¢s obsessing over the set list aside, the Stones are a blissed-out counterpart to ScorseseÁ¢€â"¢s nervousness, rambling around the stage, shaking hands with the Clintons (the two shows were fundraisers for the Clinton Foundation) as though making a movie with a legendary director and meeting legendary politicians were as average as brushing their teeth.
It is this everydayness that separates Shine a Light from ScorseseÁ¢€â"¢s previous musical endeavors. The Last Waltz, about The BandÁ¢€â"¢s final concert, captured a monumental event. No Direction Home, his documentary about Bob Dylan, captured a monumental personality. This isnÁ¢€â"¢t Gimme Shelter, either. The band is admittedly not at their peak, and if anyone died in this audience, itÁ¢€â"¢s more likely due to natural causes as opposed to a fight. Playing at the Beacon Theater is not a huge event for the Rolling Stones, nor is it even close to being indicative of a summation of their entire career. It is a small blip on their radar — the Beacon is smaller than the venues theyÁ¢€â"¢ve played at in countries all over the world for at least the past 30 years. The band doesnÁ¢€â"¢t need a big sense of occasion to put on a great concert, one worthy of being documented. They do it all the time. This is not meant to be an expansive film but a fixed one. On what itÁ¢€â"¢s like to see a legendary rock and roll band perform into their golden years. On how the hell it is that the Rolling Stones have not only lasted this long, but have done so out an almost inability to stop. Being in a rock band is the only thing they can think of to do, the only thing they know how to do.
Scorsese cements this theme by interspersing the concert with interview clips collected throughout the bandÁ¢€â"¢s history, beginning with just a few years after their formation in the 60s through the Á¢€Ëœ90s or so. In one of the first clips, a young, supple Jagger says that the band has been going for two years and they think theyÁ¢€â"¢re good for at least one more. After asking Keith Richards how long he thinks heÁ¢€â"¢ll keep doing this, a journalist asks what heÁ¢€â"¢s been asked the most, to which Richards slyly responds, Á¢€Å"The one you just asked me.Á¢€ By the end of the film, Jagger is being asked, Á¢€Å"Can you see yourself doing this into your 60s?Á¢€ to which he happily replies, Á¢€Å"Absolutely.Á¢€ The StonesÁ¢€â"¢ longevity, in turn, gives this joke its longevity, as each time someone asks the band how long theyÁ¢€â"¢re going to do this, we already know the answer — in part, at least.
But thereÁ¢€â"¢s no use in bringing up age to the Rolling Stones, because they act as though theyÁ¢€â"¢re so clearly unaware of theirs. In many respects, this is what still makes the band as compelling as it is — no one wants to believe that men the age of grandfathers can put on a decent rock show (likely because most of us wonÁ¢€â"¢t be doing that in our later years), but they do. Jagger runs, struts and shimmies about the stage better than some men who are half — or even a third — of his age. And though the concert in this movie is but two hours, the average concert on the Á¢€Å"A Bigger Bang Tour,Á¢€ which these shows coincided with, was closer to three. That said, thereÁ¢€â"¢s no sense in trying to compare the new versions of classics like Á¢€Å"JumpinÁ¢€â"¢ Jack FlashÁ¢€ with their counterparts on Get Your Ya-YaÁ¢€â"¢s Out (the definitive official Rolling Stones live release). This is not a competitor for past performances, but a study of the songsÁ¢€â"¢ and bandÁ¢€â"¢s collective passage through time.
Scorsese captures this not only in subject matter, but also in style. The film is edited together in a frantic pace that takes some adjusting to, but is all the more accurate for reflecting the frenzy of the performance. In some ways, itÁ¢€â"¢s better than seeing them in person, because it not only cuts out the exorbitant ticket prices, but reveals the kind of sights only seen by those in the front row. Lead by cinematographer Robert Richardson, a two-time Oscar winner for Scorsese's The Aviator and Oliver Stone's JFK, Scorsese assembled a hotshot camera team, including three more Oscar winners and two Oscar nominees. This crew isnÁ¢€â"¢t afraid to show the cavernous wrinkles on the StonesÁ¢€â"¢ faces. Shine a Light provides much more face time with Keith Richards than anyone probably needs. JaggerÁ¢€â"¢s continuously gyrating hips see enough action to make the audience blush, particularly when his hips meet Christina AguileraÁ¢€â"¢s during their duet.
The much-debated set list is a respectable one, representative of the material the band played on the Á¢€Å"A Bigger Bang Tour,Á¢€ minus the modern hits from that release. Bonuses include a few random fan favorites (Á¢€Å"Shattered,Á¢€ and their Temptations cover, Á¢€Å"Just My ImaginationÁ¢€), and Á¢€Å"As Tears Go By,Á¢€ widely considered the first piece ever composed by Richards and Jagger. Before playing it, they admit they avoided playing it for a long time because they found it Á¢€Å"embarrassing.Á¢€
The Rolling Stones, "As Tears Go By (Shine a Light Version)" (download)
The guests provide interesting touchstones, not only displaying artists who the Stones influenced, but also artists who influenced them. Jack White, from the garage rock revival groups the White Stripes and the Raconteurs, adds a nasally twinge to Á¢€Å"Loving Cup,Á¢€ just as can be found in the original version. He also looks like he hasnÁ¢€â"¢t showered in two weeks (perhaps a visual homage to Richards?). Pop princess Aguilera brings an appropriate womanÁ¢€â"¢s touch to Á¢€Å"Live Together,Á¢€ though with a voice as powerful as hers, "Gimme Shelter" might have been a more impressive choice, particularly when considering how often Scorsese uses that song. The greatest appearance is blues guitarist Buddy Guy, who enlivens the band and draws out their blues roots. During their performance of Á¢€Å"Champagne & Reefer,Á¢€ Richards and Guy circle each other, part challenge, part dance, and itÁ¢€â"¢s here that the music seems most communicative.
The Rolling Stones, "Champagne & Reefer (With Buddy Guy)" (download)
The filmÁ¢€â"¢s only downside is its audience, which largely appears ambivalent at its brush with simultaneous documentary and rock 'n' roll fame. While itÁ¢€â"¢s not hard to believe that there are young, attractive people who love the Rolling Stones, it is hard to believe that theyÁ¢€â"¢re all twentysomething blonde women in T-shirts they just bought at the gift stand, who are too busy trying to touch the band members to pay attention to anything else. It feels a bit like an insult to the viewerÁ¢€â"¢s intelligence. At the very least they could have auditioned through the fan club.
Sure, it would have been ideal if Scorsese and Á¢€Å"The WorldÁ¢€â"¢s Greatest Rock and Roll BandÁ¢€ teamed up when both parties were at their peaks. But Shine a Light is not about a flash in the pan. ItÁ¢€â"¢s a showcase for two supreme talents who, okay, might be fading as opposed to burning out, as the old rock clichÁƒ© goes, but who prove that it can be done with panache — and even dignity.