For almost 80 years, Kirkus Reviews has served as the industry bible for bookstore buyers, librarians, and ordinary readers alike. Now Popdose joins the Kirkus Book Bloggers Network to explore the best — and sometimes the worst — in pop-culture and celebrity books.
This week, we get down and dirty with a beloved television figure with a … unique way of expressing himself…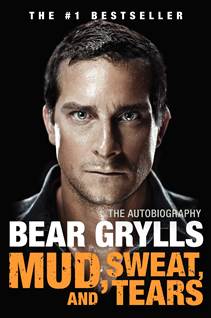 -1-
You can't always depend on arriving at the right time. Bear Grylls knows that.
In 1998, when at age 23 he became the then-youngest Briton to climb Mt. Everest, his approach to the summit coincided with the arrival of a monsoon.
Bad luck.
Now the US publication of his autobiography Mud, Sweat, and Tears—already a bestseller across the rest of the English-speaking world—comes on the heels of the cancellation of the TV show that made him famous: Discovery Channel's Man Vs. Wild.
Grylls and the network both chalk the cancellation up to "ongoing contract disputes."
But scuttlebutt says that the sticking point was Grylls's refusal to participate in a couple of proposed Discovery Channel projects.
The nature of these projects is as yet unknown. But if true, this occasion might mark the first time that Bear Grylls has ever said "No" to a crazy idea.
-2-
Grylls has, after all, eaten live bugs and worms for the TV cameras; circumnavigated the British Isles on a jet ski; flown a paraglider above the Himalayas; and even rowed a bathtub down the Thames—naked.
Many of his stunts have been undertaken for charity. And that, I think, tells you something about his character.
It's that same go-for-broke generosity that makes Grylls such an appealing narrator.
-3-
The book retains the characteristic voice, so familiar to viewers of Man Vs. Wild—that urgent, emphatic quality heard in Grylls's narration, somehow entrancing in its staccato rhythms.
Grylls accomplishes this through short, forceful paragraphs.
Some as short as this.
And the well-turned sentence fragment gets a workout.
Frequently.
Strategically deployed.
-4-
Likewise, the chapters are generally quite brief.
Very, in fact.
-5-
As laid out on the page, the prose calls irresistibly to mind the speaking voice of Bear Grylls himself. There's an audiobook available of Mud, Sweat and Tears, but the concept seems slightly redundant.
Simply reading the print edition, you can't help but hear Grylls's idiosyncratic  voice.
Inside your head.
The effect, I must confess, is infectious.
Read the rest of this article at Kirkus Reviews!