For almost 80 years, Kirkus Reviews has served as the industry bible for bookstore buyers, librarians, and ordinary readers alike. Now Popdose joins the Kirkus Book Bloggers Network to explore the best — and sometimes the worst — in pop-culture and celebrity books.
This week, one of the best-loved comics series of the last decade returns —as you've never seen it before…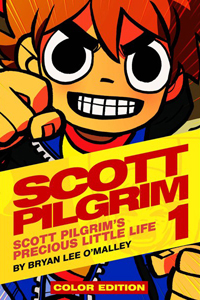 True story: There was this kid putting the moves on my teenage daughter — a kid a few years older than her. That in itself was enough to get my back up. But when I spotted the red-and-black "X" patch on the jacket, I braced for the worst. If she was dealing with an X-Men fan, that would be one thing; she can handle a garden-variety geek. But if the patch signified that this kid was taking Scott Pilgrim as a role model — red flag territory, baby.
Scott Pilgrim is, of course, the hero of a series of hysterically funny and occasionally poignant graphic novels by Bryan Lee O'Malley, the first volume of which, Scott Pilgrim's Precious Little Life, has just been reissued in a deluxe color edition (more about that later). Stumbling through a magical re-imagining of Toronto, unburdened by employment, the twentysomething Scott lives to play — both videogames, and the bass (terribly) for his awful band, Sex Bob-omb. His utter lack of prospects bothers him not one whit. As O'Malley characterizes him in the original series pitch, Scott has achieved "a sort of slacker Zen state." He is entirely aware of his limitations, and entirely at peace with them. He's got the imperturbable cheer of a saint, or an idiot — and he's no saint.
As a protagonist, Scott is insanely likeable — but as boyfriend material, he's toxic; dim, self-regarding, and maddeningly passive, he falls in and out of romantic entanglements with no thought to the emotional damage he leaves in his wake. As the book opens, Scott — who has been getting over a bad breakup — has started dating a high school girl. Their relationship, if you can call it that, consists mostly of just hanging around together ("We almost held hands once, but she got embarrassed"), and that's just how he likes it: "It's just nice, you know? It's just simple."
Things are soon complicated by the arrival of a new and seemingly-unattainable love interest for Scott, and over the course of the six books in the series relationships are redefined, breakups are examined from different angles, and Scott Pilgrim must come to terms with the price that other people have had to pay for his nice, simple life. Hilarious and bittersweet, Scott Pilgrim is that rare "young adult" work that's truly for young adults; Scott's belated emotional coming-of-age is the centerpiece, but all the characters grow in self-awareness as the series plays out. Friendships falter and reconfigure, love and self-respect are lost and found, and nobody leaves the series quite the same as when they entered…
Read the rest of this article at Kirkus Reviews!