For almost 80 years, Kirkus Reviews has served as the industry bible for bookstore buyers, librarians, and ordinary readers alike. Now Popdose joins the Kirkus Book Bloggers Network to explore the best — and sometimes the worst — in pop-culture and celebrity books.
This week, the best songs are true, and not all of them are about cars and girls — well, not about girls, anyway…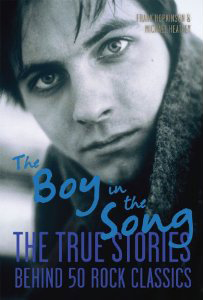 I am an incorrigible gossip. That means, as the old joke goes, that I usually need no incorrigement. And it may be why I was attracted to criticism — which John Updike puckishly called "the higher gossip" — in the first place. I like being the guy with the inside dope, the straight skinny: the guy who can look at anything from a renaissance masterpiece to an inter-office romance, and tell you what's really going on.
So it's no surprise that The Boy in the Song: The True Stories Behind 50 Rock Classics (Chicago Review Press) was catnip for the likes of me. Authors Frank Hopkinson and Michael Heatley deliver pretty much as advertised on the tin. Each song gets a brief write-up, two to six pages, outlining its inspiration, composition, and impact, with biographical blurbs of the relevant parties and plenty of photographs. The usual suspects are well-represented; Joni Mitchell's Blue album — a founding document of the confessional singer-songwriter school — rates three entries all on its own, while Stevie Nicks garners another two.
And as with the companion volume The Girl in the Song, by the same authors, the tone is cheerfully populist, falling somewhere between Rolling Stone and People magazine. It doesn't pretend to be a serious reference work, but neither is a lurid, Hollywood Babylon-style takedown.
Indeed, for a gossip-hound like myself, The Boy in the Song mainly affords the soothing pleasure of hearing again a story you already know by heart. For alas, many of these tales are not exactly revelatory. Breathes there the rock fan that does not already know that "Hey Jude" was written for Julian Lennon, or that Eric Clapton wrote "Tears In Heaven" after the accidental death of his young son? Is it really news to anyone that "You're So Vain" is actually about Warren Beatty, or that Pink Floyd's "Shine On You Crazy Diamond" addresses founding member Syd Barrett?
And R.E.M.'s "Man on the Moon" not only lent its title to a biographical film about alt-comedian Andy Kaufman, it served as the movie's theme song; I'm pretty sure there was no great mystery as to its subject matter. And there's much that, even if you didn't already know, you could surely guess. You say that Courtney Love has a song about Kurt Cobain, or that Joan Baez wrote one about Bob Dylan? Fetch me my smelling salts; I'm simply shocked.
Of course, even tales many times-told can yield new spins…
Read the rest of this article at Kirkus Reviews!